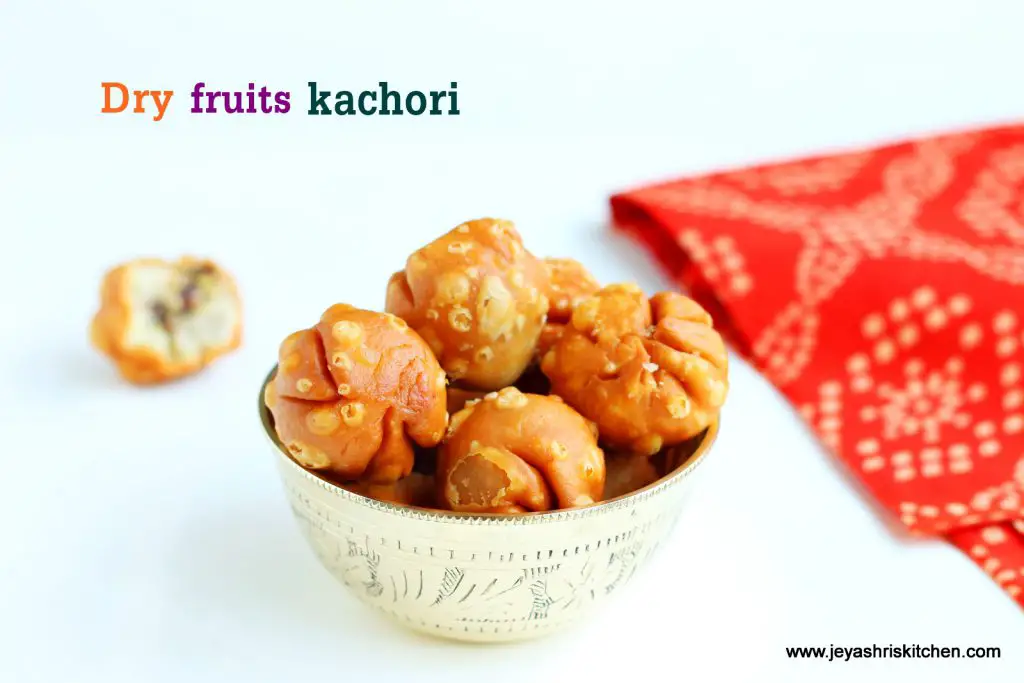 Dry fruits kachori, is a deep fried snack, filled with dry fruits, nuts and few aromatic Indian spices like cardamom and fennel seeds. I have made this post for Holi 2016, but somehow couldn't post it. Also i have drafted this to schedule it during my June vacation, but couldn't post as i had already array of recipes scheduled for that. So finally i thought i will post this for Rakshabandhan 2016, which falls on Aug 18th this month. I have posted moong dal | khasta kachori some time back. Check out my other raksha bandhan | rakhi sweet recipes.

Dry fruits kachori
Preparation Time : 15 mins | Cooking Time : 1 hour |Makes: 14
For the outer cover :
All purpose flour | Maida 1 cup
Sooji | rava 1 tblsp
Hot Ghee 2 tblsp
Salt a pinch
For the filling
Badam | almonds 8
Pistachios 20
Cashew nuts 10
Dates 6
Fennel seeds 1/2 tsp (optional)
Cardamom 2
Sugar 2 tblsp
Desiccated coconut or 2 tblsp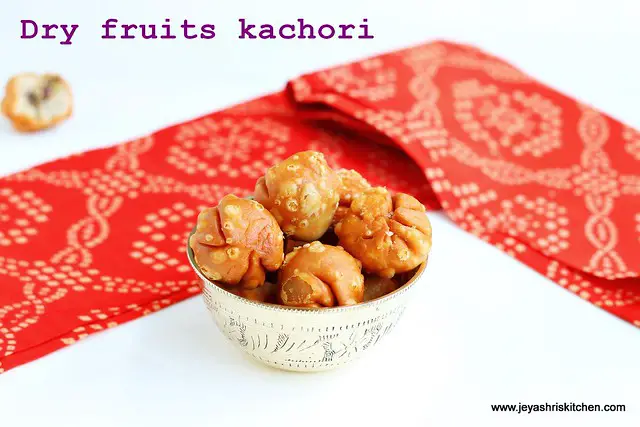 Method:
In a wide bowl add the flour, sooji and hot ghee. Mix this well. The flour should be like a bread crumbs. When you hold the flour with your hands it should hold and when you leave it, it should break.
Just keep it aside for 5 minutes.

Add water to this little by little and make it into a pliable dough. Cover this and keep this aside for 15 minutes.
Make small lemon sized dough out of the dough. Cover it and keep.

Put the badam,cashews, pistachios, cardamon and fennel seeds into a mixie and pulse it once. Add the chopped dates, desiccated coconut and sugar. Pulse twice and the filling is ready now.

It yields approximately 1/2 cup of filling.
Take a small lemon sized ball of the dough and roll it into a small circle.

Keep 1 tblsp of the filling in the center.
Grease the edges with water and bring all the sides to the center and carefully close it.

Pinch out the extra dough on the top .
Make it a perfect round.

Repeat this for the rest of the dough and filling. The filling was little extra left out for this measurement of flour. Till you make the rest , keep it covered with a damp cloth.
Heat oil for deep frying.
Fry them in batches in a medium low flame .

Once they turn golden brown take it out from the oil and drain it in a kitchen towel.
Once it is cool, store them in air tight containers.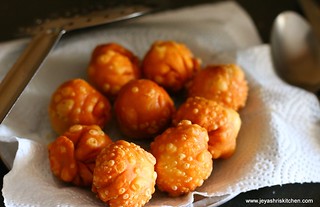 This can be stored for 3-4 days.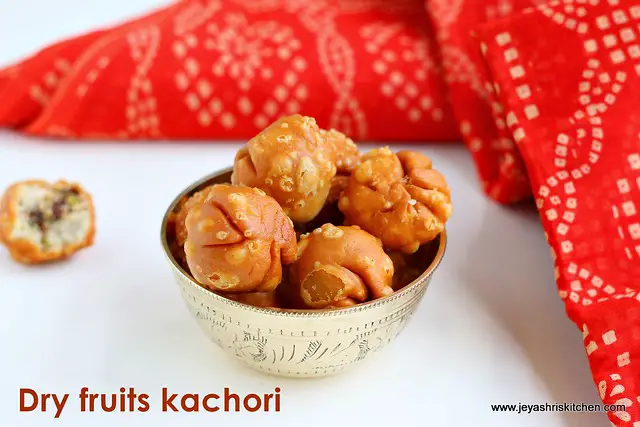 Notes:
Always fry them in a low flame . Else it will not be crispy.
Instead of making like a ball, you can flatten it and make flat kachoris.