Milkshake recipe without ice cream
Dry fruits milkshake is a healthy drink for kids as they are rich in protein.Even adults can have this milkshake by adding the nuts of their choice. Generally people make this on vrat days | fasting days. I had some left over dates after making eggless dates cake for my friend on her birthday. So yesterday made this and served for kids in the evening when they were back from school, along with a club sandwich. I had time only to take picture of the dry fruits milkshake only. The kids loved the milkshake a lot. Kick start your day with this healthy dry fruits milkshake and stay fresh.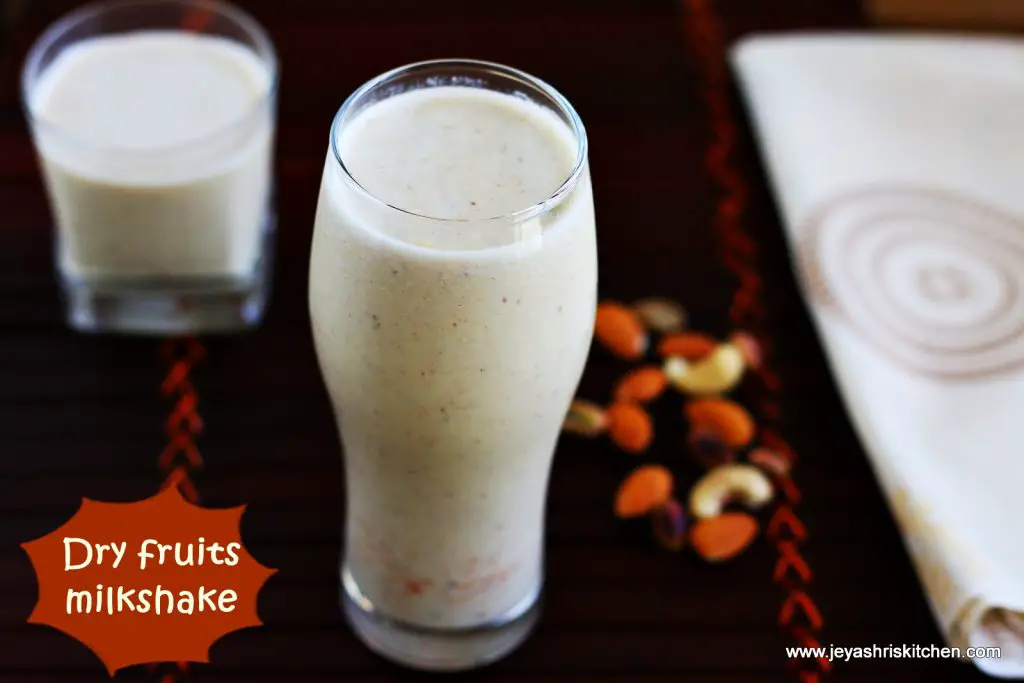 Dry fruits milkshake
Preparation Time : 15 mins | Cooking Time : 2 Mins |Serves: 2-3
Dates 7-8
Almonds 1 tblsp
Cashew nuts 1/2 tblsp
Pistachio 1 tblsp
Walnuts 4-5
Raisins 1/2 tblsp
Low fat milk 3 cups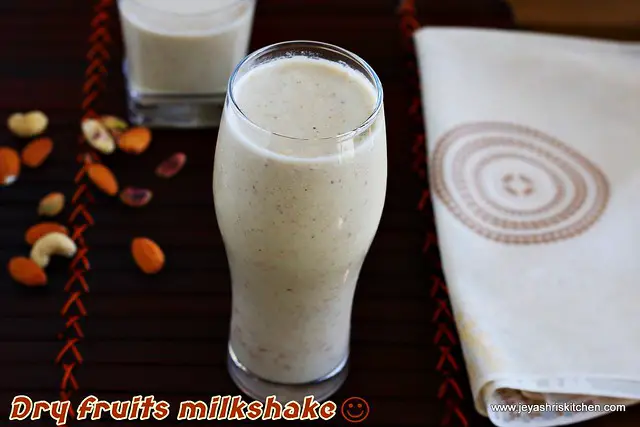 Method:
Soak almonds, pistachios, cashew nuts and walnuts in hot water for 15 minutes.
Ensure that the water is very hot.
Take out the seeds from the dates and keep it aside.
Drain the water from the soaked nuts.
Take out the skin of almonds and pistachios.

Grind the almonds, pistachios, cashew nuts, walnuts, dates and raisins in a mixie into a fine paste.
Add 1/2 cup of milk to make it grind smoothly.
Once the nuts mixture are made into a smooth paste, transfer it to a bowl and add the remaining milk and whisk it nicely.
Serve chilled.

Dry fruits milkshake is ready.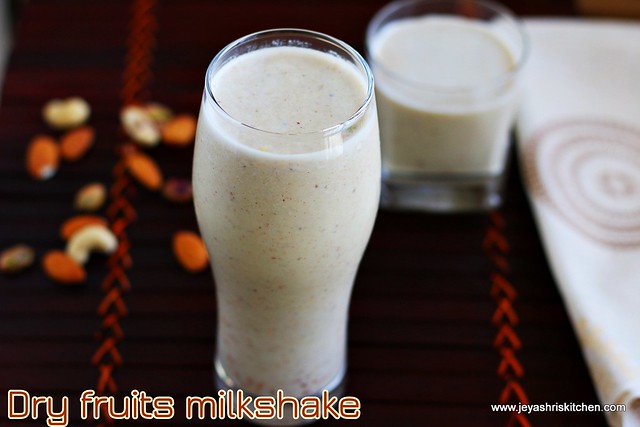 Notes:
You can add honey to this if you want. But the natural sweetness of dates and raisins was enough for us.
Always use chilled milk. Warm milk or hot milk will make the milkshake curdle.
You can use figs, sunflower seeds, pumpkin seeds, flax seeds also for this milkshake.
You can add a scoop of vanilla ice cream or chocolate ice cream on the top just before serving.
Also ice cream can be blended with the milkshake too.
You can add little saffron too to enhance the taste.