Marble cake i have seen in many blogs but i always have a doubt whether i could manage to get the swirls and the marble effect on the cake. Actually i planned for another recipe to post today and even i scheduled it too. But suddenly i remembered it is my co-sister's birthday today and i made this eggless marble cake to surprise her with a visual treat. So after sending the kids to school i immediately started the process and clicked , edited and finally started writing the post. Please bear with my clicks this time as i was in a hurry to post and i couldn't wait till the cake to completely cool and cut that too. The reason for my urgency is i was hearing some thunder and so i wanted to click before it starts to rain.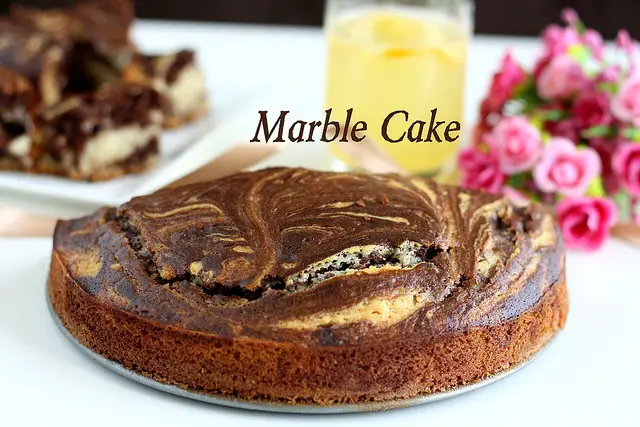 The recipe i adapted from Divya's space and many videos from the Google search clarified me in making the marble effect. The original recipe has butter but after started making only i realised i have no enough butter and so i replaced with oil. Still it came out soft and yum.
INGREDIENTS:
| | |
| --- | --- |
| ALL PURPOSE FLOUR| PLAIN FLOUR | 1 AND 1/4 CUP |
| MILK POWDER or CONDENSED MILK | 3 TBLSP |
| BAKING SODA | 1/2 TSP |
| BAKING POWDER | 2 TSP |
| ORANGE ZEST | 1 TSP |
| VANILLA ESSENCE | 1 TSP |
| COCOA POWDER | 2 TBLSP |
| HOT WATER | 2 TBLSP |
| MILK | 3/4 CUP |
| POWDERED SUGAR | 3/4 CUP |
| OIL | 1/2 CUP |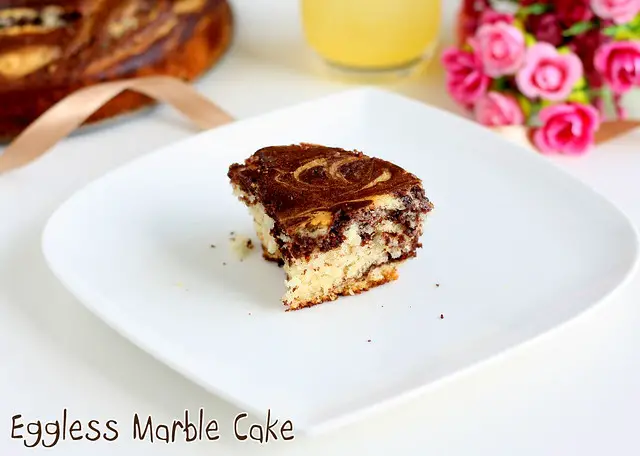 Method:
In a wide bowl add the flour, baking soda and baking powder and since i used the milk powder i added it too. If using condensed milk add it to the wet ingredients.
Sift the mixture to ensure even mixing.
Add the powdered sugar and oil and mix well in a separate bowl. Mix well. Add milk to this. If using butter cream the butter and sugar till it becomes fluffy. Add milk to it later and add the vanilla essence too. If using condensed milk instead of milk powder add at this stage.
In hot water add the cocoa powder and mix well to make a paste and add the orange zest to this.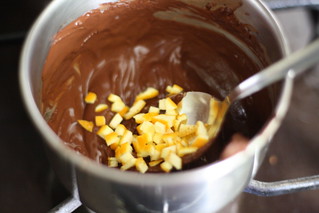 Mix the milk,oil and sugar mixture to the sifted flour mix.
Mix well without lumps. Take 1/2 cup of the flour mixture and add it to the cocoa mixture.
Grease the pan with oil and spread one portion of of plain batter to this.
Now add one portion of cocoa batter to this and make swirls with a fork or knife.
Repeat the same process for another portion too.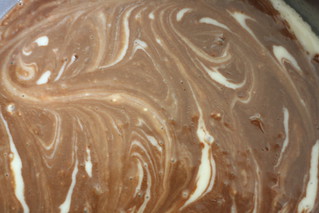 Preheat the oven to 160 degrees and bake it for 30 to 35 minutes. Mine got done in exactly 26 minutes. Insert a tooth pick in the center of the cake to check whether it is done or not. If it comes out clean then it is done.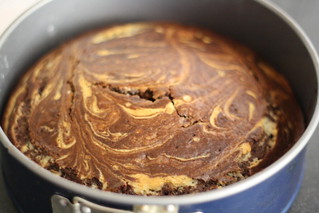 Cool it in a wire rack. When it is completely cool, cut them into pieces. Else you will get the crumbles.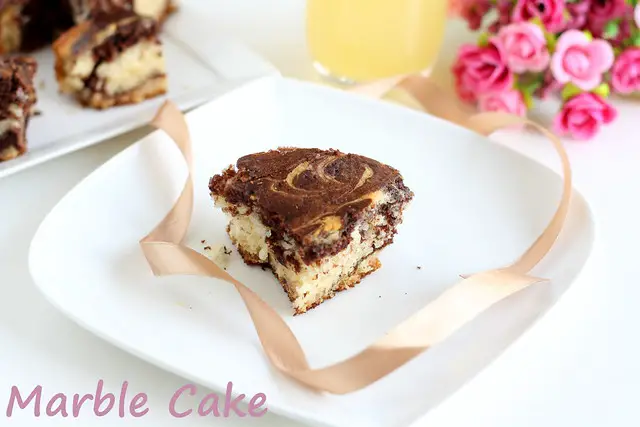 It will be better if you keep it in the refrigerator and cut this after 2 hours.
Orange zest you can skip too if you do not have oranges at home. But i recommend to add this as it enhances the flavor of the cake.