Recipe updated with Video
My kids were on the back of me to make some cake or muffin for Halloween, but i refused  totally as i am busy with diwali recipes. But after they left for school, though i was packed with lot of work today i made these witch finger cookies , to surprise them tomorrow. I didn't have any idea of posting this, but Varsha will be very happy if I post this.
I followed my  Eggless Choco Chip  Cookie recipe  and  the method of how to make Witch fingers from this you tube link. You can choose any cookie recipe of your choice.

Witch finger cookies
  Preparation Time : 15 mins | Baking Time : 12-15 Mins |Serves: 14 cookies 
     Plain flour | Maida  1 cup
     Baking soda  1 tsp
     Baking powder 1/2 tsp
     Butter  5 tblsp (softened)
     Sugar    1/2 cup
     Vanilla essence  2 tsp
     Milk  1 tblsp
     Almonds blanched  7
                                   Video of How to make Witch finger cookies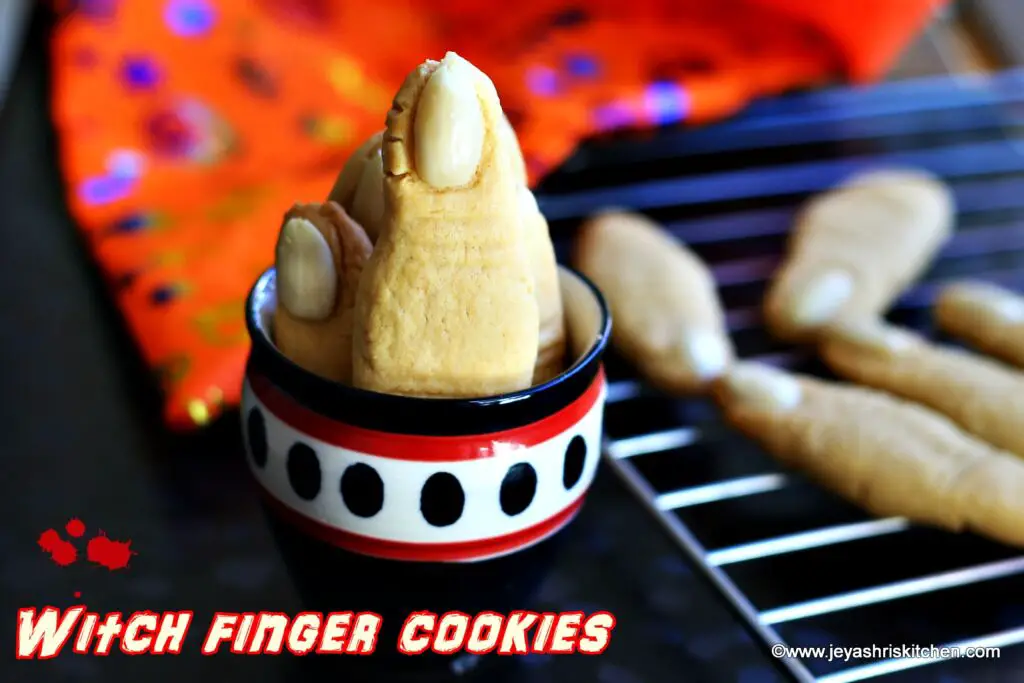 Method with step wise pictures:
Powder the sugar in a mixie. Add the soft butter to this.
Keep the butter in room temperature for sometime, you will get it soft butter.
Beat the butter and sugar mixture well.
Add vanilla essence to this and mix well.

Sift the flour, baking powder and baking soda.
Add the butter mixture to this.

Knead this well into a dough. Take equal portions of the dough , like a lemon size.

Blanch the almonds and cut them into 2 parts, but cutting in the center.

Make the portion of dough long. Put lines using a tooth pick.

Place it on a greased baking tray. I generally line my tray with baking sheet.
Press the end part of this with your thumb, to keep the nails.

Place it in the part where we pressed for the nails.
Bake it in a oven at 150 degrees for 12-15 minutes, till it is done.

I didn't preheat the oven this time.
Cool down in a wire rack.
Witch finger cookies are ready to serve.
Enjoy your Halloween party.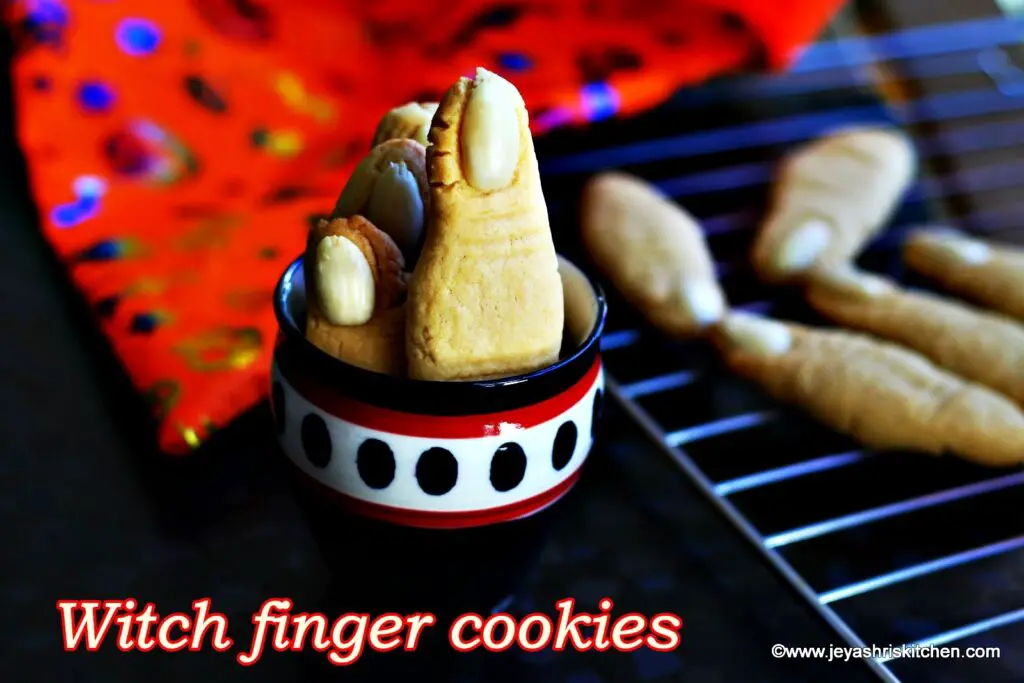 Notes:
You can use whole almonds too.
You can use red food colour around the nails to get a blood look on the witch finger cookies.