ragi chocolate cake with nutella glaze
Making a cake with millet flour is the one I always love. I have already baked a thinai cake and the recipe of which is in my recent cookbook. I wanted to make a cupcake with ragi|finger millet flour. Finally, i made this vegan ragi chocolate cake and it was a super hit among kids. The recipe was slightly adapted from here. I packed this for their snacks and they really enjoyed it very much. I just topped the cake with a Nutella glaze. Since I had 1 tbsp of Nutella lying in the box, after trying a sandwich with Nutella (recipe coming soon). I felt very satisfied with giving a home-baked millet cake for kids to school.  Even if you do not have an oven, you can try the same cake in a pressure cooker too. Check out my pressure cooker cake for more details and instructions.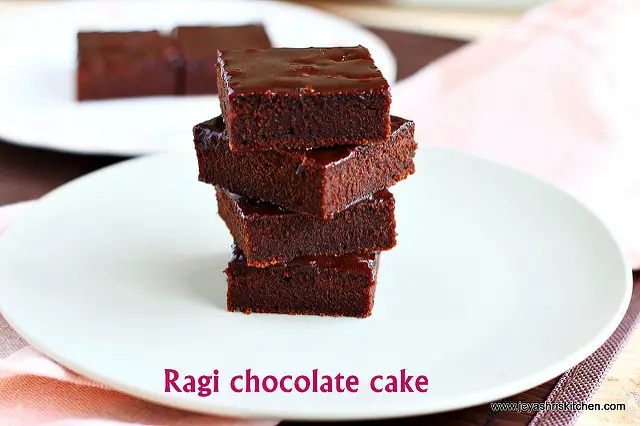 Ragi chocolate cake
  Preparation Time: 10 mins | Cooking Time: 35 Mins |Serves: 16 square pieces
     Ragi flour   1 cup
     Whole wheat flour   1/2 cup
     Sugar    1/2 cup
     Cocoa powder  1/4 cup
     Baking soda   1/2 tsp
     Oil      5 tblsp
     Lemon juice   1 tblsp
    Vanilla essence     1 tsp
    Water    1 and 1/4 cup         
   For nutella glaze
   Nutella   1 tblsp
   Butter   1 tsp
   Milk    2 tblsp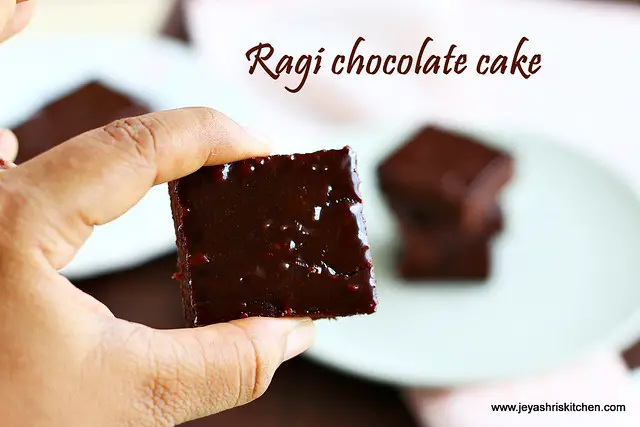 Method:
In a wide bowl, sift the ragi flour, whole wheat flour, baking soda, and cocoa powder.
Powder the sugar and in a bowl add the sugar, oil, lemon juice, vanilla essence, and water.

Now slowly mix the wet ingredients and the dry ingredients together and whisk it gently without any lumps.

Grease a cake tin with oil and dust it with little flour.
Pour in the batter to this and genlty tap it to get rid of the air bubbles.

Bake this for 30 -35 minutes in an oven at 160 degrees. Insert a toothpick in the center and if comes out clean then it is done. Mine took 30 minutes. Timing varies from oven to oven.
Allow this to cool completely. Cut them into squares after pouring the Nutella glaze.

To make the glaze, in a pan add Nutella, milk, and butter together.
Keep in a low flame and stir it. Let this get combined together. Once the butter is melted switch off the flame. It took 2-3 minutes for me to make this glaze.

when the cake is completely cool, pour the glaze over the cake and spread it evenly and gently with a butter knife.

Then cut this into squares.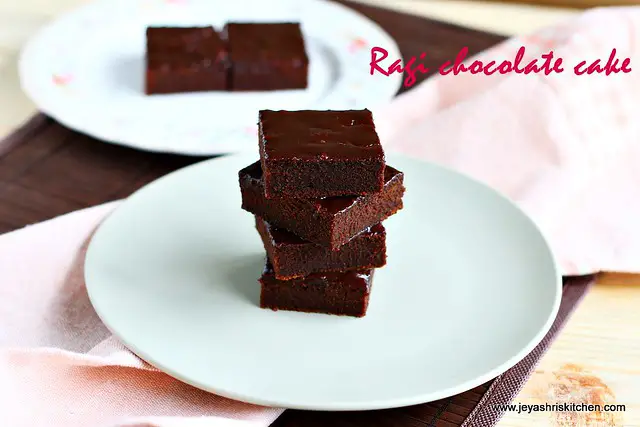 Notes:
You can replace whole wheat flour with maida too.
You can skip the nutella glaze and serve it plain also.
The cake was a bit dense but was very tasty and kids friendly too.
You can add finely chopped nuts while mixing the flour.
Chocolate chips can also be added.