It has been my long due to try the cake in pressure cooker. Though i have read in so many websites but still i don't have the guts to try it at home. Always my readers say, recipes from jeyshris kitchen gives us confidence to cook. But this post is the other way round. Few of my readers who tried cake in pressure cooker tempted me to try this cake. One of my friend sent me step wise picture for this cake and it gave me more confidence to try it. Also She tried it few times and every time it turned out perfect. So finally i tried my hands on pressure cooker cake taking all tips from readers and friends who tried it. so for all my readers who do not have an oven can enjoy home made cakes.

Pressure cooker cake
Preparation Time : 15 mins | Cooking Time : 40 Mins |Serves: 4-5
Refer my eggless vanilla sponge cake
I halved the recipe as my pan was small.


Method:
Make the cake mixture ready. You can choose any cake recipe from my recipe index.
Use a pressure cooker which is wider than the size of the cake pan. I used my 10 litre cooker.
Do not use non stick cooker.
Do not put weight or gasket for the cooker. Keep the stand which comes with the cooker below . If you don't have that can use a palte. Do not keep the cake tin directly into the cooker.

Some people may add sand below the stand, also you can spread salt, if you don't get sand. But i didn't add any.
Keep the cake mixture ready. Preheat the cooker without putting lid,in medium high flame for 5 minutes. Do not panic if smell comes.
After 5 minutes keep in a very lowest flame possible.

Place cake tin in the center and cover the cooker. I used my aluminum bundt pan. You can use stainless steel bowl too. Ensure it should not touch the walls of the cooker. Grease the bowl before adding the cake mixture.

Cook till the cake gets completely cooked. It too 40 minutes for me to get it perfectly cooked. Insert a knife in the center and if it comes out clean then the cake is done. You can open the cooker after 30 minutes to check it is done or not.
Allow it to cool completely.

When it is completely cool invert the tin and cut the cake into slices. See the picture below of my cooker after baking.

Eggless vanila sponge cake is ready to serve.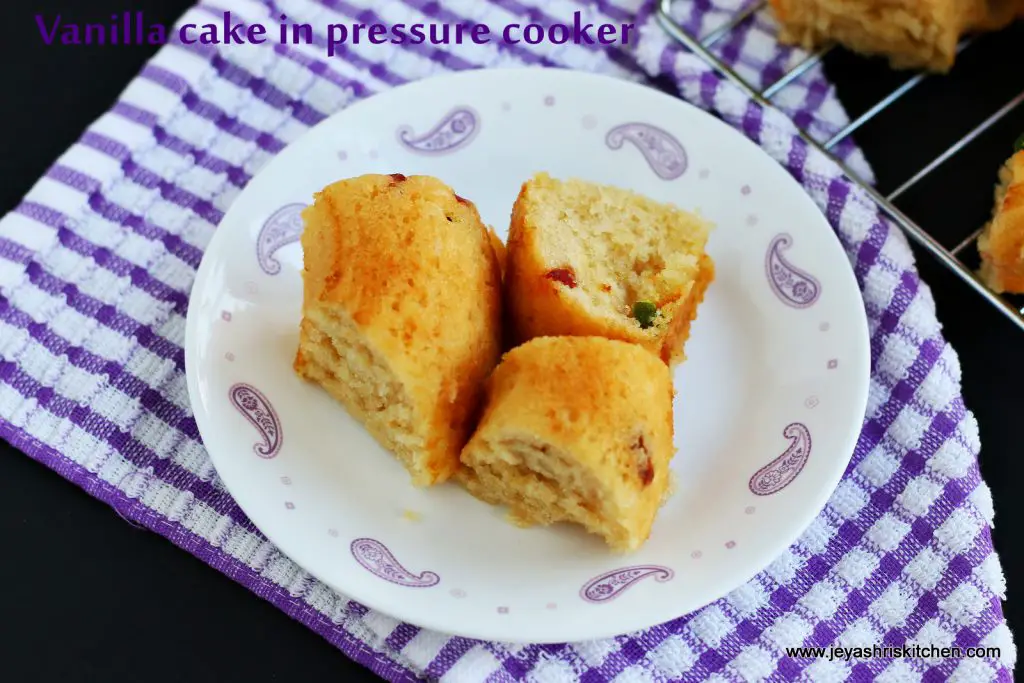 Notes:
Baking time depends on the size of the cooker and also the intensity of the flame.
Do not bake like this often as the cooker may get spoilt soon.
For this cake do not use gasket and weight for the cooker.
Also no need to add water inside the cooker as we do normally.
If you have any queries feel free to write to me – jeyashrikitchen@gmail.com