Few days back when i was talking to my friend who recently got a baking oven, asked me a recipe of a basic cake recipe. I suggested a few eggless baking recipes from my blog . But i wanted to try a a basic eggless vanilla sponge cake too. I already tried this Vanilla sponge cake from here and i thought i will make it again and blog the recipe too.
This cake turned out super soft and moist. I wanted to bake it in a loaf pan, but ended up baking in a round spring foam pan only. I added little tutti fruitty to the cake. You can skip that and bake a plain cake too.
While uploading the pictures i realized that this is my 300th post too.
Thanks Sharmi for the perfect recipe. We enjoyed the cake very much.
INGREDIENTS:
| | |
| --- | --- |
| ALL PURPOSE FLOUR(MAIDA) | 1 AND 1/2 CUP |
| YOGURT | 1 CUP |
| SUGAR | 3/4 CUP |
| BAKING SODA | 1/2 TSP |
| BAKING POWDER | 1 AND 1/2 TSP |
| COOKING OIL | 1/2 CUP |
| VANILLA ESSENCE | 1 AND 1/2 TSP |
| MILK | 1 TSP |
| TUTTI FRUITY | 1 TBLSP(Optional) |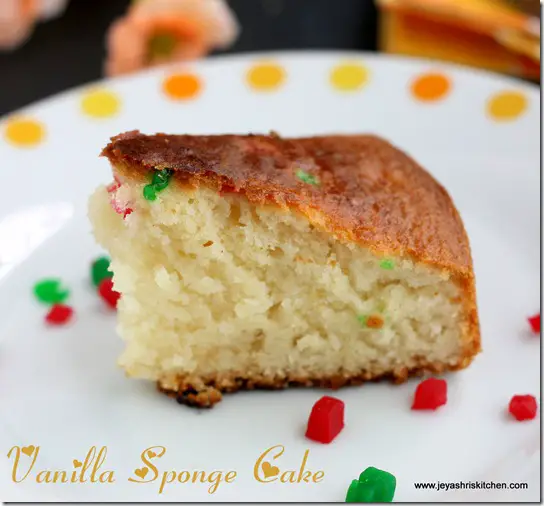 METHOD:
Cream sugar and yogurt ( use yogurt in room temperature) till the sugar gets dissolved.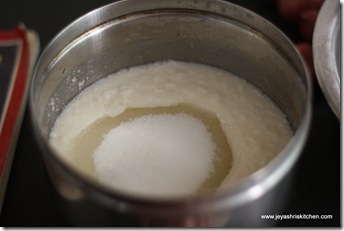 Add baking powder and baking soda to this mixture and mix well.
Keep it aside for 5 minutes.
Add vanilla essence.
Add oil to this.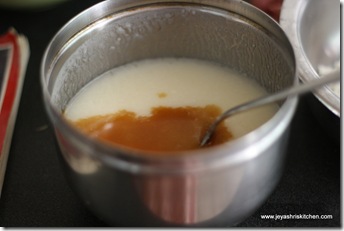 In a wide bowl add the flour and slowly add the wet mixture to the flour.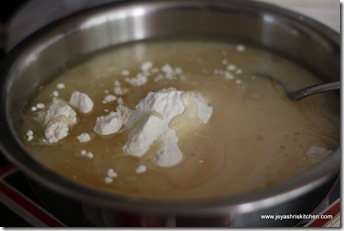 Mix well to get a creamy texture.
Add tutti fruity to this and mix well.( if using)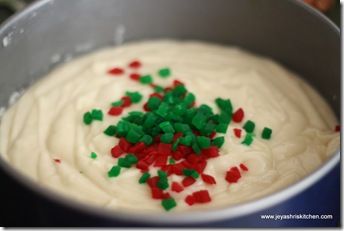 Pre heat the oven to 180 degree C for 10 minutes.
Grease the baking pan and dust it with flour.
Transfer the cake mixture to the baking tin.
Bake it for 35 –40 minutes at 180 degrees C till the center gets completely cooked. Check it by inserting a tooth pick in the center. If it comes out clean then it is cooked.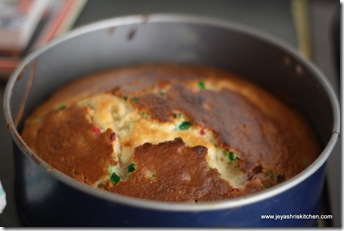 After 20 minutes just brush the top of the cake with milk to get a glaze.
when it is completely cooled keep it in the refrigerator for 3 hours and cut the cake.
This step will make it to get perfect pieces without crumbles.
But i didn't do as i have to click soon as the weather was getting bad and it was about to rain. (Natural light will work out best for pictures)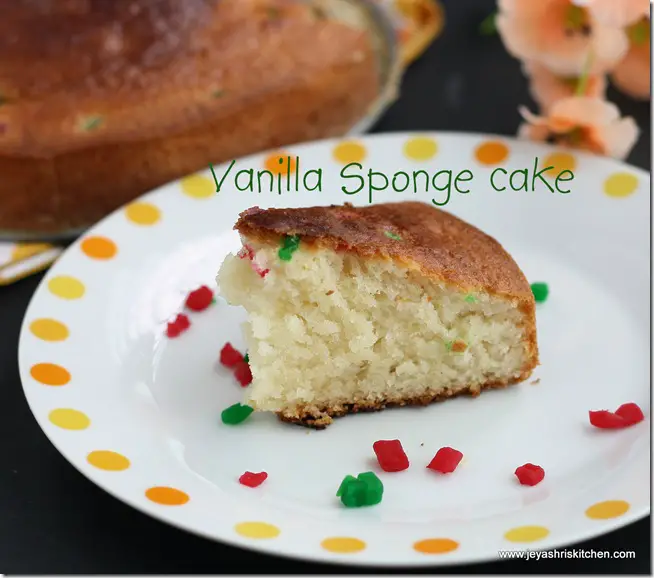 Note:
Never allow the batter to sit for a long time as this will make the cake hard.
3/4 th cup of sugar is normally perfect but  i prefer to have little extra and so you can make it as 1 cup also.
The taste of yogurt will not be felt in the cake so you can move on to try out this recipe without any second thought.