As Varsha is posting for the past 2 sundays some interesting popsicles , today she is sharing the furit popsicle recipe, which we tried even last year too. We are going for a holiday and i have scheduled some posts till the end of the month. Please bear with any delay in replying your mails or comments. Over to Varsha…..
It is really important to stay hydrated and healthy during summer. I usually find myself opening the
fridge every 2 minutes to look for something cold and nice to drink and since we have holidays now, all that my brother and I eat are chips, cookies and other junk food. Amma keeps insisting that we should eat fruits instead of all that. But do we listen to her? NOO ,So I came up with this popsicle. So the next time you crave for something nice and cold have this popsicle instead. It's healthy and refreshing at the same time. BTW this is the last post of the SUNNY SUNDAY POPSICLE series, as we are going for holiday. But don't worry I'll be back with other posts some time later. BYE BYE.

Fruit popsicle
Preparation Time : 15 mins | Cooking Time : Nil |Serves: 4
Kiwi 1/2
Strawberry 3-4
Blueberry a handful
For the orange juice
Orange 1 big
Sugar 2 tsp
Water 1/2 cup
Store bought orange juice or any fruit juice can be used.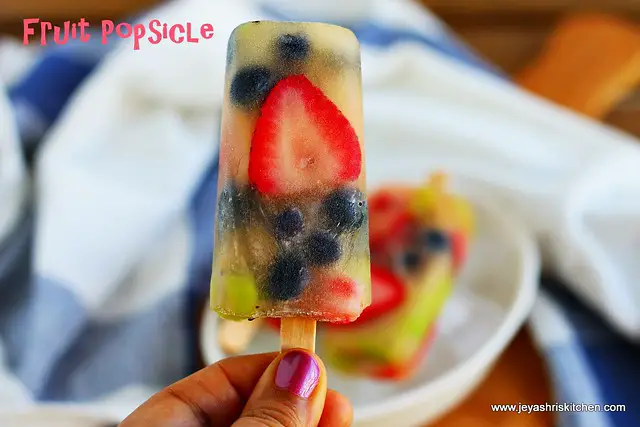 Method
TO MAKE THE ORANGE JUICE:
Squeeze out the juice from the orange.
In a mixer beat this along with water and sugar.
THE POPSICLE:
Cut the fruits in small pieces.
In a popsicle mold put your fruits.

Now pour the orange juice into the mold.

Freeze it overnight or for 6-7 hours.

Run through water and slowly take out the popsicle from the mold.
Enjoy it cold.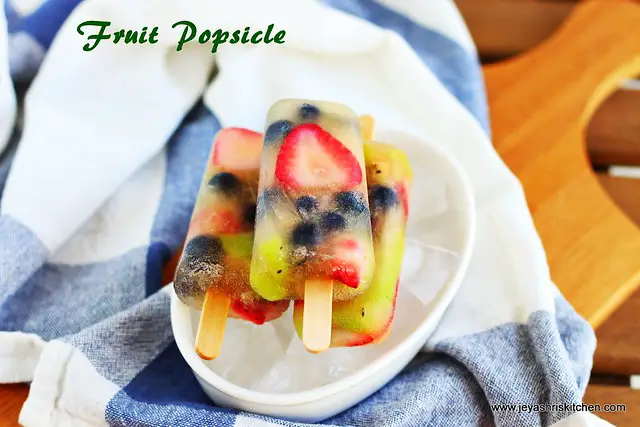 Notes:
You can add mango bits and pineapple to the popsicle.
Any fruit juice can be added instead of orange juice.
I wanted to try with store bought mango juice like frooti or maaza.
Ensure that the fruits are not too sour, else it will be not be so comfortable for you while biting them frozen.