Though i love the addition of garlic in pickle i have never tasted garlic pickle. But my sister who is good at making this garlic pickle was insisting me to try this garlic pickle and wanted me to post in my blog for a long time. Somehow i couldn't make it , but when i got a reader request for this recipe, i asked my sister during my visit to India in December and immediately noted down it and made it after coming back to Singapore. It tasted very well and we all loved it so lets see how to make instant garlic pickle.
INGREDIENTS:
| | |
| --- | --- |
| GARLIC | 2 BULBS |
| SESAME OIL | 2 TBLSP |
| METHI SEEDS(VENDAYAM) | 3/4 TSP |
| REDCHILLI | 5-8 |
| CUMIN SEEDS | 3/4 TSP |
| TAMARIND EXTRACT | 1/4 CUP |
| JAGGERY | 1/2 TSP |
| SALT | AS NEEDED |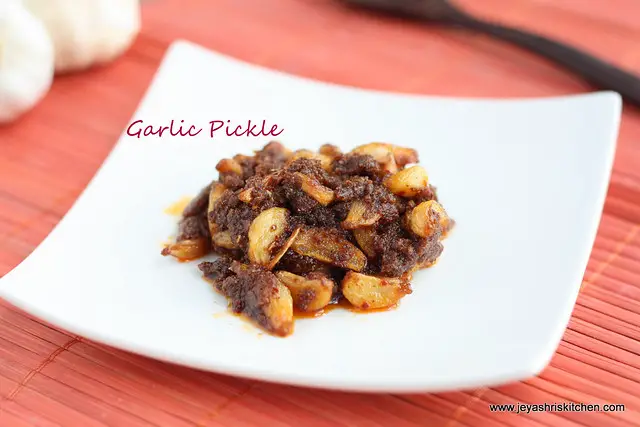 METHOD:
Dry roast the red chilli, cumin seeds, methi seeds and add salt in the last.
When it cool and grind into a fine powder.
Take out the skin of garlic. Add oil in a pan and add the garlic pearls to the oil and saute in a low flame till it turns golden brown.
Now add the ground spice mix and saute for 2 minutes and add the tamarind water and jaggery.
Mix well and saute for 2 mins and switch off the flame. you can add a tsp of sesame oil if you want.
Transfer it to a dry container. Enjoy with curd rice and even with sambar rice too.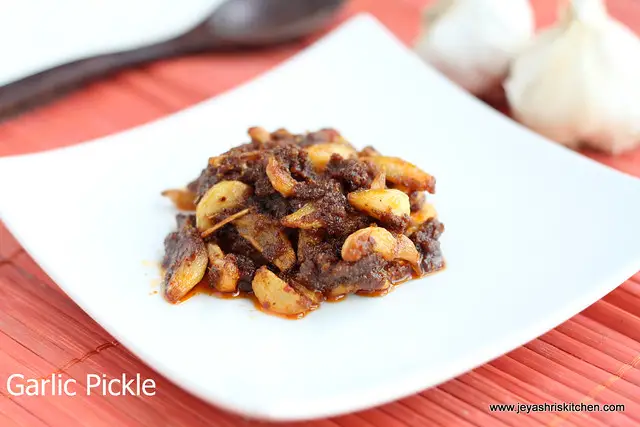 Note:
This yielded 1/2 cup of garlic pickle.
Always use dry spoon to take out the pickle.