Godhumai dosa or Wheat dosa is made at my mom's place almost 2-3 days a week. Those days we don't make much of chapathis and even it is made once a month. My dad hates to eat rotis and being a diabetic and also a die hard fan of these wheat dosa, my mom makes this often. After i got married at my in laws place, they don't make wheat dosa more but chapathis are made often. So i have never tried Godhumai dosai after marriage. Last week when my mom was here i suddenly remembered about this Instant wheat dosa and asked my mom to make for me, so that i can also learn from her. She gave the instructions and i made the batter and she showed me how to make godhuma dosai and after few trial and error i also made Crispy wheat dosais. We had with Onion chutney and it was a perfect combo.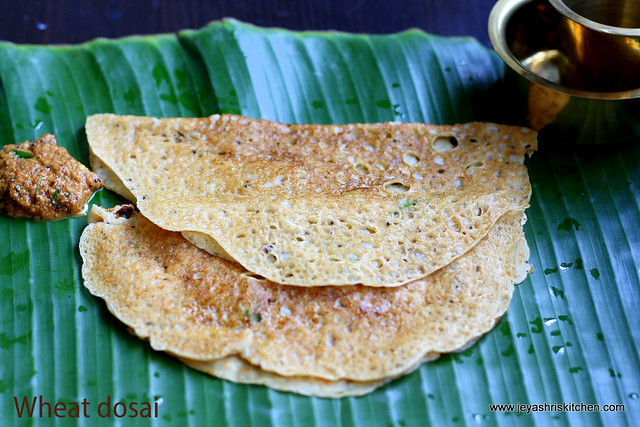 INGREDIENTS: MAKES APPROX 10- 12 DOSAS
| | |
| --- | --- |
| WHEAT FLOUR | 2 CUPS |
| WATER | 4 CUPS |
| JEERA | 1/2 TSP |
| RED CHILLI | 2 |
| SALT | AS NEEDED |
| MUSTARD | 1/4 TSP |
| ASAFOETIDA | A PINCH |
| OIL | AS NEEDED |
| CURRY LEAVES | FEW (OPTIONAL) |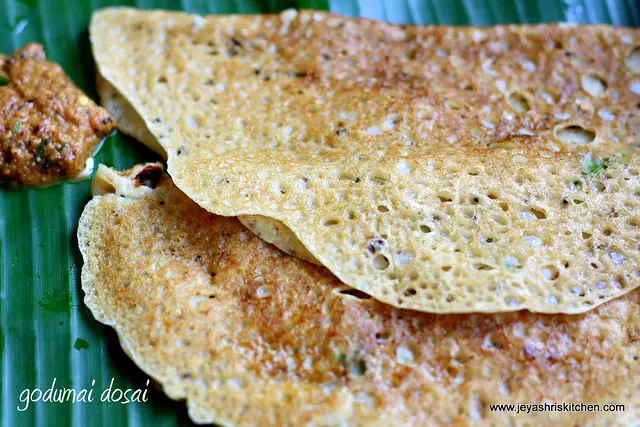 METHOD:
In a vessel add the wheat flour. With your fingers mash the jeera, curry leaves and salt and add it to the flour. Amma always does this as it will bring our the flavours of jeera and curry leaves . If you want u can add the jeera as it is and chop the curry leaves and put.
In a small pan, add a tsp of oil and add the mustard seeds,asafoetida and red chillies.when it splutters put off the flame an add it to the wheat flour.
Add water to this slowly and mix without any lumps. the batter should be bit thinner than the regular dosa batter.
Heat a tawa , i used my non stick tawa. Pour the batter in a circular motion and smear some oil around it.
Cook in a medium low flame else it if kept in high flame it will get burnt. and will not get cooked.
Flip on the other side and cook till it becomes crispy.
Always serve hot. Else it will be bit soggy.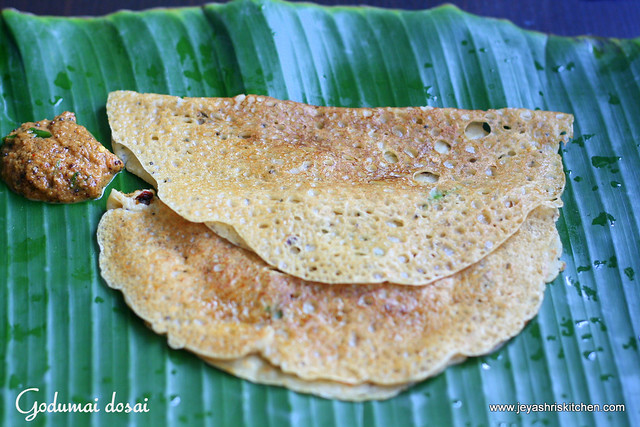 Note:
If you want you can add very finely chopped onions to the batter before making the dosa.
Always ensure that the batter is thin, else the dosa will be thick like adai.
You can add 1/4 cup of rice flour or idli |dosa batter to this .