Gothsu is a South Indian recipe, used as a side dish for Idli | dosa | upma| pongal. I have already posted a Onion Gothsu long back which my mom makes very often. But this recipe for kathrikkai gothsu | brinjal gothsu i learnt from my relative who visited our house last month. Though i prepared it long back somehow, didn't post it. Finally today i am sharing the recipe of Kathrikkai gothsu which she told , they also call it as Chidambaram Gothsu.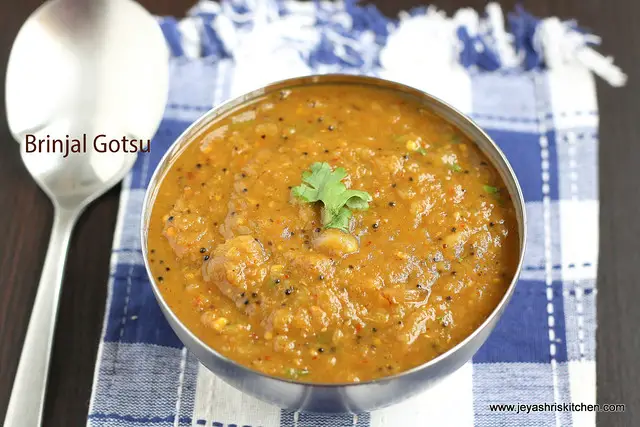 INGREDIENTS: SERVES 4
| | |
| --- | --- |
| BRINJAL | EGGPLANT|KATHRIKKAI | 1 (BIG VARIETY) |
| SHALLOTS |SMALL ONION | 15 |
| SESAME OIL | 1 TBLSP |
| TAMARIND EXTRACT | 1/2 CUP |
| SAMBAR POWDER | 1/4 TSP |
| CHANNA DAL | 1 TBLSP |
| DHANIYA | 1 TBLSP |
| RED CHILLI | 4-5 |
| MUSTARD SEEDS | 1/2 TSP |
| ASAFOETIDA | A PINCH |
| CORIANDER LEAVES | FEW |
| SALT | AS NEEDED |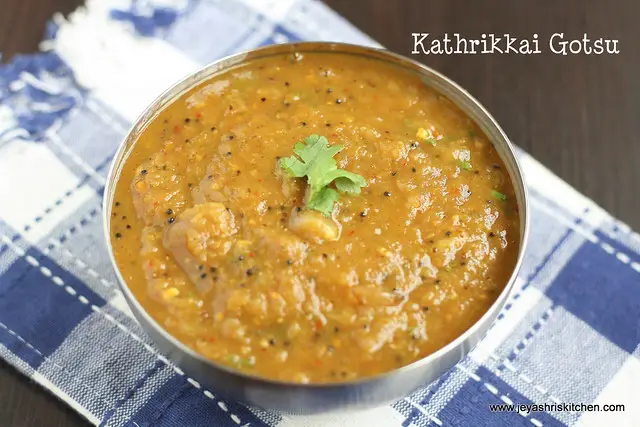 METHOD:
Roast the brinjal on open flame by applying oil on it. Pierce the brinjal with forkso that it will get cooked inside too.
Roast it in a low flame. When done, immerse the brinjal in water.After 5 minutes, take it out and peel the skin of the brinjal.
After peeling the skin, take a bowl of water and rinse the brinjal again to avoid too much of smoke smell coming out from it.
Mash the brinjal here and there to ensure that there is not insects in it.
If you want you can pulse in a mixer else you can mash it with hands. I put mine in a mixer to get a smooth texture.
In a pan add little oil and add the channadal, dhaniya,and red chilli. Roast it till golden brown and when cool make it into a fine powder.
Peel the skin of the onions and add oil in the pan and throw in the mustard seeds.
Add the shallots and roast till they turn golden brown.
Add the tamarind extract (taken from a goose berry sized tamarind) and add the sambar powder, salt, turmeric powder and asafoetida.
Let this boil in a low flame for 5 to 7 minutes. Add the ground powder to this and allow this to boil for 5 minutes. You can add little water if the gravy is too thick.
Add in the mashed brinjals and mix well. Add water to get the gothsu consistency.
Let this boil for 3-4 minutes. Add a tsp of sesame oil in the last and garnish with coriander leaves.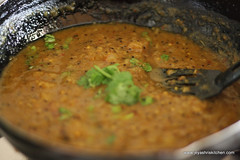 Serve hot with idli | dosa.
We had with

Arisi Upma

.