Grilled Mediterranean Vegetable sandwich, is made with roasting veggies on tawa and stuffed inside the sandwich. Usually i make
corn spinach sandwich
and open
bread masala sandwich
for kids. I have watched a recipe of Mediterranean sandwich recipe in Venkatesh bhat show last year. When i recently, saw a pack of Panini bread in Fairprice shop, it reminded me of this sandwich recipe and tried at home. Since the video visuals are clear in my mind, i just went ahead and tried it for kids lunch box last week. To my surprise it was a huge hit, especially Varun who is bit fussy about trying new foods, loved it a lot. I had a pack of whole meal bread at home so wanted the sandwich using with that. Try this recipe and home and let me know how it turned out. Check out the notes section for variations.
We had this sandwich along with a pineapple coconut water mocktail. Will post the recipe soon.
Grilled Mediterranean Veg Sandwich
Preparation Time : 15 mins | Cooking Time : 20 Mins |Serves: 2
Bread slices 4
Zucchini half
Onion 1
Cherry Tomato 2 (optional)
Capsicum 1/2
Olives few
Mixed herbs* 1/4 tsp
Chili flakes 1/4 tsp
Salt as needed
Olive oil 1 tblsp
Butter to apply on the bread
Grated cheese 1/4 cup ( optional)
*You can replace with oregano too
Video of how to make Mediterranean Sandwich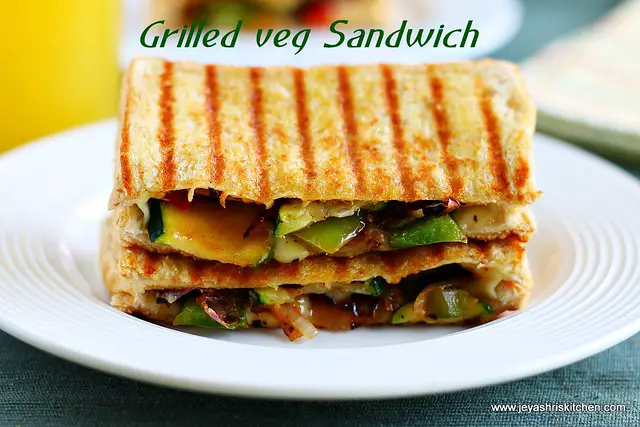 Method:
Slice the zucchini and onions into roundels. Cut the capsicum into cubes. Thinly slice the zucchini
Slit the cherry tomatoes into four. (if using)
In a wide bowl add the chopped zucchini, onion, capsicum, cherry tomatoes and olives.
Add in the mixed herbs, chili flakes salt and olive oil.

In the original recipe chef used Balsamic vinegar, which can be replaced with lemon juice and regular vinegar. I missed to add that.
Mix well and let this get marinated for 10 minutes. Cover and keep it inside the refrigerator.
After 10 minutes, add this veggies to a tawa and cook this for 5-7 minutes in a medium flame.
Once done switch off the flame.

Filling is ready for the sandwich.
Take one bread and butter on one side.
Place the buttered side on a tawa.
Place some filling on the top of the bread.
Add grated cheese (if adding).

Spread butter on another bread and place it on the top of the bread on the tawa, keeping the buttered side up.
Cook on both sides till the outer portion gets golden brown colour. Keep the flame medium.

You can grill this in a sandwich maker too.
Cut them into squares or triangles and serve it. You can pack this for kids lunch box too.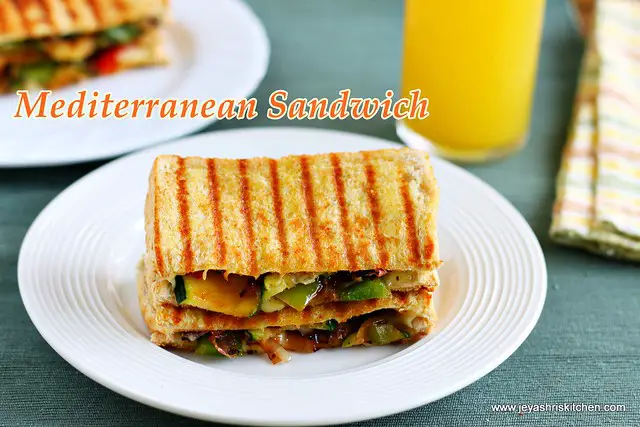 Notes:
Instead of zucchini, you can use eggplants too. Use the big one which we use for baingan bhartha.
The sandwich can be made in sandwich maker too instead of making in the tawa.
You can add blanched broccoli, mushroom, tofu or paneer, sweet corn to the sandwich.
I used whole wheat bread, use any bread of your choice.
You can use cheese slices too.
I have tried this with panini bread available in fairprice shop here. It tasted very nice.