Pineapple i love the most next to mangoes. Generally i like eating fruits,also i would love to add them in my salads too. Usually i add fresh pineapple cubes to my daily salad along with some cucumber, carrot, some legume (chick peas, red kidney beans..) lettuce, papaya, watermelon and some nuts. Every day i pack a big bowl of salad for suresh, for his evening snack and also i reserve  a portion from that  for me and kids to have in the evening . This grilled pineapple salad i have seen in a restaurant menu long back and suddenly while eating the pineapple in my salad, it came to my mind. So i made this today. While writing this post, i am enjoying a bowl of grilled pineapple salad too. This salad is similar to grilled pineapple salsa, so you can serve with tortillas too. Try this at home and let me know how they turned out. Check out my other salad recipes:
Grilled Pineapple Salad
  Preparation Time : 10 mins | Cooking Time : 15 Mins |Serves: 2-3
     Pineapple   1/2
     Capsicum    1/2
     Onion    1 (optional)
     Tomato   1/2
     Green chili   1
     Red chili powder    to taste
     Salt   as needed
     Coriander leaves   few
     Roasted peanuts    2 tblsp (optional)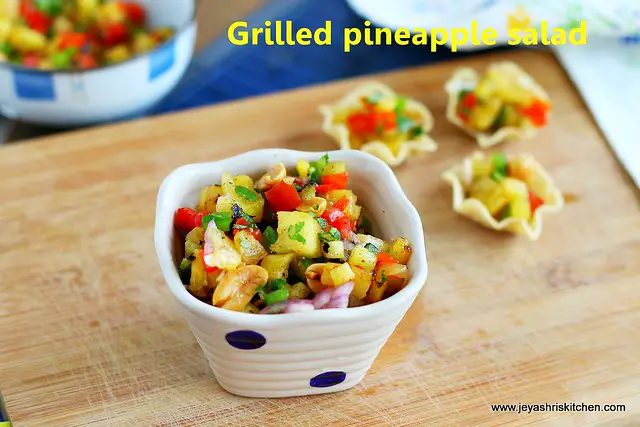 Method:
Cut the pineapple into thick slices or if you want you can cut into roundels. Roast them in open flame, till they get slightly roasted. If you have the bbq you can in that too.
Also you put can put a grill on the stove and place the pineapple on that grill and roast it.

Roast the capsicum also and keep it aside.

Chop the grilled pineapple , capsicum and onions finely.

De seed the tomato and de seed the green chili.
Chop the tomato, green chili and coriander leaves finely.
In a bowl combine the pineapple, onion and capsicum. Add salt and red chili powder.

Add the chopped tomato, green chili and coriander leaves.
Mix well. Add peanuts if you want and toss well.

Grilled pineapple salad is ready to serve.
You can serve this a s a salsa with tortillas too.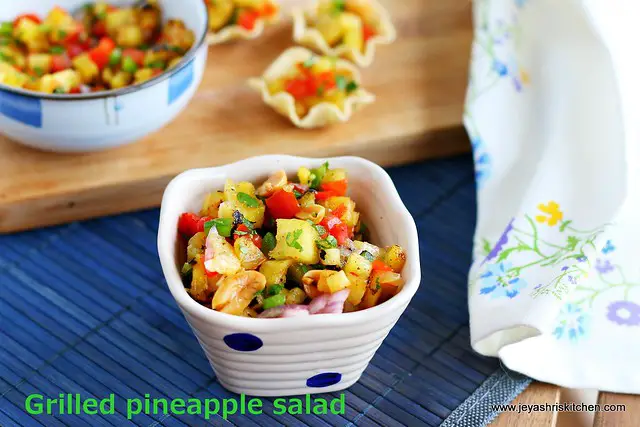 Notes:
You can add cooked red kidney bean(rajma) to the salad to make the salad more filling.
Even cooked pasta or cooked corn kernels can be added.
You can roast the green chili and chop them finely and add to the salad.
Few tblsp of thick yogurt can be added to this salad as a dressing.
If you want your salad to be crunchy you can add some chopped lettuce to it before serving.
You can add 1/4 tsp of soya sauce to the salad.