Ice lemon tea is a refreshing summer cooler and i have started having this ice lemon tea after lunch almost everyday.since i am taking on everyday basis, i never add too much sugar to this but if you are serving for guests you can add as per your taste. I tried this ice lemon tea with normal tea powder which i use for making everyday tea.  INGREDIENTS:
| | |
| --- | --- |
| TEA POWDER | TEA BAGS | 1 TBLSP | 2 TEA BAGS |
| WATER | 4 CUPS |
| LEMON JUICE | 3-4 TBLSP |
| GINGER | A SMALL PIECE(OPTIONAL) |
| SUGAR | TO TASTE |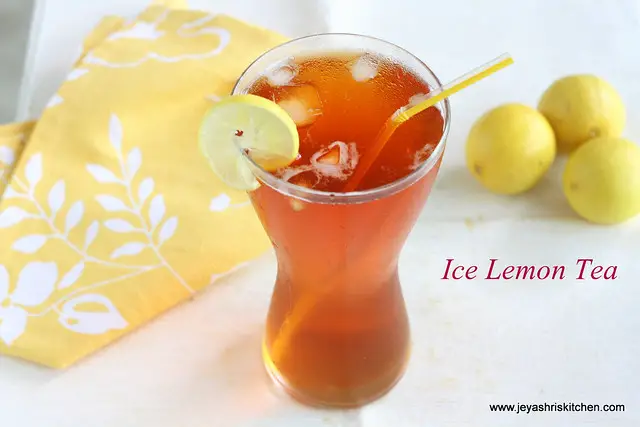 METHOD:
In a saucepan bring the water to boil and add the tea powder ( i used the "TATA" BRAND) . Let it boil for a minute and switch off the flame.
If using tea bags, when the water comes to a rolling boil switch off the flame and put the tea bags inside it.
If adding ginger, using a mortar and pestle mash it slightly and add to the water.
cover the lid of the saucepan and keep it aside for 20 minutes.
Strain the tea and add 1-2 cups of water to the strained tea as it may be strong.
Add lemon juice to this and add sugar.
Serve immediately by adding ice cubes to this.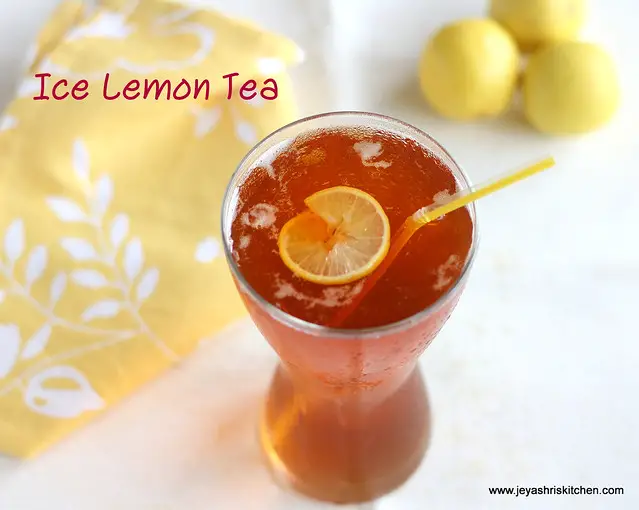 Notes:
You can add mint leaves to the tea when the water is boiling.
Mint will give a nice flavour and will be refreshing too.
Do not add too much tea powder as it will give bitter taste.