Barley water is a very healthy drink and it a best summer cooler too. Click here to read more health benefits of barley. Few days back when Varsha was complaining of bad stomach ache due to heat i bought her tender coconut and suddenly remembered of Barley water which my mom used to give me when i was pregnant and it is best summer cooler too.Those time i have the blood pressure at a little higher level and my mom used to give barley water every day morning 1 cup at frequent intervals. It will be little horrible for me to drink the plain barley water and later she used to add Sweet lime juice but without sugar or some times less sugar. After delivery, i totally forgot about this and suddenly remebered few days back. I made this the along with fresh orange juice and added few Dried winter melonwhile cooking the barley instead of sugar. You can replace with sugar too but add little less sugar as we normally add for other juices. Try out this easy and very healthy Orange barley juice and stay hydrated this summer and be away from the aerated drinks available in the market.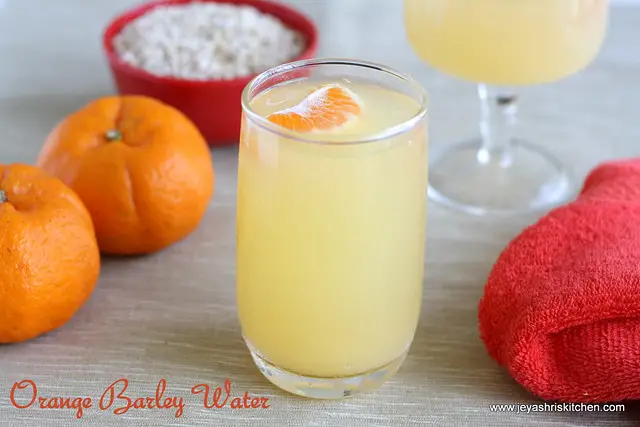 INGREDIENTS:
| | |
| --- | --- |
| BARLEY | 1/4 CUP |
| DRIED WINTER MELON | 4-5 STICKS (OPTIONAL) |
| FRESH ORANGE JUICE | 1/2 CUP- 1 CUP |
| WATER | 5-6 CUPS |
| SUGAR | AS NEEDED |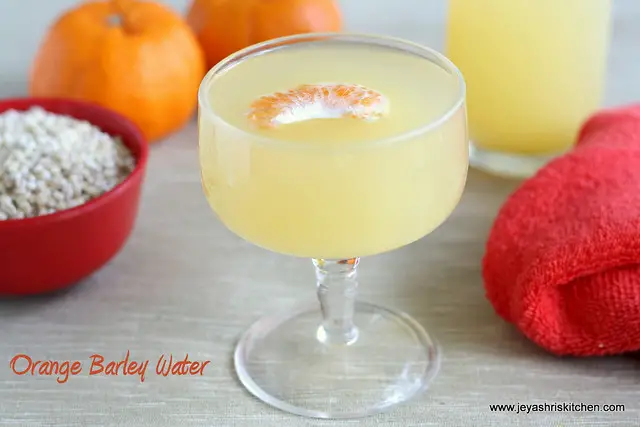 METHOD:
Wash the barley and cook in a wide saucepan with 5-6 cups of water till the barley becomes soft and cooked nicely.
If adding dried winter melon add it while cooking the barley. this took 10 to 12 minutes.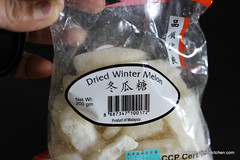 allow this to cool, discard the winter melon sticks and the barley. Take out the water and add the freshly made orange juice to this.
Mix well and refrigerate this for an hour and enjoy it cool. You can add orange segments to the juice while serving.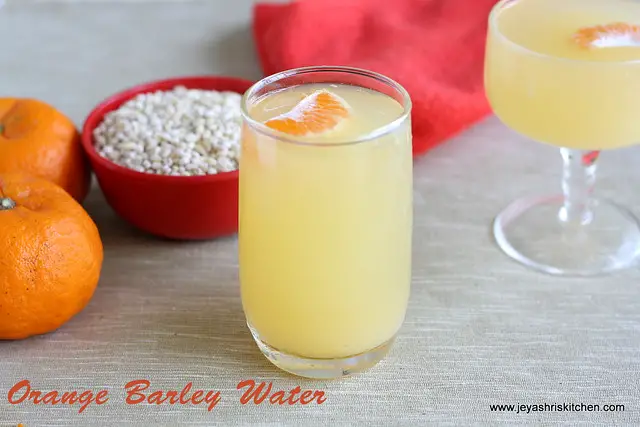 NOTE:
You can replace Orange with lemon, water melon , cantaloupe and strawberry too.
You can add butter milk  to this and salt to this to have an savoury version of barley water