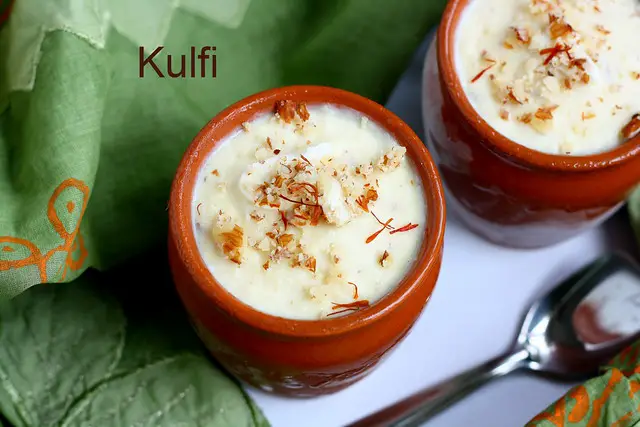 Wishing you all a very
Happy New year 2014
. Let this new year brings lots of abundance and joy in your life. Kulif ice cream i was planning to post to post for a long time . While i was scheduling clicks to post during my vacation time in chennai, suddenly i realized ,New year will be coming in between and for that i want to post a Sweet recipe. Suddenly Kulfi came into my mind and a reader also requested for this recipe long back. So made Kulfi ice crema just before the day we are about to leave from home and clicked it. the ice cream turned out super creamy and everyone loved it a lot.
Celebrate this New year with Kulfi Ice cream and see you soon with more interesting recipes.
Ingredients

  Preparation Time
:
5 mins
|
Cooking Time
: 45Mins |
  Serves
: 3 to 4
    Full cream Milk   5 cups + 3 tblsp
    Condensed Milk  1/2 cup
    Badam 5-6
    Bread  1 Slice
    Saffron    6-7 strands
    Rose water  1 tsp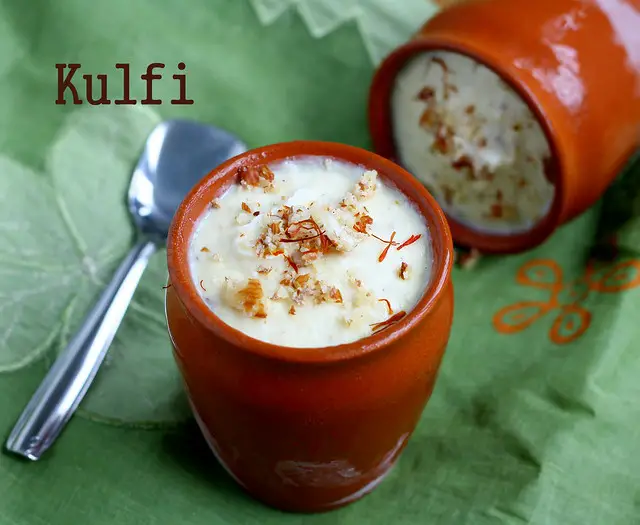 Method:
In a pan add milk and let it boil . Stir in between and keep the flame low. Let the milk start reducing.
Trim the edges of the bread and grind this into a fine paste by adding 3 tblsp of milk.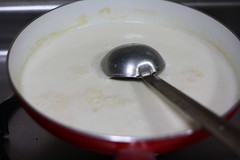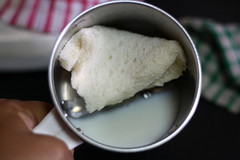 Add this bread paste to the milk and add the condensed milk.
Add the saffron strands to the milk. Mix well. After adding the condensed milk and bread mixture the milk will be thickened.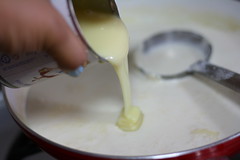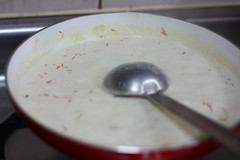 Pulse the badam in a mixer just once.
Add this to the milk.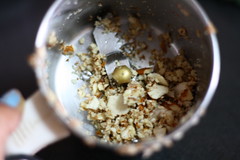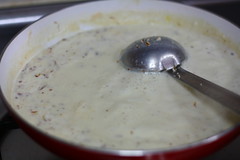 By this time the milk must  have reached the right consistency. It should be like a idli batter.
Switch off the flame and allow this to cool.
Add rose water.Pour in vessel .
Freeze for 15 minutes and take it out. Stir well once with a hand beater.( the one which we use to make butter milk)
Cover and Freeze it again by pouring it in a kulfi mould or matka for 5-6 hours.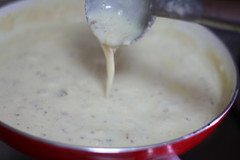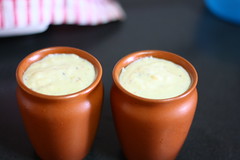 My friend's brother bought this beautiful teracotta matka for me from Bangalore. Thank you Sudhir.
After taking out from freezer keepit out for 5 to 10 minutes or run the kulfi moulds in water and take it out carefully.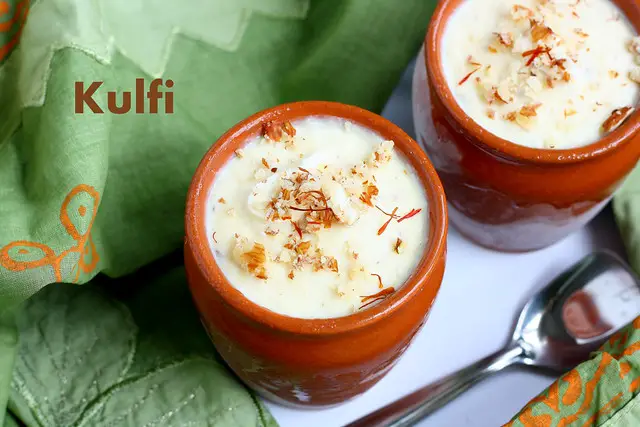 Note:
You can add pistachio too.
Sugar can be added instead of condensed milk but adding condensed milk gives a rich taste to the kulfi.
1 tblsp of corn flour can be added instead of bread.
Use white bread.