Last week when we went to buy a laptop which we were planning for a very long time, we finished our shopping and after that we wanted to install some additional things to it and the shopkeeper told that it will take one hour and as the time was around 7 pm kids started feeling hungry and we went to a nearby cafe. Unfortunately nothing was there for vegetarians. Finally we thought we will have some juice but the choice which the kiddos opted for was not there. Then finally they told they have a choice of a vegetarian soup and we ordered one and told the waiter that we will order one more if the kids like the soup. We all loved the soup and it was quite filling too. While we were having the soup the chef visited the dining area(it was a very small cafe). When he asked the feed back about the soup i casually asked him the recipe and he immediately told the recipe of the bread soup in detail and i made this 2 days back. My kids enjoyed and the taste was so close to the soup which we tasted in the cafe.
Also check out my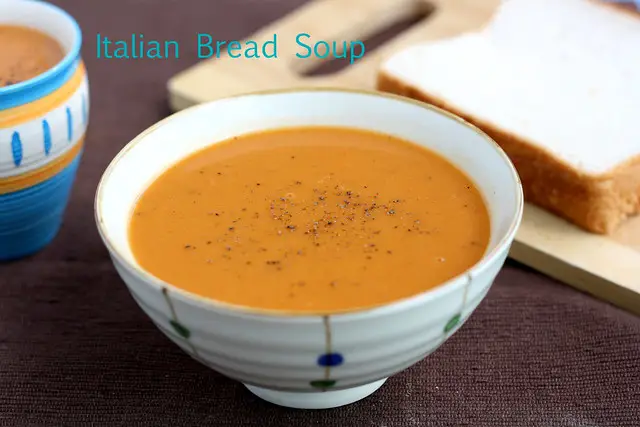 This soup is made with the bread crust(sides of the bread) which we usually discard. So whenever you cut the edges of the bread keep it in the freezer and try out this soup.
INGREDIENTS: SERVES 2-3
| | |
| --- | --- |
| BREAD CRUST(SIDE PORTION OF THE BREAD) | FROM 4 SLICES OF BREAD |
| PASTA SAUCE | 3-4 TBLSP |
| ONION | 1 |
| GARLIC | 3-4 |
| BUTTER | 1/2 TSP |
| OREGANO | A PINCH |
| BLACK PEPPER POWDER | 1/2 TSP |
| WATER | 2-3 CUPS |
| SALT | AS NEEDED |
METHOD:
Take out the the edges of the bread and chop them roughly.
Chop the onions and garlic finely.
In a deep pan, add butter and add the chopped and saute them till the onions becomes translucent.
Add the bread crust and saute till it emits a nice aroma. Do it in a lower flame.
When it is done, add 2 cups of water,tomato based pasta sauce and cover the pan and cook till the bread becomes tender and the flavours are infused into it.
Let this cook for 7-9 minutes.
Allow this to cool and blend this smoothly in a blender.
Add the blended soup to the pan and bring it to a nice boil.
Add oregano ,pepper powder and salt to this.
Add water to reach the right consistency. If you want to have a creamy soup add 1/2 cup of full cream milk in the last.
Serve hot.