Modak recipe with video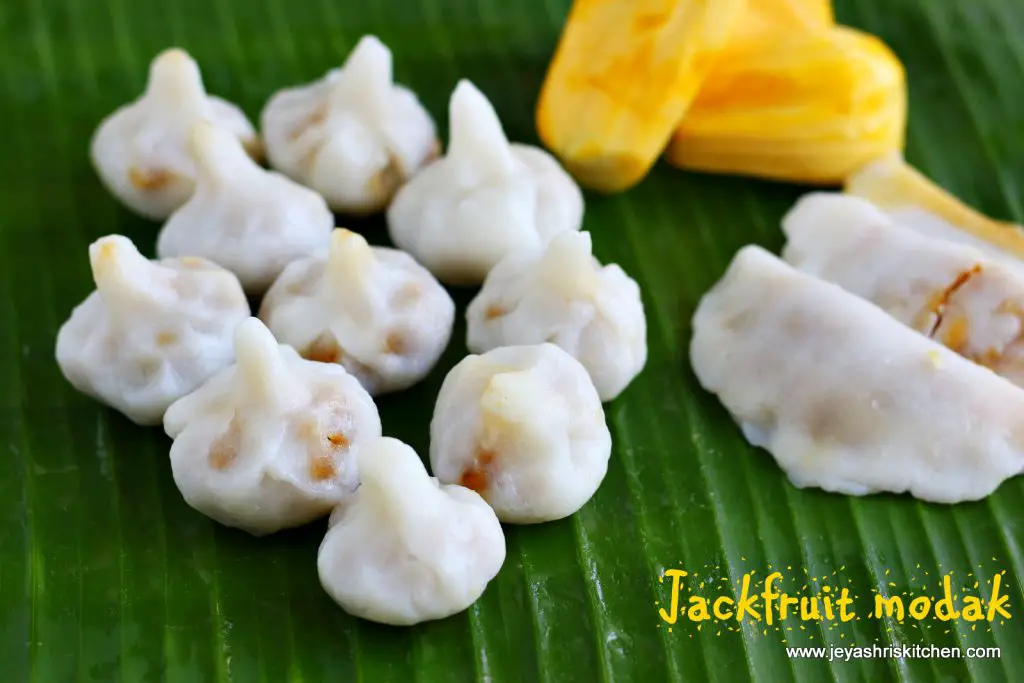 Jackfruit modakam | jack fruit modak is modak prepared with jackfruit poornam. Modakam is a the traditional one made in all South Indian homes for Ganesh chathurthi. Maharastrians also make modak, they call it as ukadiche modak. I have already posted modakam with
khoya poornam
,
moong dal poornam
and  
dry fruits poornam.
I wanted to make some interesting stuffing for the modak and finally ended up trying the jackfruit modakam. It turned very well and the house was filled with nice aroma when i was making this jackfruit modakam. As Ganesha chaturthi 2016, is coming up next week stay tuned for many varieties of modak and kozhukattai varieties in jeyashriskitchen. Check out my collection of
Vinayagar chathurthi recipes. 
Jackfruit Modak
  Preparation Time : 15 mins | Cooking Time : 25 Mins |Serves: 15 modak
For the outer covering   
    Rice flour | idiyappam flour  3/4 cup
    Salt   as needed 
    Sesame oil  2 tsp
    Water   as needed
For the stuffing    
    Jackfruit   1/2 cup (chopped)
    Coconut    1/4 cup 
    Jaggery    1/4 cup
    Ghee 1 tsp
    Cardamom powder   a pinch (optional) 


                                                       Jackfruit modakam video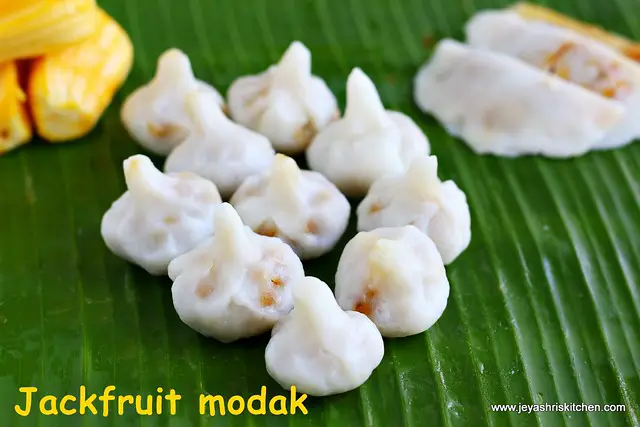 Method:
In a pan add ghee and add in the chopped jackfruit, coconut and jaggery.
Mix well and cook for 2 minutes. If you feel the mixture is oozing out water just add 1 tsp of rice flour to this and mix well.
Jack fruit poornam is ready for modak.

Boil the water nicely. Add salt and 1 tsp of sesame oil to the water.
Add the flour in a wide bowl and slowly add water little by little.
Mix well with a spoon.
When the mixture is warm add 1 tsp of oil and knead it into a smooth dough.
Keep this covered all the times.


 Bring the edges together to form a modak shape. If you want to shape modak using mould, check out my video on modak using mould.

Steam the modaks for 7 minutes in a medium flame. I used my bamboo steamer which i bought recently.

Jackfruit modakam is ready for neivedhyam.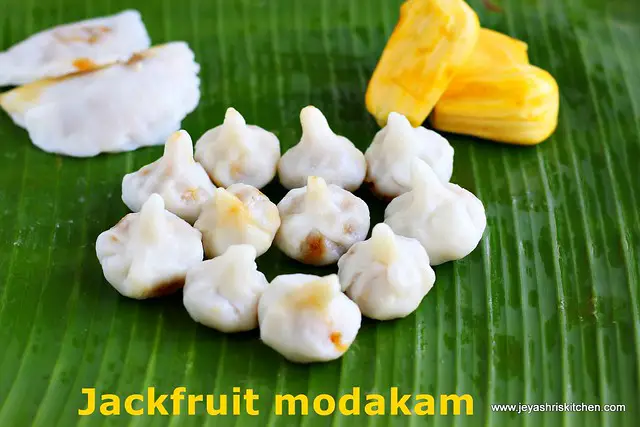 I tried another version also which i saw in Venkatesh bhat show in vijay tv last year.  Will post a green moong savoury poornam tomorrow. Just posting the pic collage of the same here below.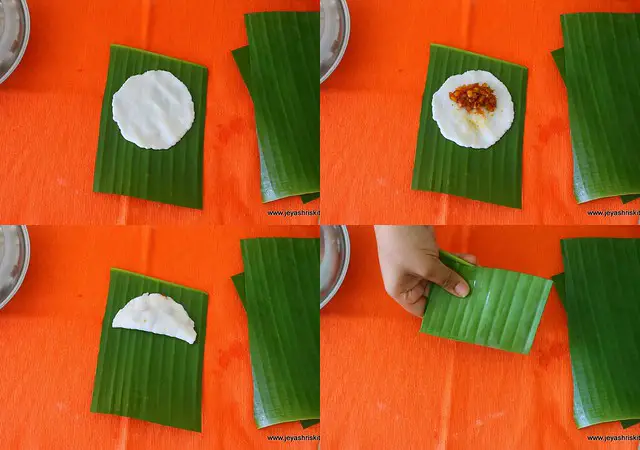 Notes:
Ensure that the jackfruits are finely chopped. Else it will be difficult while stuffing.
You can add 2 tblsp of milk to the water to make the outer cover. This gives nice bright white colour outer cover.
Do not keep the shaped modaks without steaming for a long time. It will start oozing out water.
always keep the outer cover dough and the prepared modak covered.