Kalyana mor kuzhambu | wedding style mor kuzhambu, also called as bonda morkuzhambu , is a popular recipe served in Tamil brahmin weddings. I have posted my mom's version of mor kuzhambu long back and mambazha mor kuzhambu recently. Though I have heard from many relatives in the family adding coriander seeds to morkuzhambu, never tried that in my version. During my Trichy trip 2 months back, my perimma was explaining to me this Iyengar bonda morkuzhambu ( she told me this name) recipe to me. The way she explained made me to try this at home soon, but some how it got delayed. Finally i tired this last week and we all loved it very much. It tasted the same morkuzhambu which are served in weddings. Try this kalyana morkuzhambu at home and let me know how it turned out. We also make paruppu urundai morkuzhambu, with the same style but for that the dal miture will be steamed. Will post that version latter. Check out my
Kalyana Mor kuzhambu
Iyengar wedding style mor kuzhambu with bonda | kunukku
Ingredients
1

cup

thick yogurt

½

tbsp

toor dal

½

tbsp

chana dal

1

tbsp

coriander seeds

¼

tsp

methi seeds

2

green chili

1

red chili

A small piece of ginger

3

tbsp

coconut

¼

tsp

turmeric powder

Salt as needed

1

tsp

coconut oil

¼

tsp

mustard seeds

Few curry leaves

Water 1/2 cup

2

tbsp

toor dal

2

tbsp

chana dal

2

tbsp

Urad dal

Ginger a small piece

Red chili 6-7

Asafoetida a pinch

Oil for deep frying
Video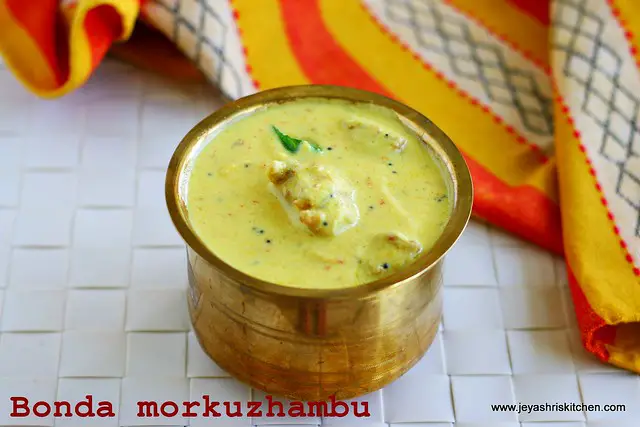 Method:
Soak the ingredients for the bonda for 2 hours. (toor dal + channa dal + urad dal )

Drain the water and grind this into coarse thick paste along with red chili, salt and asafoetida.
 Do not add much water while grinding. Grind this as we do for aama vadai. 

Soak the ingredients for morkuzhambu . Soak the toordal, ginger, red chili, green chili, coriander seeds for 15 minutes. 

Grind this into a fine paste along with coconut.  Add little water while grinding. 

Whisk the yogurt and add 1/4 cup of water to this. 
Add the ground paste to this.
Add salt and turmeric powder.
Mix well without any lumps.

In a pan add this yogurt mixture and keep the flame low. Stir in between. This gravy should not boil. 
When the gravy froths up switch off the flame.

Meanwhile heat a pan with oil to make the bondas. 
Take a small portion of the batter and drop it in the oil. No need to make this in to any round shapes.

Cook this in a medium flame and when it becomes nice golden brown colour take it out from the pan. 

Transfer this to the hot morkuzhambu. Repeat the same for the rest of the batter.

In a pan add coconut oil and temper with mustard seeds and 1 red chili.
 When the mustard crackles add this to the morkuzhambu and mix well. 
Garnish with curry leaves.

Serve with hot rice. 
A simple fried papad or vadam will be a best accompaniment for this morkuzhambu.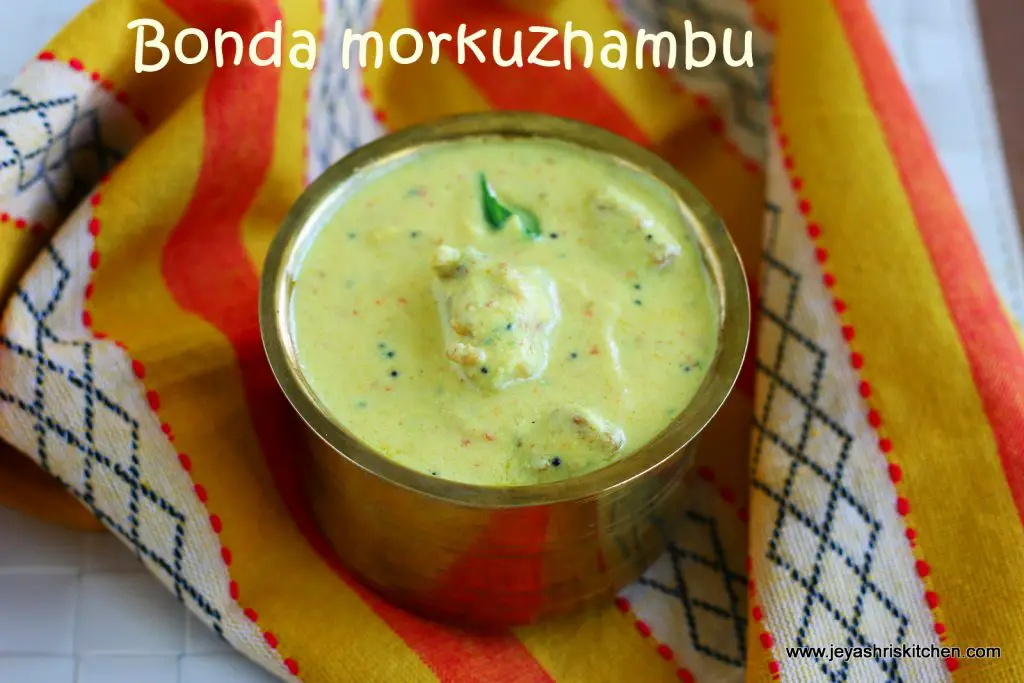 Notes:
Bonda batter should not be too thick ,else it will be very hard while eating.
Ensure that the morkuzhambu is not very thick, as it gets more thickened after few minutes of adding the bondas.
Add the bondas when the mor kuzhambu is hot.  This way the flavour will get infused more into the bondas.
If it is not hot, ensure to put hot bondas to mor kuzhambu.
You can skip the bondas and make plain morkuzhambu too.