Sago Sundal with video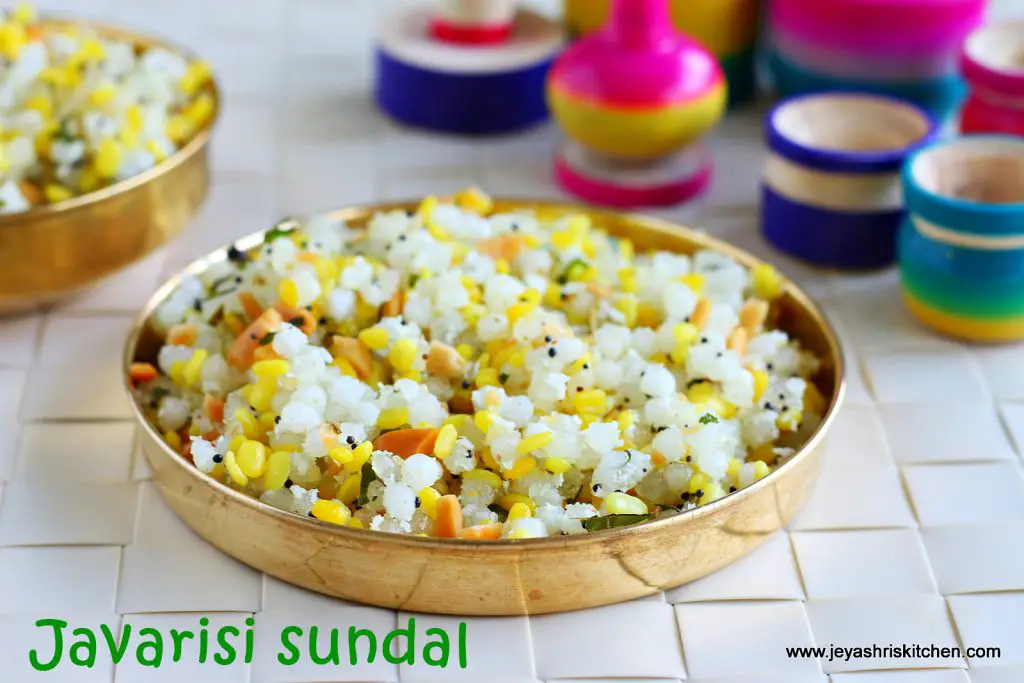 Javarisi sundal | sago sundal is a new variety of sundal with javarisi and moong dal as main ingredients. I usually make moong dal sundal at home but this one with javarisi is quite new to me. I saw this in subbus kitchen few years back. When i was talking about Navaratri recipes my friend Shriprada passed on this recipe to me. She is a good cook and also cooks all traditional tamil brahmin recipes very well. Also her Golu is always a classic one and mostly theme based too. It tasted quite well and we had it for evening snack. You can make this for Navaratri too for neivedhyam. Check out my other Navaratri sundal and sweets recipes too. I have given a similar recipe with poha in my Kutties kitchen cook book and also in a thozi supplement book 3 years ago.

Javarisi sundal
  Preparation Time
 : 15
 mins + soaking 4 hrs
 | 
Cooking Time
 : 25 Mins |
Serves: 6
     Javarisi | sago   1/2 cup
     Yellow moong dal  3 tblsp
      Turmeric powder   1/4 tsp
      Crushed Peanuts   1 tblsp
                                                        Video of Javarisi sundal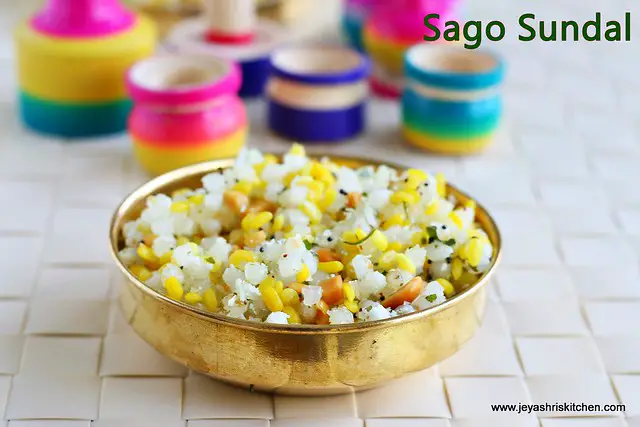 Method:
Wash the sago thrice and drain the water. Sprinkle little water and keep it aside for 4 hours or overnight.
Soak the moong dal for 1 hour and keep it aside.

In a pan add the moong dal and add 1 cup of water and turmeric powder and a tsp of oil.
Cook till the dal becomes soft. Ensure it should not be mushy. Drain the extra water.

     Grind the ginger, green chili and curry leaves into a coarse paste.


In a pan add the oil and add and add in the mustard seeds. Add in the coarsely ground paste.

Saute for few minutes and add the soaked sago. The soaked sago will be separate grains.
Add the cooked moong dal to this and mix well.
Add in the grated coconut and  mix well.

Crush the roasted peanuts and add it to the sundal.
Mix well and switch off the flame.

If needed you can squeeze lemon juice to this, at this stage.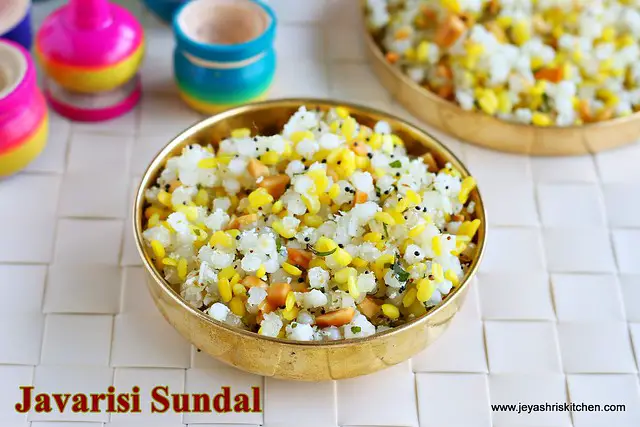 Notes:
Ensure that the sago shouldn't be sticky.
Also the moong dal shouldn't be mushy.
You can temper with slit green chili and grated ginger. But coarsely grinding it with curry leaves, will be helpful while eating.
Adding peanuts will give a nice crunchy texture to the peanuts. So do not omit this.