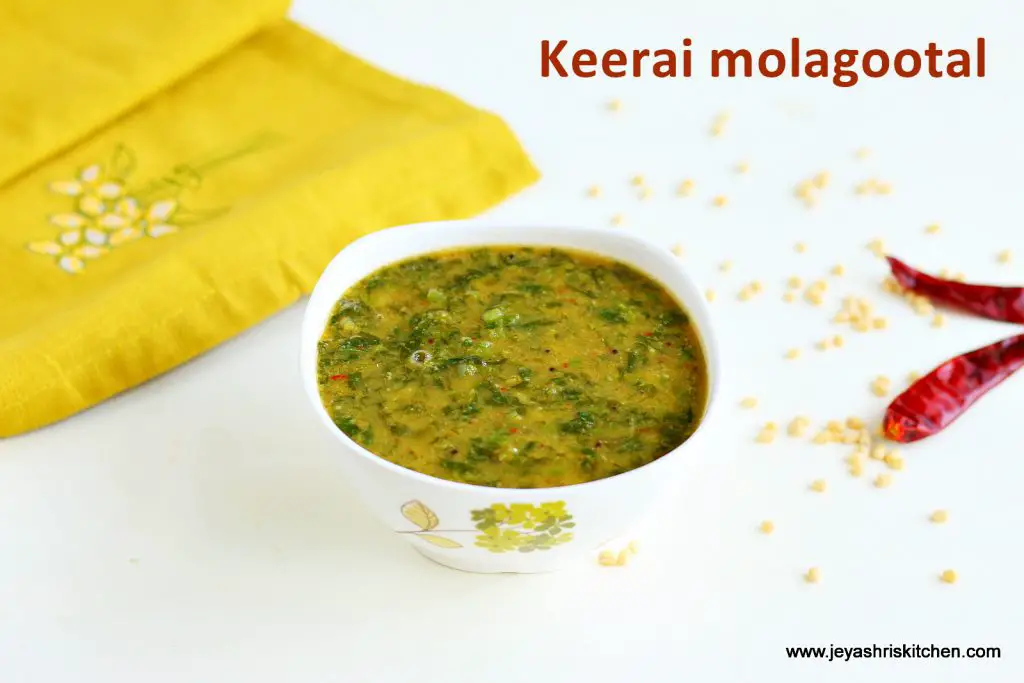 Keerai Molagootal recipe | Palakkad recipes Keerai Molagootal is a traditional Palakkad recipe, which I wanted to post here for a very long time. Many readers asked me to post this molagootal recipe and even I have seen readers searching for Keerai molagootal jeyashri's kitchen. This is nothing but a poricha kootu made with keerai. Though the name has molagu in this, we don't have molagu | pepper in this recipe. This kootu is a simple yet healthy South Indian gravy made with spinach and served with hot rice. Try out this palakkad speical keerai molagootal at home.  Check out my Vazhaipoo kootu , Mambazha pulissery.

Keerai Molagootal
  Preparation Time : 15 mins | Cooking Time : 25 Mins |Serves: 3-4
     Keerai | spinach   1 bunch
     Toor dal or moong dal   1/3 cup
     Turmeric powder  1/4 tsp
     Urad dal   1 tblsp
     Red chili  2
     Coconut  1/4 cup
     Cumin seeds| jeera   1/2 tsp
     Mustard seeds   1/4 tsp
     Coconut oil   1 tsp
Cooking oil  1 tsp
     Salt  as needed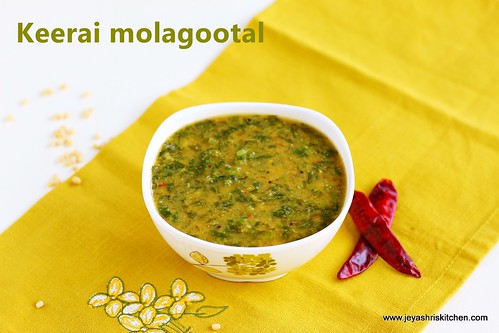 Method:
Wash the spinach and chop them finely. Cook the dal with turmeric powder, in the pressure cooker till 4-5 whistles.
In a pan add the cooking oil and add the urad dal and red chili. Roast till the dal turns golden brown and keep it aside.
Add spinach to the bowl and add 1/2 cup of water.
Add salt.

Grind the roasted dal, red chili, cumin seeds and coconut into a fine paste. Add water while grinding to make it into a smooth paste.

Once the spinach gets cooked, generally it gets cooked very fast 5-7 mins, add the cooked dal to this.

Mix well and add in the ground paste. Add little water to get the desired consistency.

In a small pan add coconut oil and add in the mustard seeds and when it splutters add it to the cooked keerai.

Boil this for 2 minutes and switch off the flame. Keerai molagootal is ready .
Serve this with hot rice along with some spicy curry like potato curry | ladies finger stir fry or brinjal curry.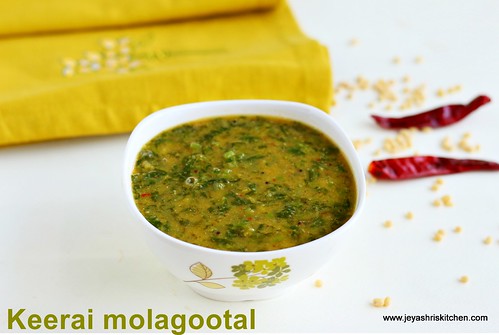 Notes:
You can use arai keerai or molakeerai or even palak keerai  for this recipe. My amma makes keerai kootu with manathakkali keerai too.
Do not add the dal more than the quantity mentioned. Else the kootu will have dominating taste of dal.
Tempering in coconut enhances the taste of the molagootal, if you do not like the smell use normal cooking oil.