Jowar roti | jowar ki roti | jolada roti
is a gluten free roti recipe made with sorghum flour. Jowar atta is found commonly in all Indian grocery stores. Jowar roti is a very healthy roti and can be easily made too. Just it needs few times of practise and i am sure you can master in making jowar ki roti. I tried thsi roti few months back and it was a big flop show. I ended up wasting the flour. After that i didn't attempt. After that one of my friend was asking me to post the recipe of jowar ki roti and i told her, i tried it few times but it is not coming, but will try sometime . I remember one of my friend do this very often and now she is living in australia. I called her and asked the recipe and she patiently explained each and every step and gave me the tips to make perfect jowar ki roti. the same evening i tried the recipe and shared with the friend who asked me for this roti recipe. And after making it 2-3 times i made it very perfect and now a days, i make it twice in a week. You can try
Bajra roti and Ragi aloo paratha.
I have posted a amatuer
video
as how to roll the jowar rotis . This will give you an idea.Try out this jowar ki roti at home and let me know how it turned out.
Very happy to share with you all that my first cook book got published by Vikatan publications . The book is themed Millet recipes and available in all leading book shops in Tamilnadu. They are available for online purchase too . Click this link to buy the book.
https://books.vikatan.com/index.php?bid=2303.
Thanks for your support.
Jowar roti
Preparation Time : 30 mins | Cooking Time : 20 Mins |Yields: 4
Jowar flour | sorghum flour 1/2 cup + 3 tblsp for dusting
Water 1 cup
Salt to taste
Rice flour 1 tblsp
Oil 1/4 tsp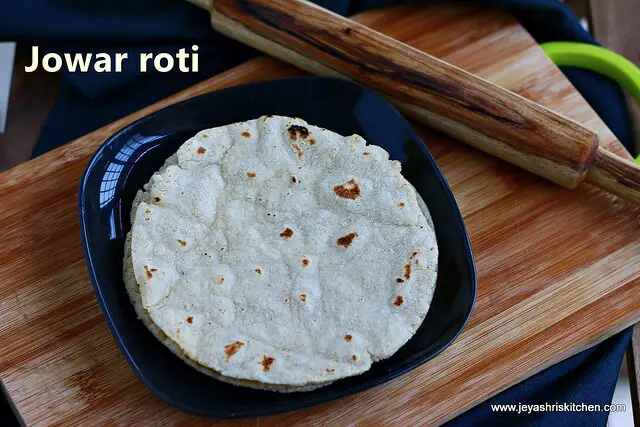 Method:
In a pan add water, salt and oil. Allow this to boil.
Once it starts boiling, simmer the flame and add the jowar atta and the rice flour.
Mix this well till the water absorbs.

Keep it covered for 10 minutes.
When it is cool, grease your hands with oil and nicely knead it into a smooth and soft dough.

Take a big lemon sized portion of the dough and dust generously with dry flour.
Pat this with hands to make a small disc size.

Slowly roll the roti, dust in dry flour as and when needed. Unlike normal chapathi, this needs more dusting. Roll this into a roti, not too thin or not too thick.

I just made it a perfect round with a help of a dabba lid.

Heat a tawa and place the rolled roti on the tawa. Wet your hands with water and spread your hands on the top side of the roti. This is to keep the rotis soft even after few hours of making.

Cook on both sides and if needed add a drop of oil.

Soft rotis are ready to serve. This roti stays soft even after few hours, always keep it covered till you serve. Check out this video to roll the jowar rotis.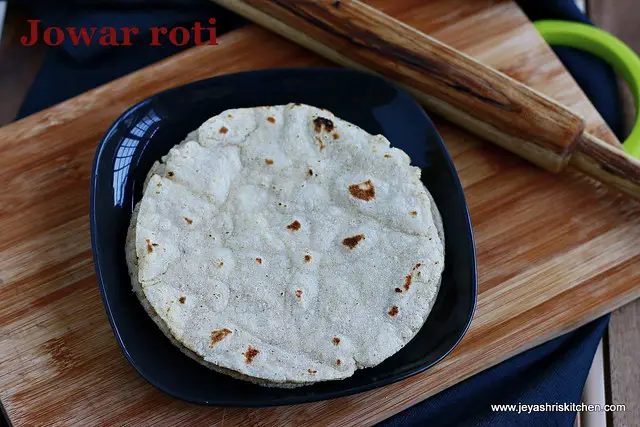 Notes:
Do not add water more than the quantity given.
While lifting the roti from the rolling board, carefully do it. If needed do it with a ladle.
I never tried phulkas with this, but you can make phulkas too.
In any case if the dough is bit lose, add little flour to this and knead well.