Kaaprisi is a traditional sweet made in our home during the naming ceremony of the new born child . Generally we do the Punyavachanam (naming ceremony) for the baby on the 11th day from the day it is born. Kaaparisi we make and give for all ladies along with the haldi kumkum (vettathallai pakku). This is made with rice and jaggery which has a crispy texture, roasted dal and coconuts adds extra taste to this. During my India trip i asked my mom for the recipe and she instructed me the method and i made this kaaparisi under my mom's supervision.
Ingredients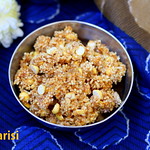 Preparation Time
:
20 mins
|
Cooking Time
: 15Mins |
Serves
: 1 Cup
Raw Rice 1/4 cup
Jaggery 1/4 cup
Pottukadalai 1/8 cup
Peanuts 1 tblsp (optional)
Coconut bits 2 tsp
Ghee 1 tsp
Cardamom powder A pinch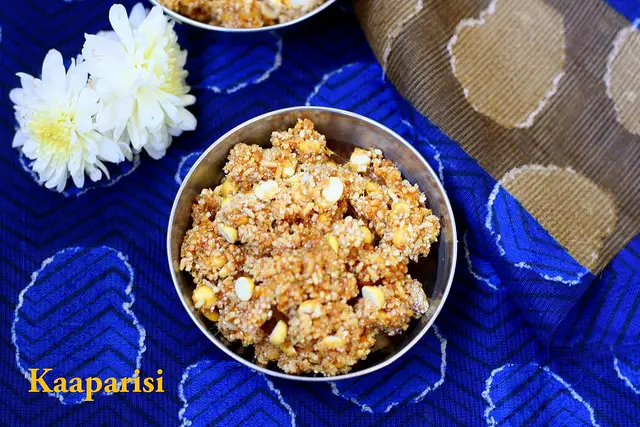 Method:
Wash and soak the rice for 15 minutes and drain the water.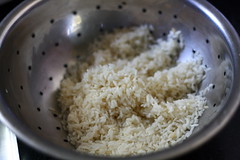 In a pan dry roast the rice in smaller lots till they become golden brown. (Porichu edukanum)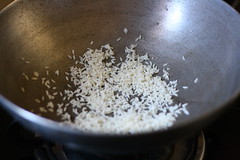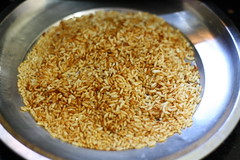 Keep it aside. Roast the coconut bits and keep aside.
Melt jaggery and filter the impurities.
Add the roasted coconut bits.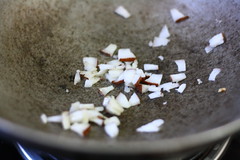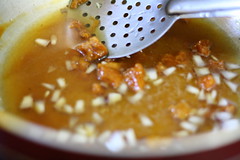 Let the jaggery comes to the consistency which we generally make for pori urundai. Keep water in a cup and add jaggery syrup to this. When you could able to make a hard ball out of this. That is the right consistency.
Pulse the roasted rice once . In a wide bowl add the pulsed rice, roasted gram, and cardamom powder. If adding peanuts deskin it , roast and add now.
Pour the jaggery syrup over this.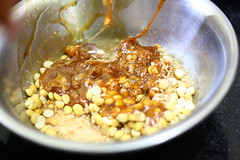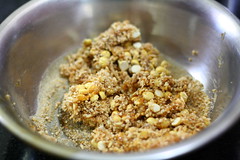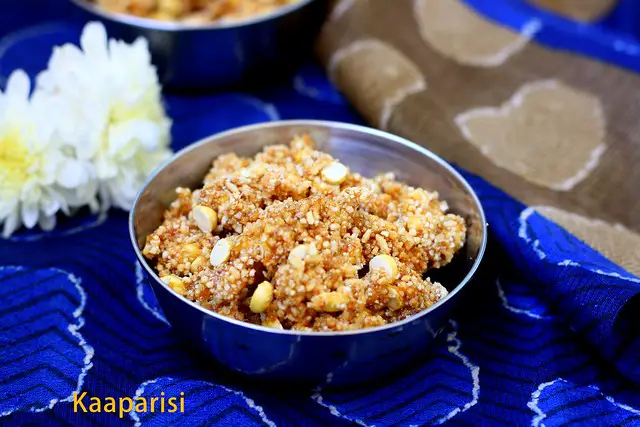 Note:
The ratio of rice , roasted dal : jaggery is 3:1. For 3 portions of the mixture 1 portion of jaggery is enough.