Kambu we call in Tamil, called as pearl millet in English and Bajra in Hindi. I have posted few recipes with
bajra
flour, but never tried anything with whole bajra. My amma makes kambu dosai and ragi dosa, both instant and whole grain version. I have already posted my mom's recipe of ragi dosa. She just replaces ragi with kambu. Recently a friend of mine was talking about kambu dosai and which she makes quite often at her place. Thank you Mahalakshmi for the recipe. I had a pack of whole pearl millet in my freezer and wanted to use it up.We loved the dosa very much and it went very well with the
curry leaves chutney
. You can also serve with coconut chutney too. Try this healthy millet dosa recipe at home and enjoy your breakfast.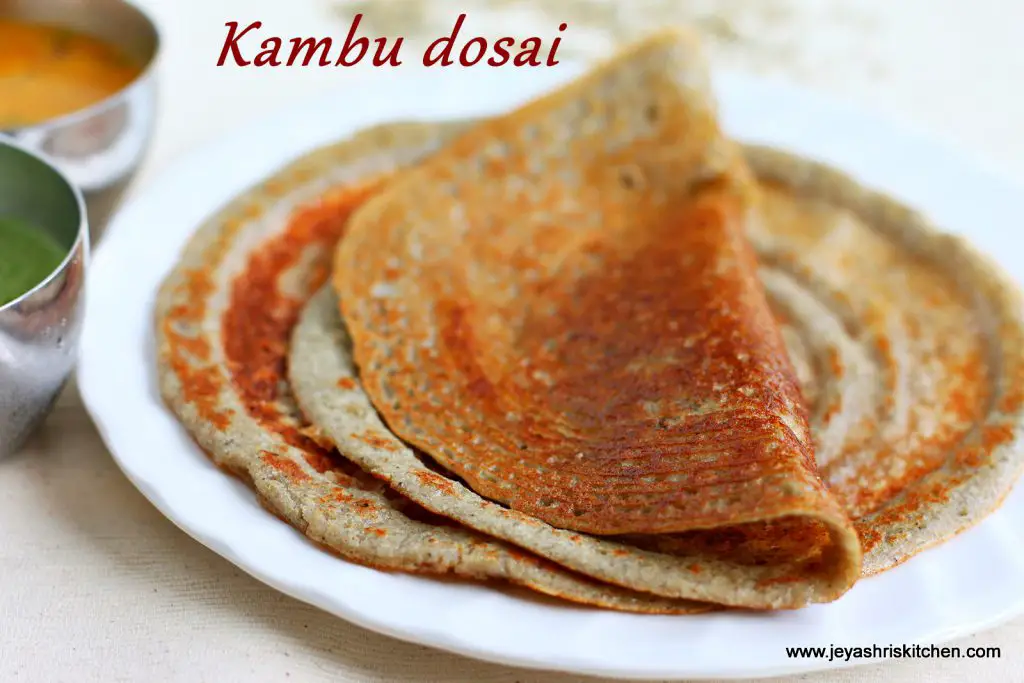 Kambu dosa recipe
  Preparation Time : 10 mins + soaking + fermenting 10 hrs | Cooking Time : 3 Mins(per dosa) |Makes: 8-10 dosas
     Kambu | bajra | pearl millet   1 cup
     Idli rice or Varagu | little millet   1/2 cup
     Urad dal    1/2 cup
     Methi seeds | venthayam   1 tsp
     Salt  as needed
     Oil   1/2 tsp -1tsp for each dosa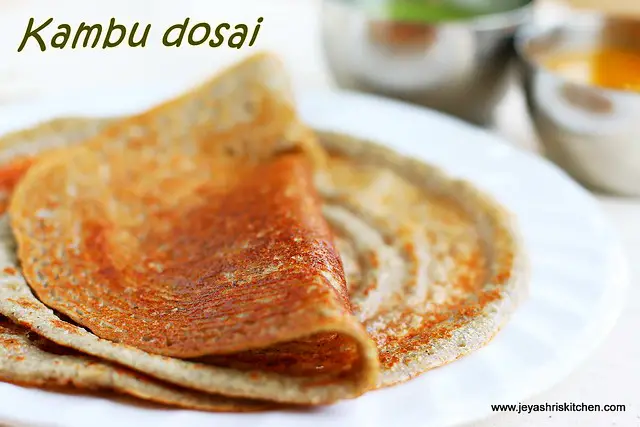 Method:
Wash and soak the rice, bajra, urad dal and venthayam in a wide bowl for 3-4 hours.

Drain the water and grind this in a mixie or grinder into a smooth paste. Add ice cold water while grinding. Especially if you are grinding in a mixie use ice cold water as the mixie gets heated up so soon.
Add salt and mix well. Ferment the batter for 6 hours.

Once the batter is ready, heat a dosa pan. Bring the batter to the right consistency.
Pour a ladle full of batter to the pan and spread into a thin circle quickly.
Drizzle oil to the dosa.
Once it is cooked on one side, flip on the other side.
Cook and take out from the pan.

Serve hot. Repeat the same procedure for the rest of the batter.
The dosa tasted best when served hot.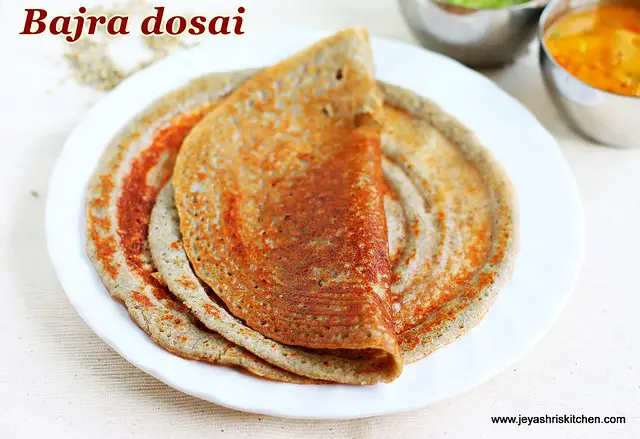 Notes:
I used white whole urad dal, you can replace with black urad dal. The original recipe given by my friend suggested black urad dal only.
You can sprinkle some grated carrots and some onions on the top once it is cooked on one side.