Diwali 2014 is nearing very fast and i know you must be busy in planning what sweets and snacks for Diwali festival. Murukku | Thenkuzhal is a must one in all of the houses. Last year itself my friend told, her sister will make thenkuzhal by adding toor dal to the flour, while grinding. After that i completely forgot about that . Before we visited India in June, i happened to see a Kara thenkuzhal recipe in a cookbook which my friend gave me. I noted down the recipe and got the toor dal ground in the flour mill to make this for diwali. Though you can grind in the mixie, always flour mill grind flours are very smooth in texture. And made this murukku during navaratri, when i visited my friend. It was very crispy and i loved the flavor of the thenkuzkal too. Try this kara thenkuzhal for a change from the usual murukku.
Check out other murukku recipes
Ingredients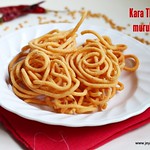 Preparation Time
:
10 mins
|
Cooking Time
: 20 Mins |
Yields
: 15 murukku
Rice flour 3 Cups
Toor dal 1/4 cup
Urad dal 1/4 cup
Red chilli powder 1 tsp
Salt as needed
Cumin seeds 1/2 tsp
Butter 2 tsp
Hot oil 2 tsp
Oil for deep frying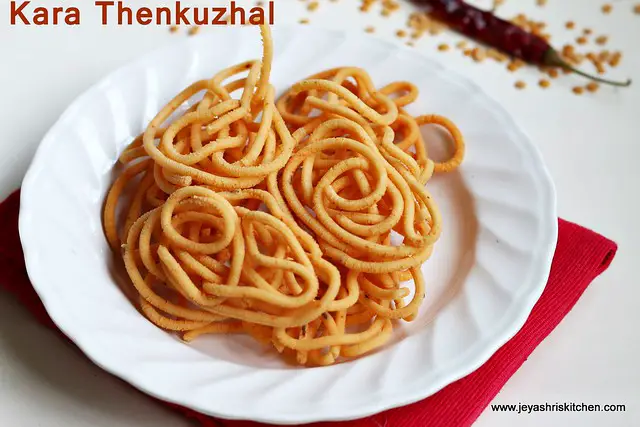 Method:
Combine the rice flour, toor dal flour(just powder in this mixie, no need to roast),urad dal flour, red chilli powder,salt, cumin seeds, butter and hot oil.
Add little water to this to make this into a smooth dough.
Heat oil. Using the thenkuzhal achu in a murukku press sqeeze out the murukkus in hot oil.

If you are not used to directly squeezing in hot oil, you can squeeze in a ladle an flip it to the oil.
Fry till the oil sound subsides. Take it out from the oil and drain in a kitchen towel.

Repeat this for rest of the dough.
Store this crispy thenkuzhal in an airtight box. Perfect munch with tea/coffee.
Notes:
Always fry the murukku on medium heat, if it is too high murukku will turn redish fast and spoil the taste.
If fried in very low flame, makes the murukku soggy and will drink oil.
If by any chance you don't get toor dal flour, try replacing moong dal flour. Will taste very nice too.