TWO DIFFERENT VERSION OF MAKING SPINACH
This time i am going to share two ways of making keerai,(spinach/greens) one is a semi gravy method and the another is a dry curry one.Last week when a bought 3 bunches of keerai from the Indian shop near my place, i wanted to cook all of them as it was so fresh.
I bought the mullai keerai .(the one with the stem). For those in Singapore, we get Round spinach in fair price here, you can use that for this keerai masiyal. My mom makes this masiyal in a traditional stone pot(Kal chatti).
Here comes the recipe for KEERAI MASIYAL. Check out my keerai kootu recipe and keerai veppudu too.

Keerai masiyal
Preparation Time : 15 mins | Cooking Time : 15 Mins |Serves: 2
Keerai | spinach 1 bunch
Coconut scrapped 2 tblsp
Cumin seed | jeeragam 1/2 tsp
Turmeric powder 1/4 tsp
Salt as needed
Sugar 1/4 tsp (optional)
Asafoetida 2 pinches
Urad dal 1/4 tsp
Coconut oil 1/2 tsp
Mustard seeds 1/4 tsp

Method:
Chop the spinach very finely and wash it thoroughly in water for 3-4 times.
In a kadai put the chopped spinach and add the turmeric powder,salt ,sugar and turmeric powder.
Addition of sugar is to retain the colour of the keerai.
Add 1/4 cup of water and cook in medium flame for 4-5 mins.
With the help of the wooden whisk (மத்து) mash the keerai in between.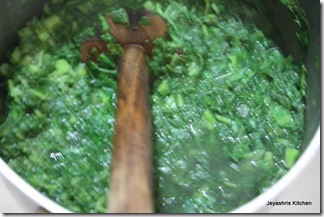 Grind the coconut along with the cumin seeds into a smooth paste.
Add it to the cooked spinach.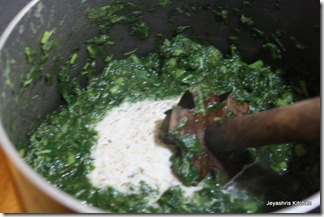 Mix well and transfer it to a serving bowl.
Heat coconut oil and temper with mustard seeds and urad dhal.
Sprinkle on the top of the keerai masiyal and serve warm with plain rice.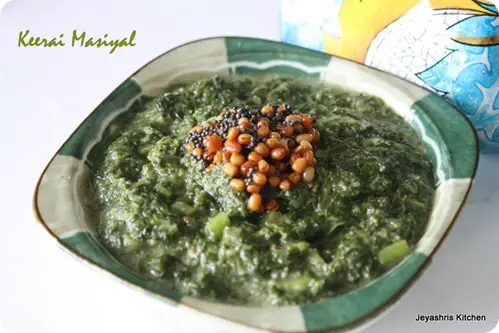 NOTE:
If you want this little spicy you can always add 1-2 redchilli along with the coconut and cumin seed.
Alternatively you can temper with 2 broken chillis also.
Do not over cook the keerai and do not close it with a lid while cooking.
RECIPE FOR KEERAI PORIYAL:
I didn't take step wise pictures for this recipe. Will update it when i am making this next time.
Keerai poriyal
Preparation Time : 15 mins | Cooking Time : 20 Mins |Serves: 3-4
Keerai | spinach 2 bunches
Onion 1
coconut 3 tblsp
Oil 1 tsp
Mustard seeds 1/4 tsp
Urad dal 1/4 tsp
Red chili 2
Salt as needed

Method
Chop the keerai finely and wash it thoroughly 3-4 times in water.
Chop the onions finely.
Heat oil in a kadai and add the mustard seeds ,urad dal and redchilli.
When it starts spluttering add the finely chopped onion and saute for few minutes.
When it turns pink add the chopped keerai and add salt.
Mix well and cook it for 5 mins.
Do not over cook.
Finally add the coconut and mix well.
Serve hot with any gravy of your choice.