Khatta Dhokla is a healthy gujarati snack made with rice and urad dal. I wanted to try this for a long time . Since i have tried
idli withVaragu ,
i thought let me replace in this dhokla recipe too. Varagu arisi is  also called as Kodra in Hindi and Harka in kannada and Koovaragu in malayalam. The dhoklas turned out very soft and spongy. I just tried this recipe in small portion and also  i have mentioned in the ingredients list too. Try out this Millet Khatta dhokla and enjoy your evening snacks.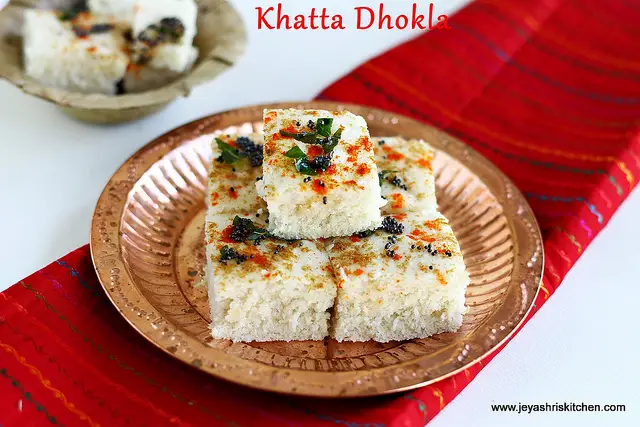 Millet Khatta Dhokla
  Preparation Time : 2 hrs+ 7 hrs fermentation | Cooking Time : 15 Mins |Makes: 10-12 pieces
     Varagu Arisi       1 portion
     Urad dal   1/4 portion
     Green Chili    1
     Ginger     a small piece
     Yogurt     2 tblsp
     Eno fruit salt  3/4 tsp
     Oil     2 tsp
     Red chili powder     2 pinches
     Jeera Powder     2 pinches
     Mustard   seeds   1/4 tsp
     Curry leaves     few 
     Salt     to taste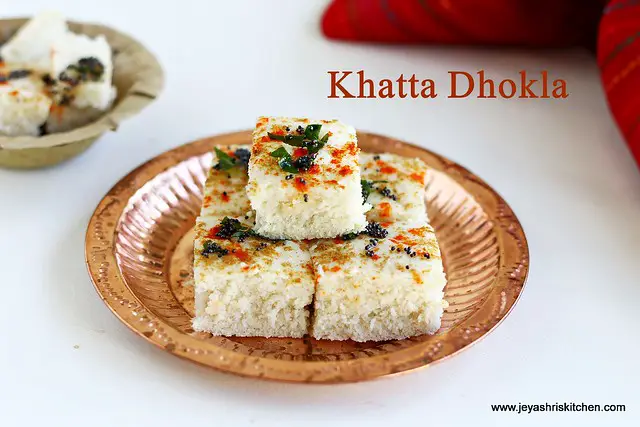 Method:
Wash the varagu rice and urad dal and soak it in water for 2 hours.
Grind this with green chili and ginger into a grainy texture. Add yogurt while grinding.  Let the mixture be thick and not too watery. Add salt and ferment this for 7-8 hours or overnight.
| | |
| --- | --- |
| | |
Before making the khatta dhokla, add eno salt to this and mix well. The eno salt makes the batter airy and make the dhokla fluffy and soft. Add 1 tsp of oil to the batter.
| | |
| --- | --- |
| | |
Grease a plate with oil and add the batter to this. Sprinkle with red chili powder and jeera powder.
Steam this for 10 to 12 minutes. Insert a tooth pick in the center of the dhokla and if it comes out clean, switch off the flame,
| | |
| --- | --- |
| | |
Invert the plate and take out the steamed dhokla.
Temper with mustard seeds and curry leaves.
Cut them into squares or triangles using a sharp knife.
| | |
| --- | --- |
| | |
Khatta Dhokla is ready to serve.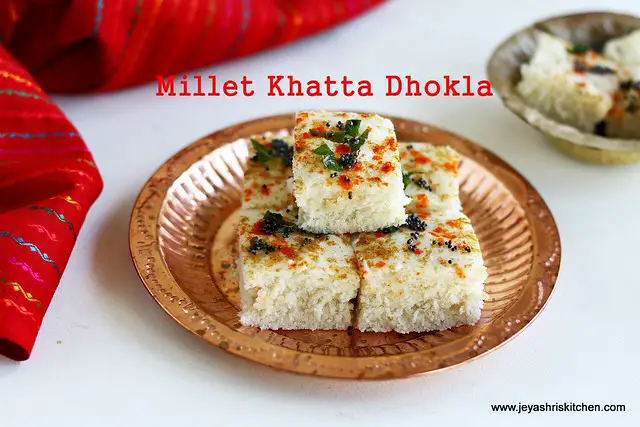 Check out my other interesting millet recipes:
Notes:
Instead of eno salt you can use 1/2 tsp of baking soda.
I just tempered with mustard seeds and curry leaves. You can add while sesame seeds or green chili too.
The dhoklas stayed soft for 3-4 hours.
If the yogurt is sour, add them just before making. If they are normal add while grinding and while when it is fermenting along with the batter, it will become sour.
If the sourness of the batter is less, add little lemon juice to this.