Khoya | Mawa is solidified form of milk. Khoya is widely used in many
Indian sweets.
Though i get khoya here in Singapore all the time, this post will be useful for many readers, who do not have access to khoya in their places. I have already posted
Khoya jamun
,
mawa cake
,
chocolate peda , Khoya burfi 
using khoya. Since diwali and navaratri are coming up i thought i will post this recipe of how to make khoya at home. I have adapted this home made khoya recipe from
here
.Stay tuned for interesting recipes using Khoya.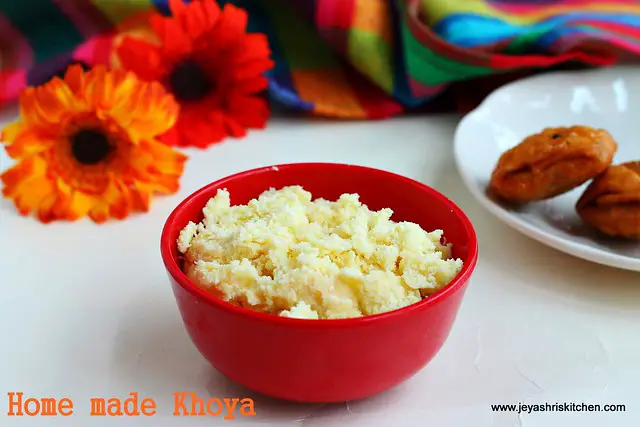 Khoya recipe
  Preparation Time : 5 mins | Cooking Time : 15 Mins |Makes: 1 cup
    Milk powder   1 cup
    Ghee   few drops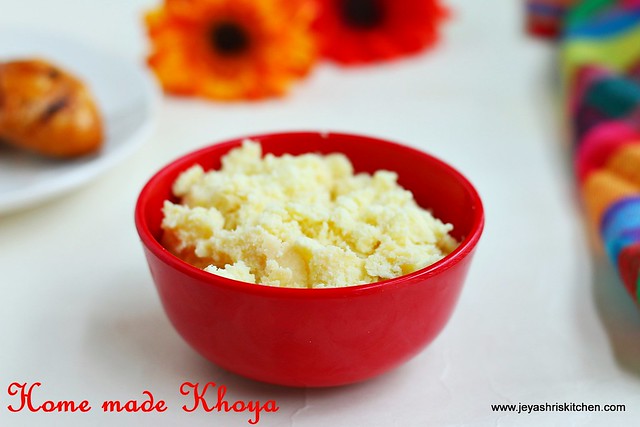 Method:
In a wide bowl add the milk powder. Sprinkle little water and knead it into a dough.
It will be sticky. No need to worry.

Grease your hands with ghee and knead again. It will be soft and smooth.
Keep this dough in a soft and clean cloth. 

Tie the cloth and keep it in a idli steamer for 10 minutes. You can either keep it inside a pressure cooker and steam too. No need to put weight.

After 10 minutes switch off the flame. Let this sit inside for 3 more minutes. 
Open it now and you can see a mass of khoya. Crumble it with your fingers.

Allow this to completely cool. Now the khoya is ready to use in sweets. You can store it by putting it in a zip lock bag and keep it inside the freezer for 10-15 days.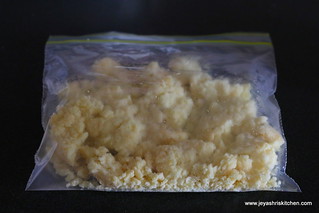 This khoya was pretty decent, but i can't compare this with store bought khoya. But for people who do not have access to khoya but still want to use it in Indian sweets can try this method.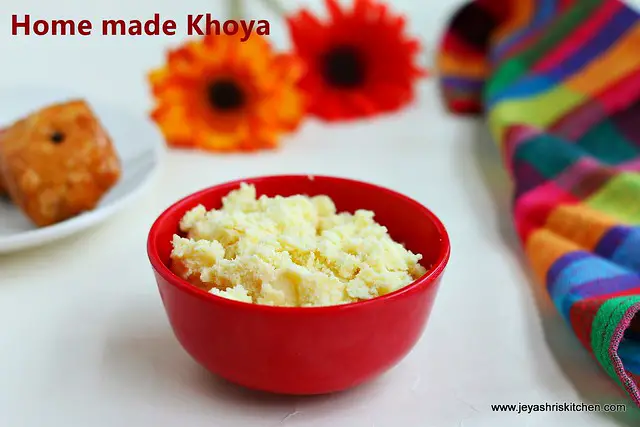 Notes:
You can do combine milk powder with little ghee and little milk and keep it in a microwave safe bowl and MW it for 2-3 minutes . Stir frequently in between.
When it becomes a thick mass, khoya is done.
If you get evaporated milk in your place, you can add 1 tblp of yogurt to 1 tin of evaporated milk and MW it for 3-4 minutes. When it comes to a mass Khoya is done. 
Alternatively you can boil milk for an hour till it shrinks and make Khoya in the traditional way.
I get Khoya here in Singapore in Mustafa Center. For readers in Singapore you can find this in freezer section. 
I bought my milk powder from Fairprice.