Bread Croutons generally we put in soups and salads. When i relocated to Singapore, i was looking for this croutons here as my little on loves this a lot. Somehow i couldn't find this croutons in stores here also i don't know how to make croutons at home too. Also those days i don't have oven at home and somehow i didn't try further too. Today i saw a few slices of bread lying down and it was 3 days old too. Suddenly this croutons idea flashed me and made it successfully. Check out my
Soup recipes. 
Bread croutons
  Preparation Time : 15 mins | Cooking Time : 15 Mins |Serves: 1 and 1/2 cups
     Bread slices      8
     Butter      1 tblsp
    Olive oil     1 tblsp
    Dried Herbs    to taste
    Chili flakes or pepper powder   to taste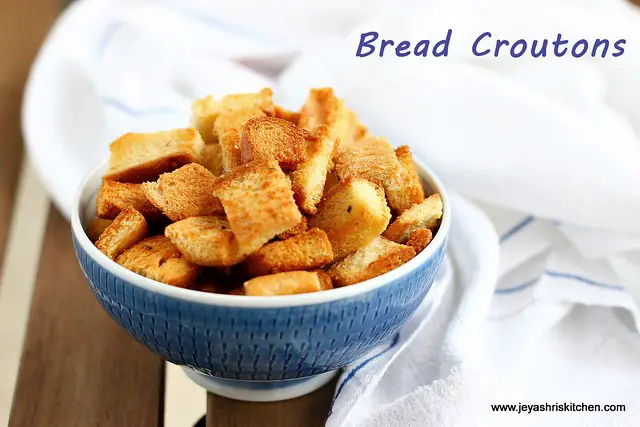 Method:
Actually for this recipe old bread works out well. Even one day old is better. Fresh ones will be too soft. Whole meal bread will be perfect. I have white bread left with me, so i did with that,
In a small pan melt the butter and switch off the flame. Add the finely chopped garlic. (actually a garlic powder or a garlic paste will be better) Though i finely chopped it, the garlic pieces were separated and stood out.
Add the olive oil , herbs, chili flakes or pepper powder to this.

Cut the bread slices into cubes. If you want you can cut the slices. do not discard the sides. You can make this Italian bread soup.
I even used the top slice of the bread too.
Add the butter, oil herb mixture to the cubed bread slices.

You can either microwave this or bake this in an oven. I tried both. Both turned out crispy but the microwave one was bit hard and shrunk in size too.
If you don't have oven you can try in microwave. In that case just spread the mix in a MW safe plate for 2 minutes . Timing differ from oven to oven.
I spread the bread mixture in a baking tray. Preheat the oven at 160 degrees for 2 minutes.
Bake the bread for 12-15 minutes or till it becomes evenly golden brown.

When it is cool, store them in a airtight container. You can use it for soups and salads.
This stay good for 2-3 days.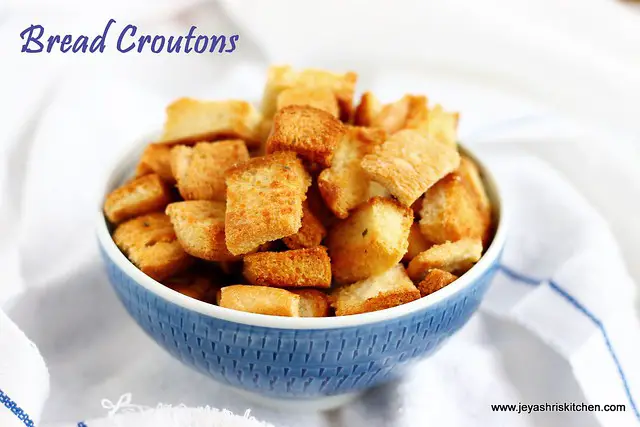 Notes:
Whole bread works out very well for this croutons.
One day old bread works out perfect.
You can saute it on stove top too but it takes little more oil and butter. Non stick pan works out well.
If you want cheesy croutons add Parmesan cheese while baking and mix well.