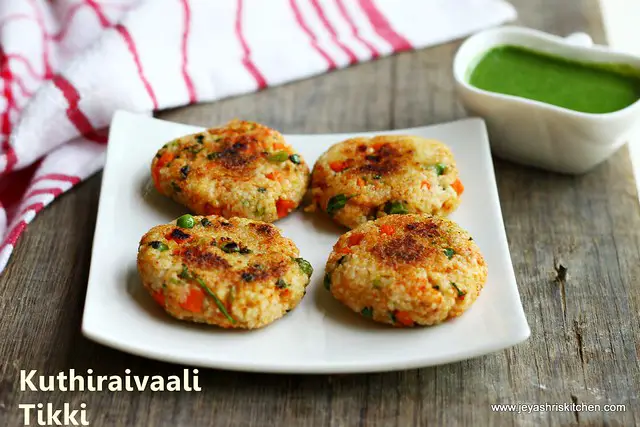 Kuthiraivali | kudravali millet , called as Barnyard millet in English| Odalu in kannada|Jhangora in hindi, is a fibre rich millet. I have tried few recipes with this barnyard millet and they all turned out very well. To make it interesting for kids i made tikkis|vegetable cutlets with millets and it was very nice. If you do not get this millet at your place, try with samai, thinai or varagu too. Samba rava too comes out perfectly. A healthy and perfect snack for kids and also for diabetic patients too. Check out my other millet recipes
Kuthiraivali Tikki
Preparation Time
: 10
mins
|
Cooking Time
: 10 Mins |
Yields: 10
Barnyard millet | kuthiraivali 1/2 cup
Carrot 1
Green Peas 1/4 cup
Red chili powder 1/2 tsp
Cumin powder 1/4 tsp
Chaat masala 1/4 tsp
Garam masala 2 pinches
Coriander leaves few
Salt as needed
Oil 2 tblsp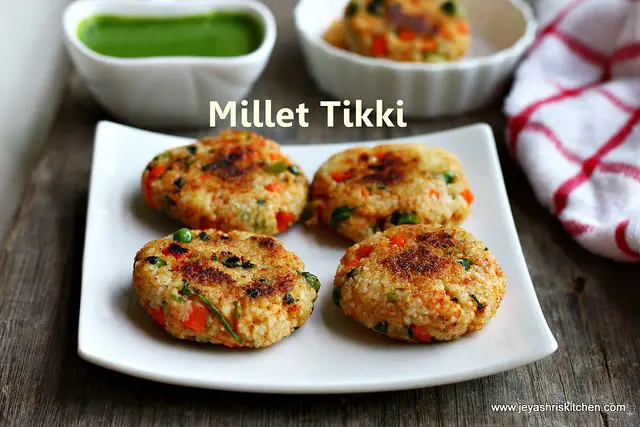 Method:
Soak the kuthiraivali rice for 15 minutes and in the mean time cut the carrots into very fine cubes. I used frozen peas.
In a pan add the soaked rice, carrot and peas . Add 1 cup of water and add salt. Cook in a low flame till the water drains and the veggies gets completely cooked. Let this be dry and not watery. If you feel it is watery cook for some more time till it becomes dry .
Add the red chili powder, garam masala, cumin powder,coriander leaves, salt and chaat masala. Since chaat masala contains salt add little salt.
Mix well nicely.
Make it into equal sized balls . Flatten this into tikkis. Cook in a tawa and add little oil to each tikkis.
Cook in medium flame on both sides till both sides become golden brown.
Kuthiravali tikki is ready to serve. I served with green chutney. These tikkis were very delicious and quite healthy tea times snack too.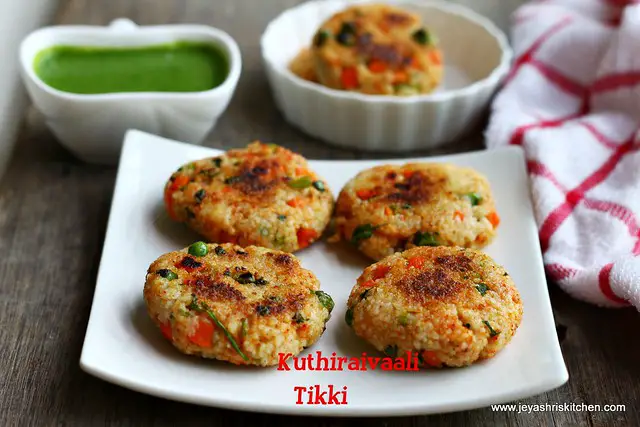 Notes:
Always ensure the cooked mixture is dry without any water.
You can add corn kernels,grated beetroot, broccoli,potato and even scrambled paneer too.
If still feel the mixture is wet add 1-2 tblsp of maida | corn flour|besan | Sathu maavu |millet flour|powdered corn flakes| coarsely powdered peanuts
Finely chopped cashew nuts can be added to the mixture.
Boiled peanuts can be added if your kids like it.
You can deep fry this too.
You can make this with Samba wheat rava or any other type of millet too.