Lauki |Suraikkai | Bottle gourd is a very healthy vegetable, but in our houses we don't cook it much. It is best for people weight watchers and lactating mothers. We can make this in a South indian sytle kootu too. I learnt this recipe from one of my friend here. She hails from a authentic Punjabi family and she shared few dishes which they make at home regularly. This simple Lauki channa dal curry turned out very well and you can have this with rice as well as rotis too. Thanks for the recipes Punitha. Will post more authentic Punjabi dishes soon.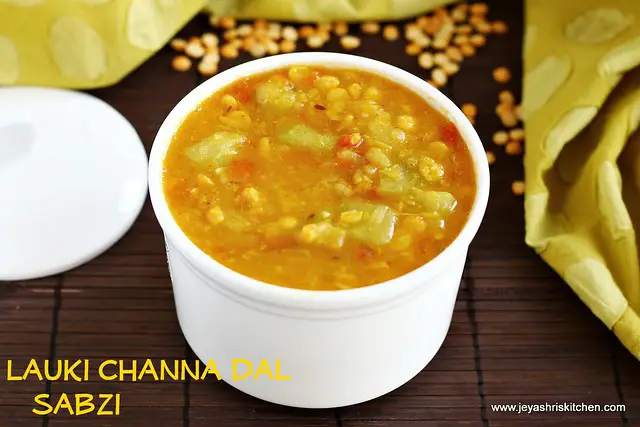 Lauki channa dal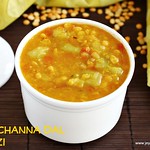 Preparation Time
: 10
mins+ soaking time 30 mins
|
Cooking Time
: 15 Mins |
  Serves
: 2-3
    
   Sorrakai | Lauki|Bottle gourd   1/2
   Channa dal    1 cup
   Onion    1
   Tomato   1
   Garlic   3
   Ginger 1 small piece
   Coriander powder   1/2 tsp
   Cumin powder  1/4 tsp
   Red chili powder   1/4 tsp
   Green chili  1
   Turmeric powder  1/4 tsp
   Cumin seeds  1/4 tsp
   Salt   to taste
   Oil  2 tsp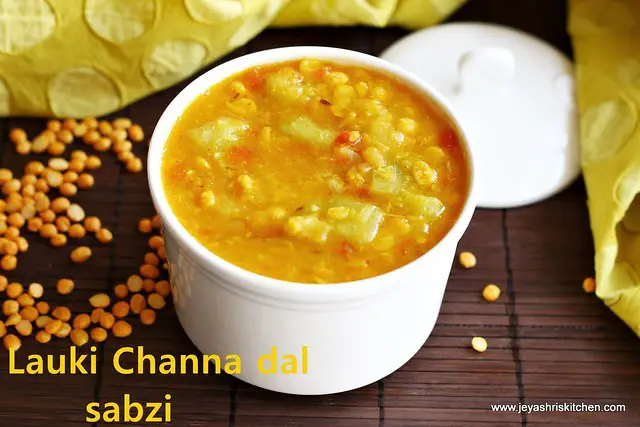 Method:
Peel the skin of lauki and cut them into cubes.
Soak the channa dal in water for 30 minutes.
Chop the onions and tomatoes in to small.
Peel the skin of garlic and chop them big. Mash the ginger in mortar and pestle.
In a pressure cooker add oil and add in the cumin seeds,green chili, ginger and garlic.
Saute for a minute and add the onions.
When the onion turn pink add the tomatoes. Saute for a while and add the cumin powder, red chili powder,turmeric powder and the coriander powder.
Mix well and add in the cubed lauki and saute for a minute. Add the soaked channa dal too.
Add 2 cups of water and pressure cook for 2 whistles.
When the steam subsides mash the dal slightly and boil it once. Switch it off. Add curry leaves or coriander leaves for garnishing.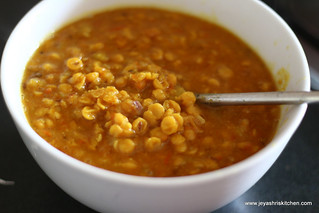 Serve with rice or phulkas or parathas.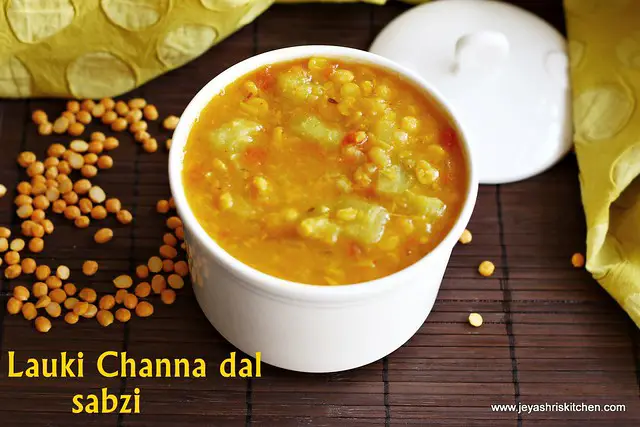 Notes:
Soak channa dal, else it will not get cooked in 2 whistles.
You can add a dash of garam masala while adding the cumin powder.
Garlic and ginger adds nice flavour to the sabzi, so do not skip this.