Thakkali Kuzhambu | thakkali kurma – South Indian tomato gravy recipe – with detailed step by step pictures.
Thakkali kuzhmabu is in my to do list for a long time. Though I have heard about this and tasted in friends houses during my school days, never tried it on my own. There are many variations to this recipe. People make it to suit their family's preference and taste. This tastes similar to kurma and personally love this with dosai.
Kongu nadu – Coimbatore region is very popular for this kuzhambu recipe. Also the Chettinad Thakkali kuzhambu is also similar to this and it is with the addition of coconut milk. Usually it is a popular gravy made as an accompaniment for rice. My sister shared this recipe sometime back and I tried it at home. The addition of fennel seeds and coconut gave a wonderful flavour to the gravy.
You can check out other Popular South Indian kuzhambu recipes
Ingredients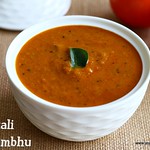 Preparation Time
:
10 mins
|
Cooking Time
: 20 Mins |
Serves
: 4-5
Tomato 2
Small onion 7
Garlic 3 pods
Ginger 1 small piece
Fennel seeds| Sombu 1/2 tsp
Grated Coconut 1 tblsp
Oil 2 tsp
Red chilli powder 1 tsp
Coriander powder 1/2 tsp
Turmeric powder 1/4 tsp
Salt As needed
Mustard seeds 1/4 tsp
Curry leaves few
Method:
Take out the skin of onion and and cut them into small. Chop the tomato finely.
Take out the skin of garlic and ginger.
In a pan add 1 tsp of oil and add the chopped onions, garlic and ginger.
Add in the fennel seeds. Switch off the flame and add the coconut.
Saute the chopped tomatoes till it turns mushy. Allow this to cool.
Grind the onion mixture and tomato mixture into a fine paste.
In a pan add oil and add in the mustard seeds and curry leaves. Add the ground masala and add 1 to 2 cups of water. Add turmeric powder, salt, red chilli powder and coriander powder.
Allow this to boil for 10 minutes in a medium low flame till the raw smell of the powders disappears. Switch off the flame.
Serve hot with plain rice.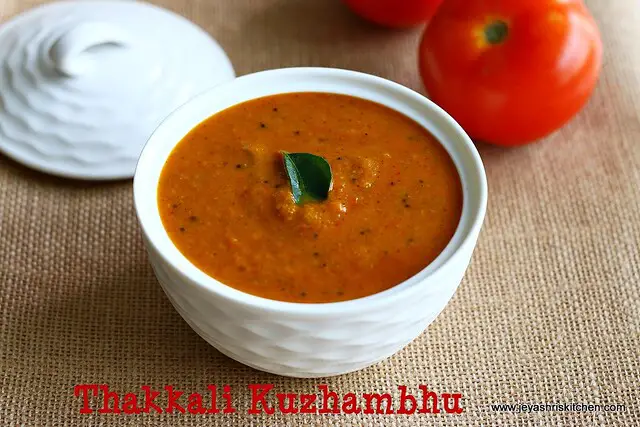 Notes:
You can skip the step of grinding the tomatoes and grind only the onion, garlic mixture. Since i don't like the tomato chunks i ground the tomatoes.
You can add pattai, cloves,bay leaf and one elachi while tempering the mustard seeds.
You can replace fennel with cumin seeds too.