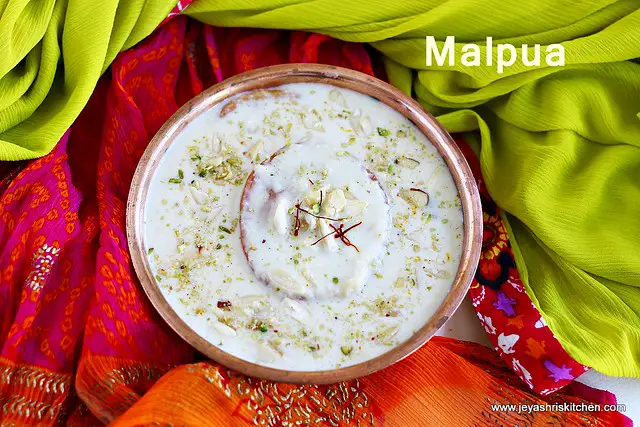 Malpuas are similar to the south indian version of
Paal poli
. Mawa | khoya Malpua is Indian pancakes shallow fried in ghee and served with rabdi. It is one of the desserts made for Holi celebrations. As holi 2015 is on March 5th i thought i will share this recipe today. Malpua with rabdi i wanted to try for a long time, after tasting this in a restaurant during our delhi visit last year. I referred the recipe from
here 
 Though i know the procedure of how it is made, i was bit worried how a batter will be fried if i put them into ghee for frying. But after seeing the recipe i was bit confident tot try it.Enjoy the festival of colors,
Holi
with delicious
Malpua Rabdi .
Check out the notes section below for variations to make it bit guilt free
Malpua recipe
  Preparation Time : 10 mins+ 1 hour standing time | Cooking Time : 45 Mins |Serves: 4-5
    All purpose flour | Maida   1 cup
    Milk powder | khoya   3 tblsp
    Yogurt | curd      3 tblsp
    Fennel seed powder | sombu powder  1/2 tsp
    Cardamom powder | elachi   2 pinches
    Baking soda    1/2 tsp
    Ghee (for frying)    3 tblsp
For rabdi
Full cream Milk   3 cups
Milk maid ( condensed milk )  4 tblsp – optional
Saffron    a pinch
Almonds    5
For sugar syrup
Sugar     1/3 cup
Water     1/4 cup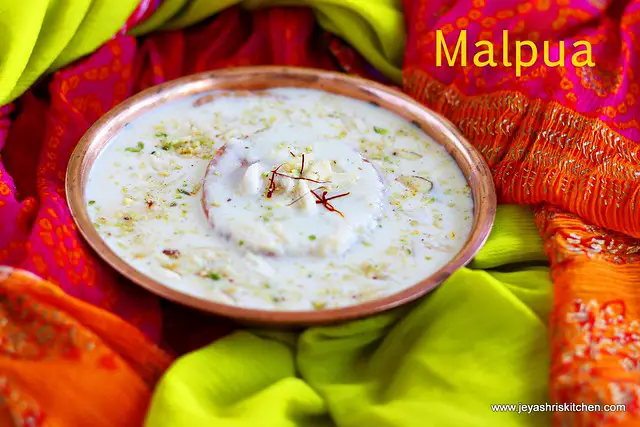 Method:
In  a wide bowl add the maida | all purpose flour and add the milk powder or mawa, yogurt, fennel powder and cardamom powder.
Add water and mix this well without any lumps to bring it to a consistency of a idli batter.
Keep this aside for an hour.

While the batter is resting let us prepare the rabdi. Boil 3 cups of milk in a heavy bottomed pan.
When it is boiling, keep the flame low and allow it to reduce by volume. Add 3 tblsp of condensed milk , which is optional but recommended. Condensed milk gives rich taste to the rabdi.
I didn't add sugar as condensed milk has sugar in it. If not adding milkmaid , add 3 tblsp of sugar at the end.

When the milk mixture becomes thick switch off the flame. While cooking stir this continuously and never keep the flame high. Scrap the sides of the pan while the milk is boiling.

I didn't add saffron to this mixture. You can add saffron now and switch off.
Blanch the almonds. (Put the almonds in hot water and peel out the skin.). Chop them into long strips and keep it aside.
Lets move on to the preparation of sugar syrup. Combine sugar and water in a pan and bring this to half string consistency. When it is done, keep it insidea hot water pan , just to keep it warm. We need to soak the malpuas in warm sugar syrup.
Heat the ghee for shallow frying. You can deep fry in oil too or in ghee too.

Before frying add the baking soda to the batter. Instead you can add 1 mashed banana to this, if you like the  taste of banana.
Spoon in the batter into the ghee and keep the flame low. In between bring it to medium and ensure it should not be burnt.
Fry till becomes golden on both sides.

Repeat this for the rest of the batter. It came 10 to 12 malpuas .
Dip it in warm sugar and arrange them in a plate.

Pour the rabdi over the malpuas before serving and garnish with almonds. I added some Everest Milk masala to this for garnishing.
If you do not have milk masala add a pinch of cardamom to the rabdi.

Malpua rabdi is ready to serve. You can serve it warm or chilled too. Since the malpuas are soft inside and crispier outside it will be soft when served chilled too.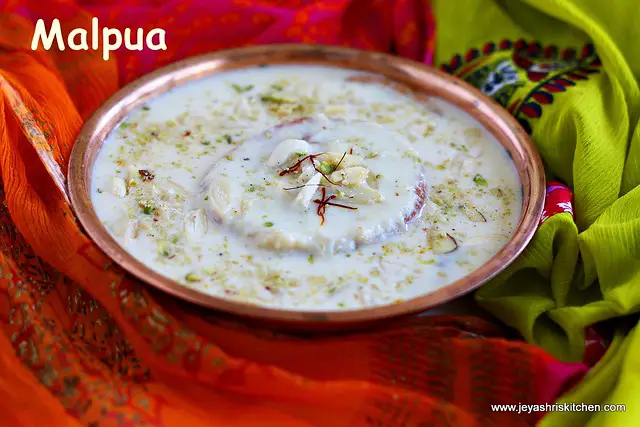 Notes:
Instead of maida you can use wheat flour too.
Also instead of frying in ghee you can make it as as mini pancake in a tawa. You can add ghee while making this.

To make quick rabdi, when the milk starts boiling, mix 1 tsp of corn flour in 1 tblsp of water without any lumps and add it to the boiling milk. This will make the milk thicken soon.
Do not add more flour which will spoil the taste.