Mambazha mor kuzhambu – Palakkad special
Mambazha pulissery | mambazha moru kootan is a Palakad special dish, made with ripe mangoes. Though I have heard about this recipe through my friend's mother-in-law but never was a bit skeptical to try this at home, as I am not sure about the taste. But after hearing very good reviews about this morkootan, finally, I tried this mambazha morkootan. It tasted very nice and went well with plain rice and spicy potato masala.

Mambazha Moru kootan
  Preparation Time : 15 mins | Cooking Time : 20 Mins |Serves: 3
     Ripe mango  1
     Thick buttermilk  1 and 1/4 cup
     Coconut   3 tbsp
     Salt   as needed
     Turmeric powder  1/4 tsp
     Green chili  1
     Mustard seed  1/4 tsp
     Methi seeds | vendhayam  a pinch
     Curry leaves   few
     Red chili  1
     Coconut oil  1 tsp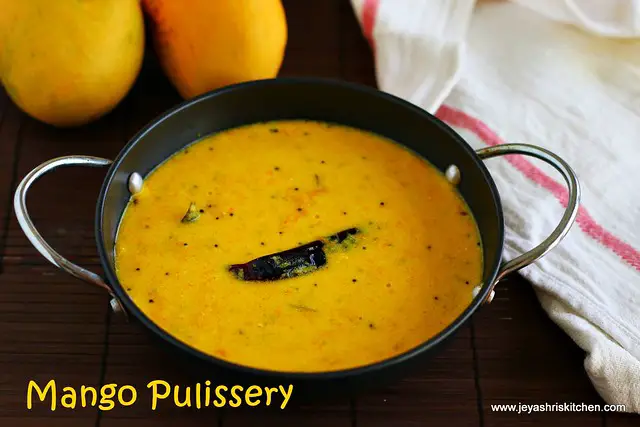 Method:
In a pan add 3 cups of water and put the mango into it. Cook this for 10 minutes or till the mangoes become soft.
Allow this to cool and take out the skin of the mangoes and with your hands take out the mango pulp.

Discard the seed and put the pulp in the pan. Add the buttermilk to this.

Grind the coconut and green chili into a fine paste.

Add this paste to the mango buttermilk mixture. Mix this well with a whisk.
Add salt.

Now switch on the flame and cook till frothy. Do not allow this to boil. Once it comes to frothy switch off the flame.
In a small pan add coconut oil and add the mustard seeds, vendhayam, and red chili. Once the mustard splutters add it to the mambazha kootan.
Add curry leaves.

This mamabazha mor kootan goes well with hot rice and any spicy curry like, potato curry, sepankizhangu curry, and yam fry.