Mango phirni | Mango payasam recipe, is a creamy rich mango based dessert | pudding. I have given this recipe for Kunguman Thozi and it got published in the May 1-16th issue. I have already posted Phirni recipe, and this is similar to that one but with the addition of mango. A must try mango dessert in this mango season. You may also like mango sago pudding and mango float.
Very happy to share with you all that my second cook book, themed Kids friendly recipes, got published by Vikatan publications. The book will be available in The Chennai book fair from june 1-13. After June 15th it is available for online order from Vikatan publications. To order my first book on millets you can follow this link and also the same book will be available at book fair too.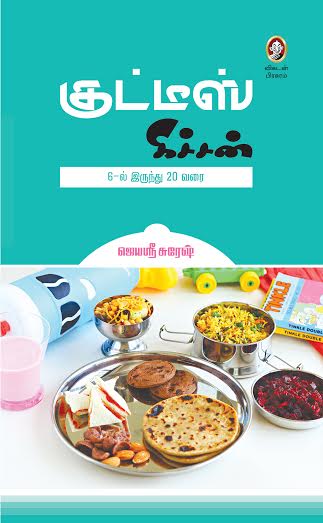 Mango phirni recipe
Preparation Time : 15 mins | Cooking Time : 25 Mins |Serves: 4-5
Milk 4 cups
Basmati rice or raw rice 3 tblsp
Sugar 4 tblsp
Mango pulp* 1 cup
Saffron to garnish
Cardamom powder a pinch
Pistachio few (for garnishing)
*I used 2 alphonso mangoes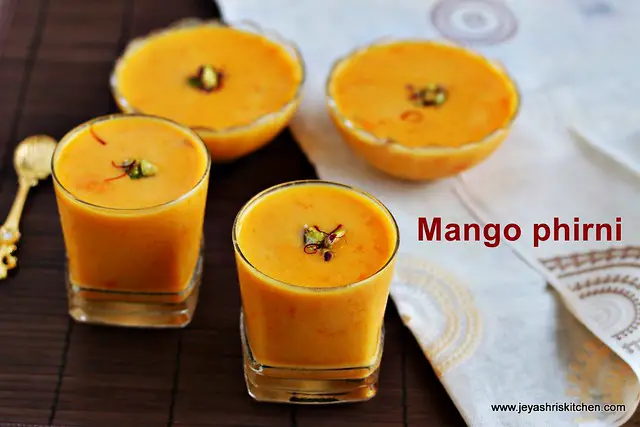 Method:
Soak the basmati rice in water for 10 minutes. Boil the milk in a heavy bottomed pan. Drain the water from rice and grind this.

While grinding add little water and make it into a smooth paste. Do not make it too thick..
Let this be flowy but not watery.
Boil the milk for 10 minutes stirring in between.
Add the ground rice paste to the milk. Keep the milk in a low flame as it tends to form lumps.
Stir continuously.

Let this boil for few more minutes. If adding condensed milk add at this stage. Boil for 2 minutes.
Switch off the flame.

If adding sugar switch off the flame and add sugar.

Add the cardamom powder to this. Peel the skin of the mangoes and slice it roughly.

Grind this in a mixie into a smooth paste. Allow the milk mixture to cool completely.
Then add the mango paste to this.


Pour this in serving bowls and cover this with cling wrap or aluminium foil or with a lid and keep it inside the refrigerator for 2-3 hours.
Garnish with saffron and pistachios and serve chilled.

This phirni will taste good only when it is served chill.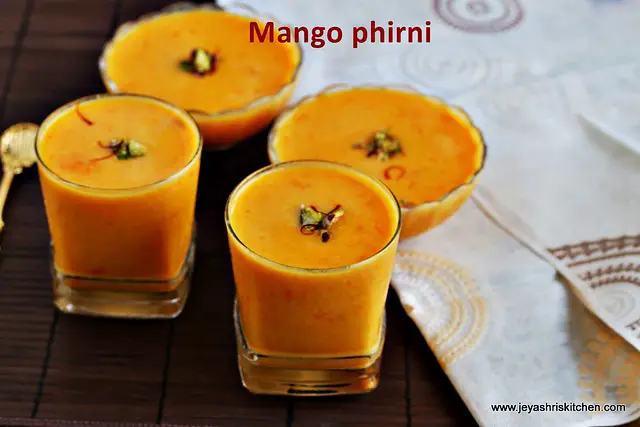 Notes:
Take care not to form the lumps after adding the rice mixture.
Add sugar according to the sweetness of the mango.
You can add 1/2 cup of condensed milk instead of sugar to give a nice rich taste.
Few almonds can also be soaked and deskinned and can be added while grinding the rice.