Mango lemonade is a popular mango based juice made using fresh mango pulp and lemon juice. When i tried
Grape juice
few years back i added a small piece of ginger to this. That was a super hit at home. So i wanted to try the same with mango lemonade too. Generally for lemonade they make simple syrup, that is sugar syrup, but i wanted to make it simple so just added sugar as we do for other juices. Enjoy summer with mangoes. As mangoes are peak in season now, i will be posting a mango recipe every week. All mango lovers stay tuned.
Mango ginger lemonade
  Preparation Time : 15 mins | Cooking Time : Nil |Serves: 3 
    Alphonso mango  1 small
    Sugar  3-4 tblsp
    Ginger   a small piece (optional)
    Lemon juice  1 tblsp
    Water  3 cups
    Ice cubes   few
                                               Video of how to make mango lemonade

Method:
Peel the skin of the alphonso mango and take out the pulp. It came out 3/4 cup of mango pulp.
Grind the mango, ginger and sugar into a fine paste. Add little water while grinding.

After grinding transfer it to a wide bowl. Add 3 cups of water and few ice cubes.
Add the lemon juice.
Mix well using a whisk.
Sieve it to get rid of the fibre from the ginger or mango if any.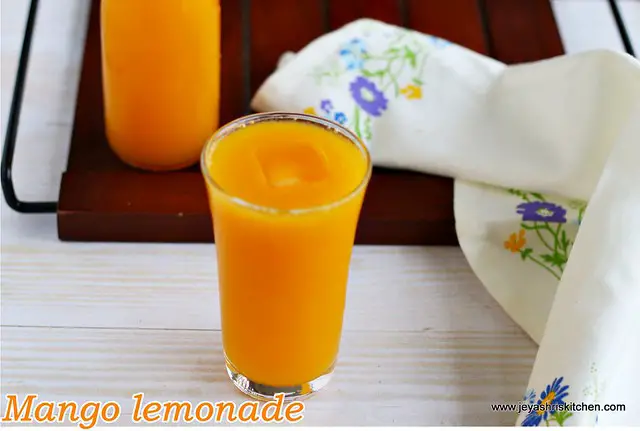 Notes:
Instead of lemon juice you can add 1/2 cup of orange juice too.
If you do not want ginger skip it, but i highly recommend ginger as it was so refreshing.
You can replace sugar with honey.
You can garnish with few mint leaves for an additional flavour too.
I used alphonso mangoes for the mango lemonade, you use any variety of rip mango available in your place.