Summer has started and many parts of India it is in peak. To beat the heat, we need to hydrate ourself with loads of water, cucumber and fresh fruits. Buttermilk | Neer mor is a best summer cooler and to make it more tasty i have already posted Neermor and Masala chaas recipe here. Last month  when i went  to India, my sister after making morkootu with vazhaithandu, made this vazhaithandu mor for all of us. We had this after a heavy breakfast, and it tasted very nice. Later after coming back here, i tried this few times and i can say i am addicted to this. You could never know that Vazhaithandu is added in this butter milk. Enjoy summer with this healthy drink.
Vazhaithandu Mor
  Preparation Time : 15 mins | Cooking Time : Nil |Serves: 2-3
     Vazhaithandu      1/4 cup (chopped)
     Green chili        a very small portion
     Yogurt |curd    1/2cup
      Water     1 to 1 and 1/2 cup
      Ginger   a small piece
      Curry leaves    few
      Oil    few drops
      Mustard  little
      Asafoetida | hing   a pinch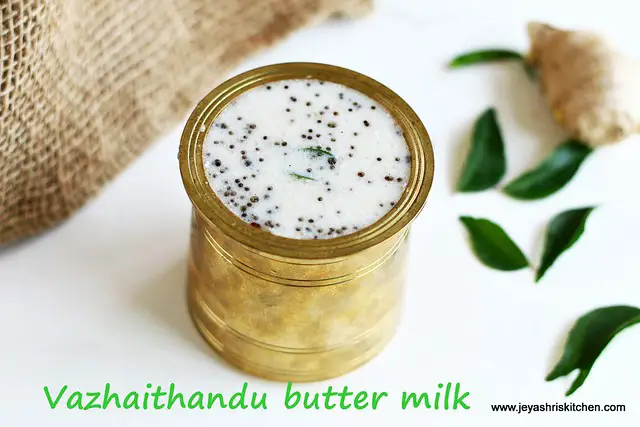 Method:
Grind the chopped vazhaithandu | banana stem along with green chili, ginger and curry leaves in a mixer. Add little water while grinding.

Churn the yogurt | curd and add enough water.
Filter this using a strainer. Add little water while filtering this. Discard the fiber and add the vazhai thandu juice to the churned butter milk.

Temper mustard seeds and asafoetida in little oil and add this to the churned butter milk.

Chil this in the refrigerator and consume this when ever you want.
I will post more interesting butter milk recipes in the following weeks.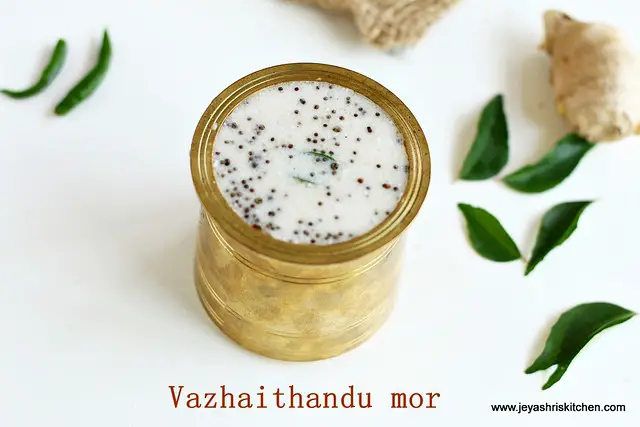 Notes:
Do not add more green chili as it will make it spicy.
Add little coriander leaves if you want.