HOME MADE JAM WITHOUT PRESERVATIVE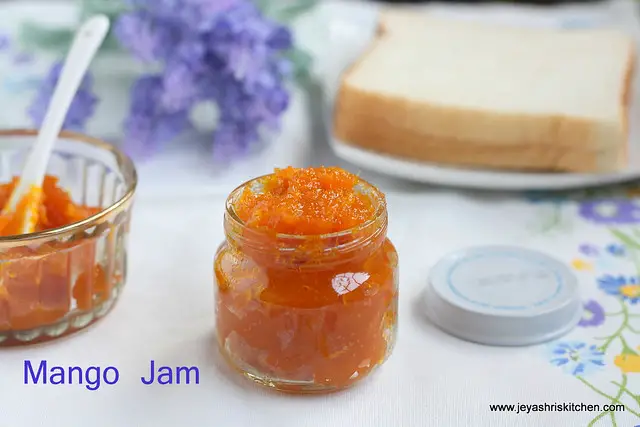 Mango season is in full swing here. When it comes to mangoes, i love to eat it as it is even without cutting the mangoes. Yes just wash it and eat it full
. So making recipes with mango is rare thing in my kitchen. To say it precise when i am saturated with eating mangoes i will make desserts with it. But this will never happen. I forcefully stop eating and make recipes for blog . One such recipe is Mango Jam, without any preservatives like pectin. This mango jam is a simple and easy recipe which you can try with simple 3 ingredients available at home in just 15 minutes. This mango jam turned out very well, and since i used the Alphonso Mango the color is dark. If use other variety colour will change.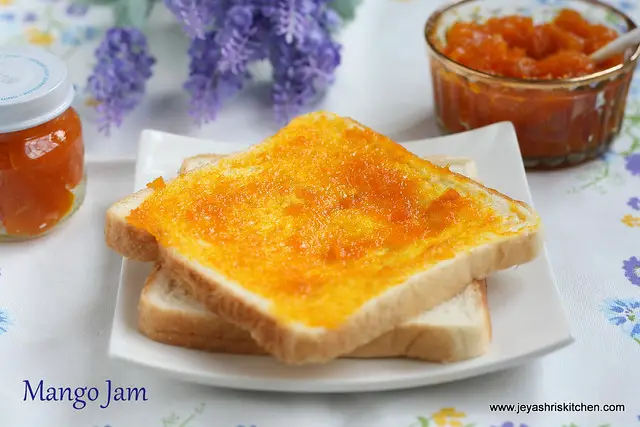 INGREDIENTS: MAKES 1 CUP JAM
| | |
| --- | --- |
| MANGO (SMALL SIZE) | 2 |
| SUGAR | 1/4 CUP |
| LEMON JUICE | 1 TBLSP |
| LEMON ZEST | 1/2 TSP |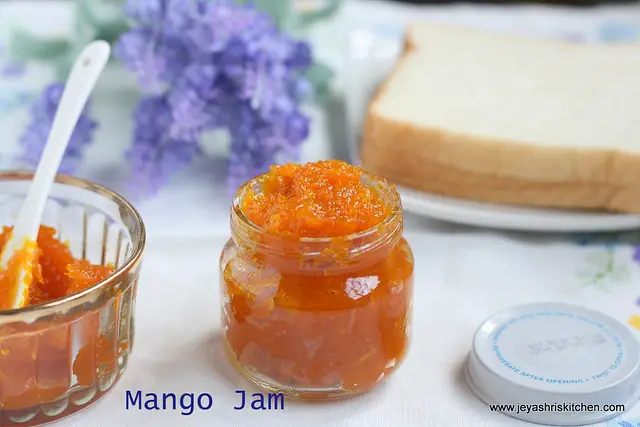 METHOD:
Wash and peel the skin of the mangoes and chop it finely.
In a pan, add the finely chopped mangoes, sugar and lemon juice. Keep it aside for 15 minutes.
This will help the mango to bring out its flavour nicely.
No need to add water.
Just switch on the flame and let it cook in a medium low flame. Stir it . Add lemon zest too.
Be careful not to burn it.
It will slowly get cooked and turn into a glossy texture.
When it reaches a semi solid consistency switch off the flame.
Allow this to cool completely.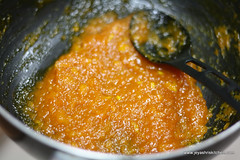 Store this in a clean dry bottle or container.
always use clean spoon or knife to spread the jam.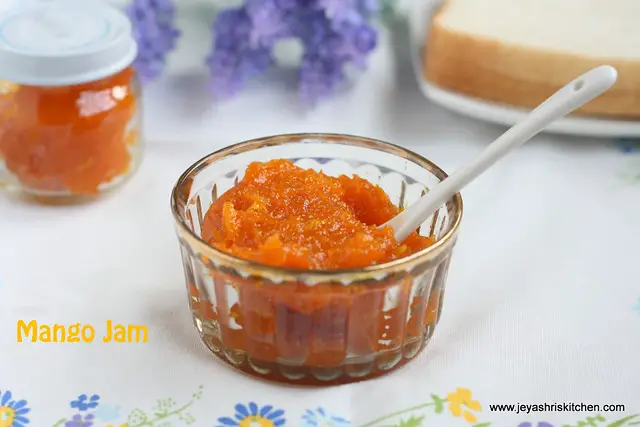 Note:
You can replace mangoes with strawberry too.
I added 1/4 cup of sugar as the mangoes were too sweet. Adjust the sweetness according to the variety of mango you use.
You can puree the mango and make jam to get a smooth consistency.