SOUTH INDIAN BREAKFAST RECIPES
Recipe updated with a video on how to make appam
Aapam, a popular breakfast recipe in Kerala and Tamil nadu a Soft, lacy  pancakes that are spongy in the centre and crispy at the corners, made using a fermented batter of rice, udad dal and coconut. . This recipe involves natural fermentation of the batter and does not include any yeast. A perfect no yeast aapam recipe for those who do not like its smell or flavor. I have never been a great fan of Aapam but decided to give it a try as my husband likes it. I got the main recipe from my mother, who makes it often for my sister. I customized the taste to my liking and landed up with super spongy Aapams. Over to the recipe of how to make a soft, spongy, no yeast aapam. 
Also check out our popular South Indian breakfast recipes 
Appam recipe
  Preparation Time : 10 mins + soaking time 6 hrs | Cooking Time : 3 Min per appam |Serves: 5
     Sona masoori rice | raw rice  1 cup
     Idli rice | par boiled rice   1 cup
     Urad  dal   1/4 cup
     Poha | aval  1/4 cup
     Coconut  1/2 cup
     Cooking soda | baking soda  1/2 tsp
     Salt  as needed
     Sugar  2 tsp
                                                 Video on how to shape aapam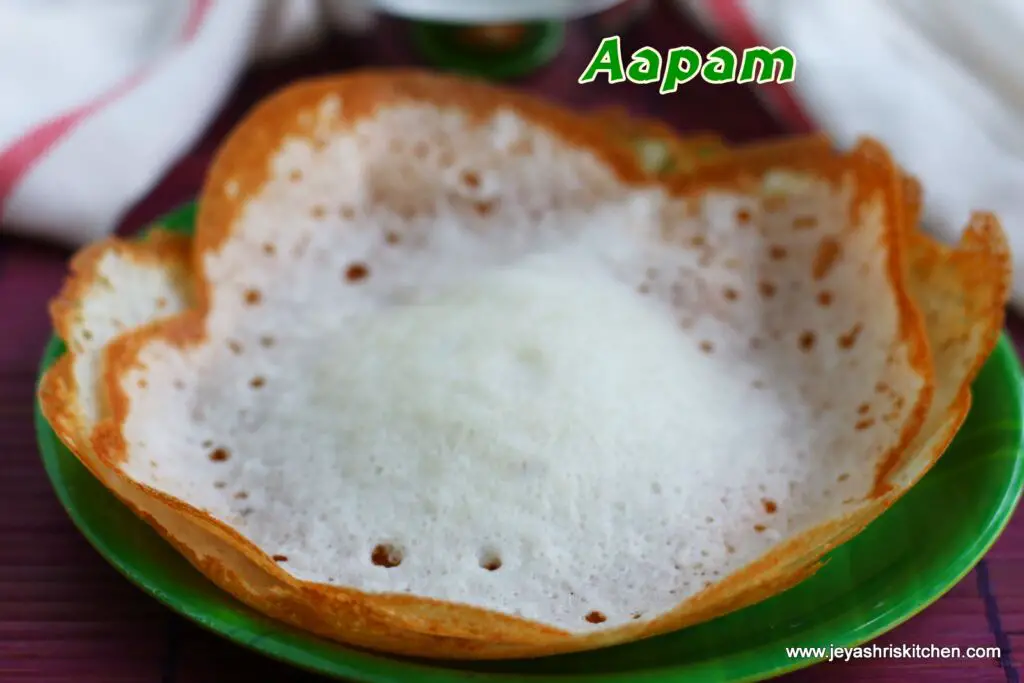 Method:
Wash and soak the rice, urad dal and poha for 5-6 hours.
Grind it into a smooth paste along with the coconut.
Add salt and keep it aside for fermentation.
It took 5-6 hours for me to get the batter fermented.
It depends on the weather conditions of the place you live in.
Add cooking soda, sugar just before making.
If making a small portion add only to that portion.
The consistency should be like a dosa batter.
Keep an aapam pan ready on the stove top.  The pan should not be too hot.
You can even  use a normal deep pan. I used non stick aapam pan.
Pour batter towards the centre of the pan and rotate the pan to spread the batter.

Cover the pan with a lid and after few seconds you can see the aapam got cooked in the centre and  lacy borders on the sides.

No need to flip it on the other side. Take it out from the pan using a butter knife or a ladle.

Aapam is ready to serve now.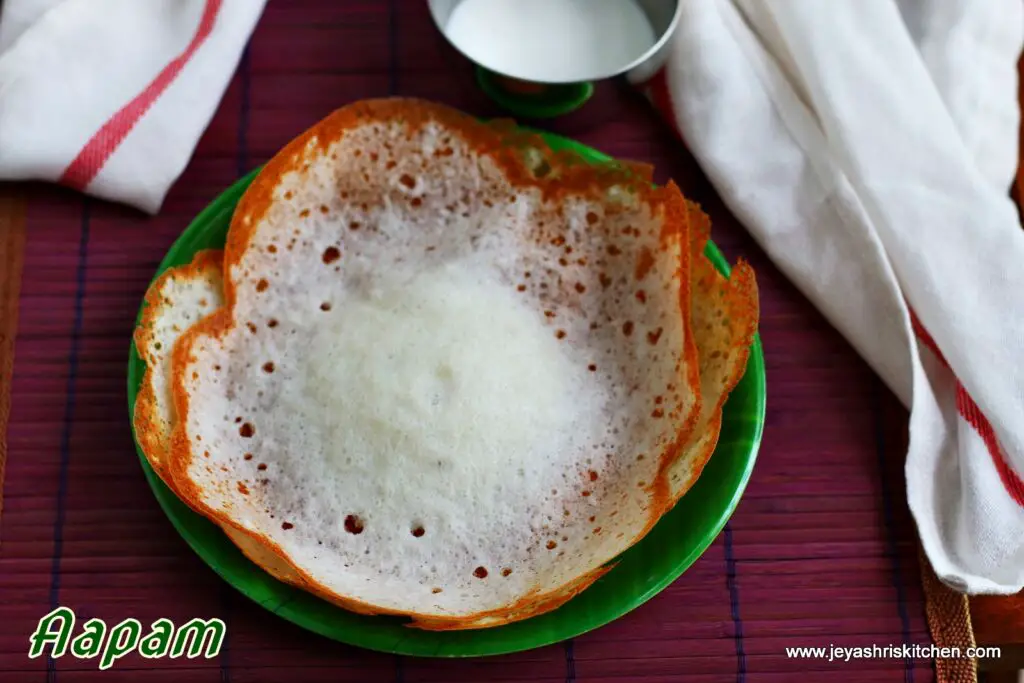 Note:
You can make it as a normal dosa too , if you are not comfortable in making aapams in pan.
Making proper shapes comes purely by practise so do not worry about that.
Instead of adding coconut while grinding, you can add coconut milk before making the aapams. In this version, if you have anyone at home who do not like aapam , can be served dosa .