Masale bhaath is a maharastrian dish, introduced to me by my very good friend. It is a variety of rice made with tindora | kovakkai and it is a no onion no garlic recipe too. One day she passed on this rice to me and it tasted so well and noted down the recipe from her. This recipe was published in supplement of Kungumam Thozi which featured 30 recipes of mine . Sharing today the recipe of Tindora rice | maharastrian masale bhaat. A simple one pot meal and a perfect lunch box recipe too.
Ingredients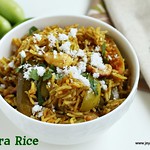 Preparation Time
:
15 mins
|
Cooking Time
: 20 Mins |
Serves
: 2
Tindora | kovakkai 10
Potato 1 (optional)
Basmati rice 1/2 cup
Dry coconut(koparai) 3 tblsp
Red chili 1
Dhaniya |coriander seeds 2 tsp
Cumin seeds |jeeragam 1 tsp
Bay leaf 1
Cloves |krambu 2
Turmeric powder 1/4 tsp
Garam masala | Goda masala a pinch
Cashew nuts 4-5
Coriander leaves for garnish
Salt to taste
Oil 1 tblsp
Ghee 1 tsp
Fresh coconut 1 tsp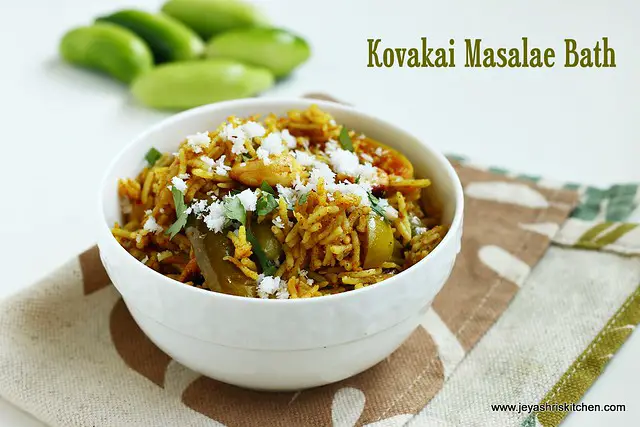 Method:
Wash the rice and soak this in 1 and 1/4 cup of water.
Cut the kovakkai|tindora lengthwise. If using potatoes peel the skin and cut them too in the same size.
Dry roast the coriander seeds, dry coconut, red chilli till golden brown. Add the cumin seeds and switch off the flame. Grind this into a smooth paste by adding little water.
In a pressure cooker add oil and add the bay leaf and cloves. Add in the ground paste and saute in a low flame for few minutes.
Add the cut tindora and potato(if using) and mix evenly.
Add in the rice and water to this and add salt. Add the goda masala. (if adding)
Cover the pressure cooker and let it be in medium low flame. After 1 whistle put it in a very low flame for 10 minutes and switch off the flame.
roast the cashew nuts in ghee and add it to the rice. Garnish with coriander leaves and freshly grated coconut.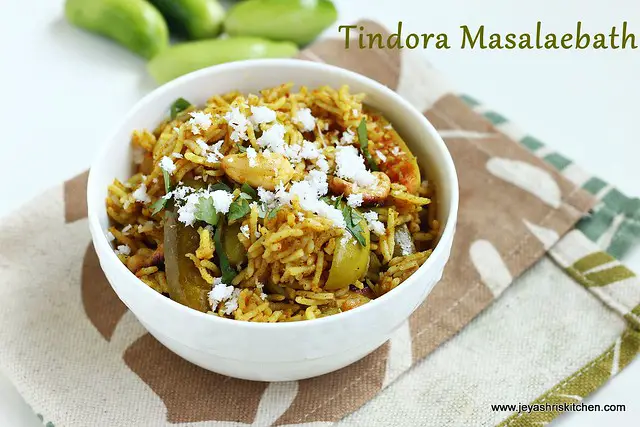 Notes:
Fresh coconut can be added instead of dry coconut . Dry roast it nicely before adding. But dry coconut (koparai) gives a exotic flavour to the rice.
Tindora can be replaced with mixed vegetables too.
Goda masala enhances the flavor of the rice so if you can get this at your place try the masalae bath with goda masala.