Molaga podi recipe updated with video
Milagai podi- a spicy, flavourful powder made by coarsely grinding roasted lentils
and dry chillies. Milagai podi or Molaga podi or Idli podi (commonly referred in
restaurants) is a quick and easy recipe to pair with idli or dosa. We loved this since
our childhood days and have always insisted on having idlis and dosais with this
podi despite our mother making sambar or chutney. I fondly remember my mother
scolding us sisters for finishing off this podi in no time. As we say, history repeats
and now I find myself reprimanding my daughter for doing the same thing.
If you are a huge fan of molaga podi then you must check these recipes too
Idli Milagai podi recipe
Preparation Time : 5 mins | Cooking Time : 20 Mins |Yields: 1 and 1/2 cup
Channa dal 1/2 cup
Whole Urad dal 1/2 cup (black or white)
Red chili 15- 20
Sesame seeds| ellu 3 tblsp
Oil 1 tsp
Asafoetida 2 pinches
Salt to taste
Video of how to make Idli milagai podi
Method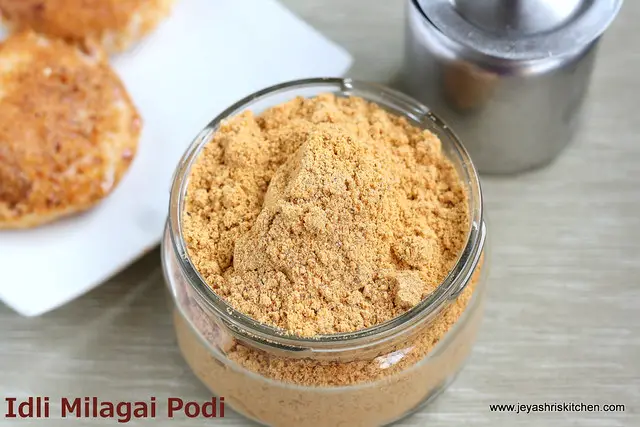 METHOD:
In a pan add oil and add the channa dal.
Roast till it becomes golden brown.
Keep it aside.

Add the urad dal now. You can use black one or white one.
Black ones gives an enhanced taste.
Roast till emits a nice aroma.
Keep this aside.

Now add the red chilies.
Roast this for few minutes without getting burnt.
Keep this aside.

Add the sesame seeds.
You can use black sesame seeds too.
Fry this till it starts crackle. Be careful not to get this burnt.
Switch off the flame.
Add the asafoetida and salt to this.

Mix well and keep it aside.
Allow all the roasted ingredients to cool completely.
If you are adding sugar add it now.
Powder everything finely in a mixie.

If you like it coarse,u can go for it.
Store it in a airtight container.
Enjoy with idli/dosai by adding sesame oil to it.