During my trip to India in December, i got millet flour packets from a near by store located nearby my in laws place. I was totally clueless what i am going to do with those flour packets and kept it in the freezer. Today when i was planning to make a Millet post, though i have many other recipe ideas using millets, baking with millet flour keep on lingering into my mind. So for the first time baked a cookies without following any recipe just put the ingredients according to my own imagination . It turned out truly perfect. I used Organic Naatu sakkarai in this recipe, but you can replace with jaggery or palm sugar too. Check out my other
millet recipes.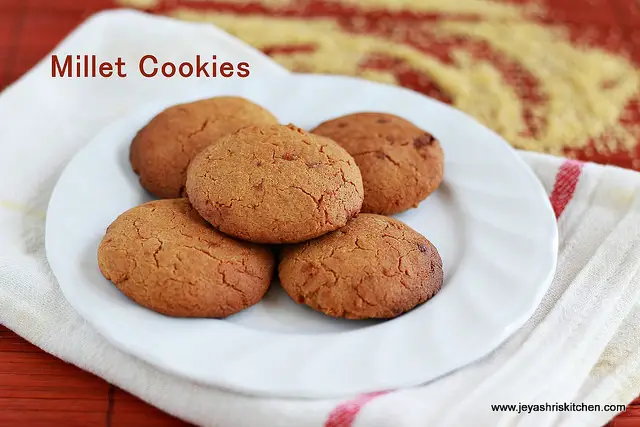 Millet cookies
Preparation Time : 10 mins | Cooking Time : 15 Mins |Makes:8
Thinai Flour | Foxtail millet flour 1/2 cup
Naatu Sakkarai | Jaggery 2 tblsp
Oil 2 tbslp
Baking Powder 1/2 tsp
Baking soda a pinch
Milk 1 tblsp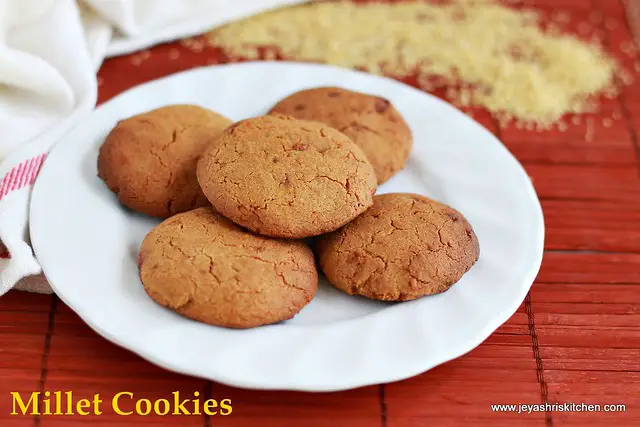 Method:
In a wide bowl, add the millet flour, naatu sakkarai, oil, baking soda and baking powder.
Knead this into a smooth dough, sprinkle little milk for kneading.
Initially i thought the dough will not hold, but it beautifully folded and formed a dough.
| | |
| --- | --- |
| | |
If making in bulk, just keep the dough in the refrigerator and bake in batches. The jaggery | naatu sakkarai will make the dough loose if you keep it outside.
Take a small lemon size portion of dough and flatten them. You can use a cookie cutter to make proper round shapes.
| | |
| --- | --- |
| | |
Arrange them in a baking tray. Preheat the Oven at 150 degrees for 5 minutes.
Bake for 12- 15 minutes at 150 degrees.
| | |
| --- | --- |
| | |
The cookies were bit soft when i took it out. But when it is cool, it turned out very crispy.
Enjoy this healthy cookies with tea.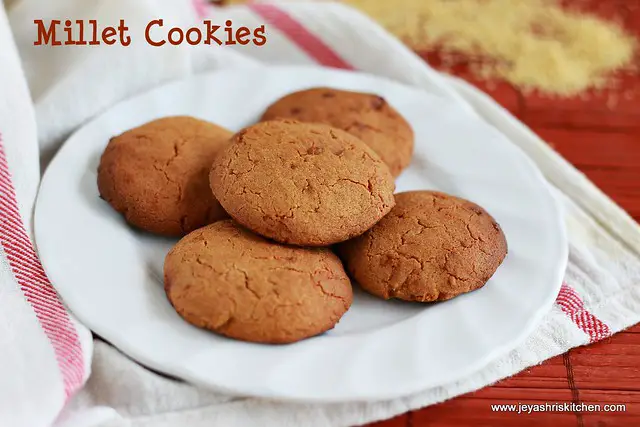 Notes:
I felt the sweetness was little less when i had the first bite, later when i finished one full cookies, i found it was perfect.
You can even reduce it to 1 and 1/2 tblsp too.
I have never tried this replacing with any other millet flour. Feel free to try.
Will share a savory millet cookies recipes soon.