Millet Curd rice recipe with step by step pictures and video, a popular South Indian rice variety also called as Thayir sadam. For us South Indians, especially the Tamil Brahmin people, curd rice is a must one during our lunch meal. I have already posted a curd rice recipe and also shared the Temple style curd rice recipe. Generally raw rice or sona masoori rice is best suitable for making curd rice. Similarly we can make curd rice using Millets too. Varagu | kodo millet is the closest variety equivalent to raw rice. I make curd rice using millet many times at home . Even i have posted that in my Lunch menu 9 too. This Millet Curd rice i have done in my cookery demo once here in Singapore. It was super hit in the demo. A small variation from the usual recipe makes it more flavourful and yummy. Do check out other Millet recipe collections from Jeyashris kitchen.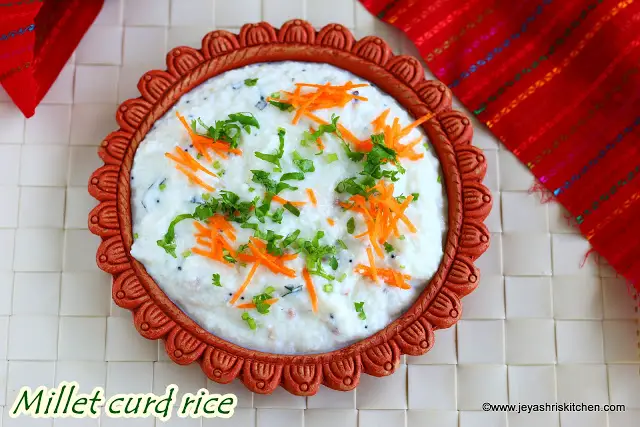 For my friends in Singapore, we get good quality Millet from Sri Murugan Singapore. They have outlets island wide and they do home delivery too. We can order our monthly grocery through their Android and iOs app too. They have all varieties of millet and millet flour too.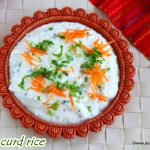 Ingredients
Varagu | kodo millet 1/2 cup

Milk 1 and 1/4 cup

Thick curd 3/4 cup

Water 1 and 1/2 cup (to cook the millet)

Oil 3 tsp

Ginger a small piece

Green chili 1-2

Asafoetida 2 pinches

Mustard seeds 1/2 tsp

Urad dal 1 tsp

Red chili 1

Curry leaves few

Cashew nuts(optional) 1 tbsp (chopped into bits)

Coriander leaves few
Description
Millet Curd rice recipe with step by step pictures and video, a popular South Indian rice variety also called as Thayir sadam.
Notes
1. If packing curd rice for travel or lunch box, reduce the curd and add more milk.
2. This measurement is perfect for home serving.
3. You can garnish with pomegranate or grapes too.
4. Some people use ghee for tempering instead of using oil. I tried that but somehow liked oil only.
5. Curd rice | thayir sadam tastes perfect with pickle and potato curry.
Method with step by step pictures :
In a vessel add 1/2 cup of millet ( you can use any variety of millet).
Wash nicely and add 1.5 cups of water.

Crush the ginger roughly and slit the green chili.
Add this to the vessel.
Add a pinch of asafoetida.
Adding ginger, chili and asafoetida at this stage enhances the taste. Do not skip it.
Pressure cook for 5-6 whistles.
Take it out and mash it nicely with the spoon.

Add salt.
In a pan add oil.
Add mustard seeds, urad dal, torn red chilli, a pinch of asafoetida and curry leaves.
Once the dal turns golden brown, switch off the flame.

Transfer it to the mashed rice.
Mix well.
Allow this to cool completely.

Add chilled milk to this. You can use raw milk directly from the fridge.
If using boiled milk, allow this to cool completely and then use.
Use your hands to mix this well without any lumps.

Take out the ginger pieces and discard. The essence of ginger will be there, that's enough.
The chilis must have cooked nicely, but if you find any solid pieces you can remove that too.
Add chilled curd to this.
Mix well.
Add raw cashew nuts. Generally raw cashew nut bits will be nice in curd rice.

The consistency will be perfect , but if needed add extra curd or milk.
Garnish with coriander leaves and some grated carrots(optional)
Serve chilled.
Please check the notes section.