GANESH CHATURTHI|VINAYAGAR CHATHURTI RECIPES
Among all festivals celebrated Ganesh Chaturthi is always very special to me. Though during my childhood days i am not much fascinated by eating modakams but i love the buying of Pillayar(Ganesha) for the pooja at home the next day. When i was very small, every time my mama will buy the clay Pillayar from the market. I could still recall the smell of it. The Pillayar will not be painted and will be rustic color of clay only. Mama will bring this Pillayar to home and me, my sister and appa and  amma will be waiting with Aarthi (the coloured water) to welcome the Ganesha to our home. The moment we hear the car horn our face will lit up. Mama will give the Pillayar from the car itself and he will go to his house to do the pooja. Then the celebrations will start at home. Paati will put a small poonal for the pillayar and also decorate with flowers. In our town we don't have access to Pillayar Kodais (umbrellas) .Even we never know that such thing exist too. As we grow we love to go to the shop on our own and buy the Pillayar. So me and my sister will take bath early and take our bicycles and also take the koodai(basket which is hand made using wire)and go to the place where the Ganesha idols will be displayed for sale. Also we buy the fresh flowers, garlands and bring it back home very carefully. After getting married and moved to chennai every year the before day of Pillayar Chathurti me and my fil used to go to West mambalam Station road and buy the Ganesha idol, kodai and all other items for the pooja.
Modakam |Kozhukattai
  Preparation Time : 15 mins | Cooking Time : 30 Mins |Makes: 10
     For the outer covering
 Rice flour | Idiyappam Flour   1/2 cup
 Water   as needed (approx. 3/4 cup)
 Sesame oil    1 tsp
    For the Poornam    
Yellow Moong dal | paasi paruppu   1/4 cup
Jaggery    1/4 cup
Grated fresh coconut    1/4 cup
Cardamom    a pinch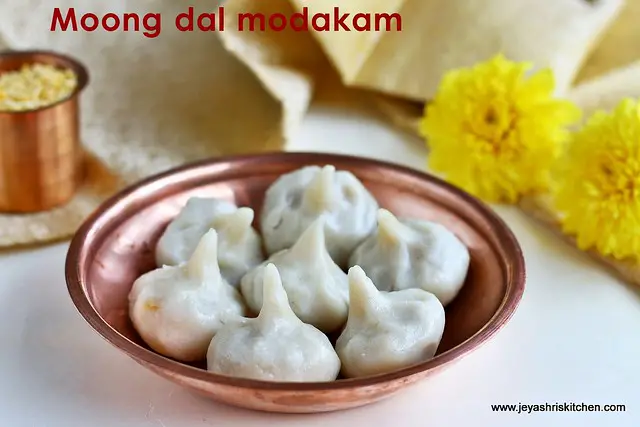 Method:
To make the outer covering:
Boil water in a pan and add the oil to this. If using home made flour add salt to the oil. Idiyappam flour will have salt ,so no need to add salt. Add the flour to a wide bowl. Add the water to it and mix with a spoon.

When it becomes warm and can handle with your hands, grease your hands with little sesame oil and knead it into a soft dough. Divide it into equal  lemon sized balls. Keep them covered with a damp cloth all the avoid dryness.

Check out my Video on how to shape modakam


For the Poornam:
Soak the moong dal in water for 10 minutes. Pressure cook with little water for 3 whistles. Do not over cook it.

If u have extra water after cooking drain it completely.Mash it with a spoon as much as you can. Even if it slightly grainy also it is ok. Let it cool completely.
In a mixer just pulse the cooked moong dal, jaggery, coconut and cardamom powder. Do not run for along. The jaggery will start melt then.
If you feel the mixture is watery, in a pan add 1 tsp of ghee and cook it for 5 minutes. It will be come firm.

Make this into equal sized balls. For me it came 14 balls. If you want to match the dough and poornam equally you can either reduce the moong dal quantity to 3 tblsp or increase the rice flour quantity by 2 tblsp. Else you can eat the poornam as such too, as i did .
Poornam and dough are ready for making modakam.

Grease your hands with sesame oil and with your fingers make a small cup out of it and place the         poornam in that.

Seal this carefully. Make it into a shape of modakam.

Grease an idli pan and steam the modak for 10-12 minutes in a medium flame. The kozhukattais will get a shiny texture. Due to sudden change in weather i have very dull lighting in the kitchen.

Leave it for 3 minutes and take it out from the pan. Modakams are ready for neivedhyam.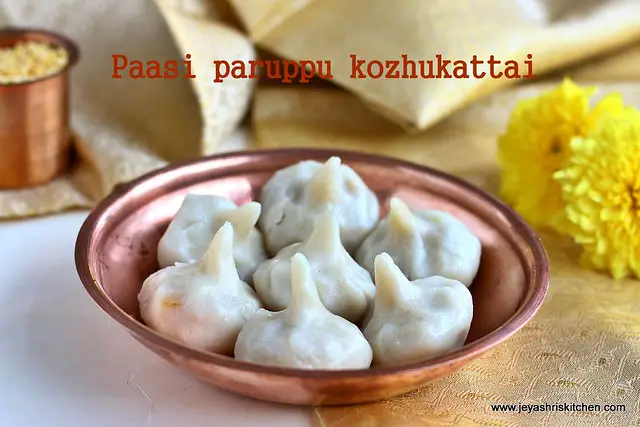 Notes:
Always keep the outer covering covered, to avoid dryness and cracking of the modakam after steaming.
If the poornam is slightly watery cook them for few minutes and completely cook it and use it for stuffing.
You can make the stuffing with green moong dal too. Soak it for 30 minutes.
If the modakams are taken out from the pan when they are hot, they will be torn.