Rasam is always a staple item in South Indian Cuisine. We make many varieties of  rasam. Vethalai or Paan leaves or Betel leaves also can be used in making Rasam. Betel leaves are good source of calcium and best for lactating mothers too. It helps in digestion of food and also relives stomach discomfort after having a heavy feast. As Janmashtami was over yesterday, we all must have ended up eating delicious sweets and snacks. Also after doing pooja at home most of us must be having Betel leaves | Paan leaves | vethalai at home too. So i wanted to post this Vethalai rasam today. I actually tried this after Tamil new year, but for some reasons i couldn't take the final pictures. But i tried it again today and clicked to post the recipe of Vethalai rasam. Check out my other recipes using paan leaves | vethalai | betel leaves – 
Sweet beeda, Paan juice .
Vethalai Rasam
  Preparation Time : 10 mins | Cooking Time : 10 Mins |Serves: 3
     Vethalai | Paan | Betel leaves   2
     Garlic pods    3
     Pepper corns  1 tsp
     Cumin seeds| Jeera   1 tsp
     Red chili   1
     Ghee   1/2 tsp
     Tomato    1
     Mustard seeds   1/4 tsp
    Turmeric powder    1/4 tsp 
     Salt    as needed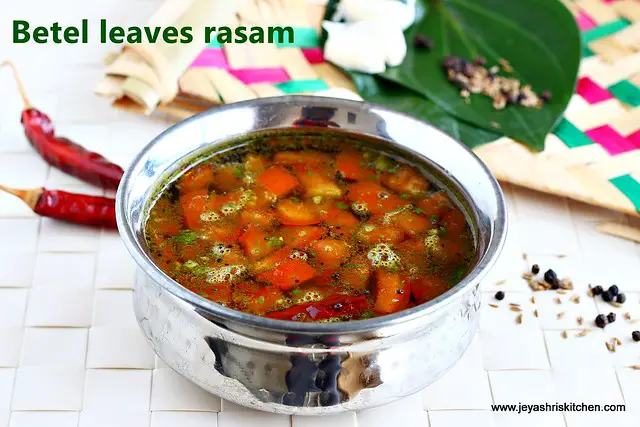 Method:
Wash the betel leaves nicely. Always chose the young ones . Take out the top stem part and the tear the leaves. If the leaves are little over grown take out the middle stem part too.

Grind the pepper, cumin and garlic pods into a coarse paste using a mortar and pestel. You can pulse this in a mixer too.
Grind the vethalai | paan leaves | betel leaves into a fine paste by adding little water to it. Even if it slightly coarse no problem. You can add a sprig of coriander leaves along while grinding.

Chop the tomatoes (you can grind also if you want). Add the tomatoes, pepper cumin, and garlic paste, ground betel leaves the water , turmeric powder and salt in a pan. Add 2 cups of water to this.
Mix this nicely with your clean hands. this brings out the aroma of the spices.
Keep this pan on the stove and cook it comes to a froth. Do not boil the rasam. Once it is frothy switch off the flame.
Temper mustard and red chili in ghee and transfer it to the rasam.

Hot vethalai rasam is ready. You can serve this with plain rice or have this as a soup too.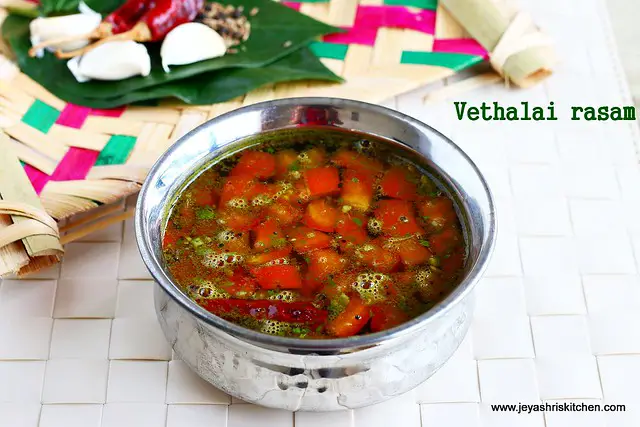 Notes:
You can grind the tomatoes and add it to the rasam.
One green chili can also be added while tempering.
You can add 1 tbsp of cooked toor dal into the water and add it to the rasam. (instead of adding 2 cups of plain water)
This rasam aids in digestion.