Nalla karam podi is a variety of idli milagai podi, made with coriander seeds, red chili as the major ingredients. This is a popular andhra style podi. As we all knows Andhra style podis are more famous and quite spicy too. I have heard a lot about this podi but never tasted or tried even once. During our holiday, we met a mom and daughter, who are basically from hyderabad. Suddenly it flashed me to ask the recipe from her and messaged her yesterday. She replied back to me that her mil is expert in cooking and today morning gave me the recipe. Actually her mil wrote down the recipe in telugu and took a picture of it and sent to her. So sweet of her, she translated that and messaged me back. It turned out very well and i am waiting to have with my dosa , for tomorrow breakfast. I just had this with rice ghee and a little podi. It tasted very nice.

Nalla karam podi
Preparation Time : 5 mins | Cooking Time : 20 Mins |Makes: 1/2 cup
Coriander seeds |dhaniya 1/2 cup
Black urad dal 2 tblsp
Cumin seeds 1 tsp
Curry leaves 1 fistful (optional)
Salt as needed
Red chili 10- 12
Garlic 2 pods
Oil 1 tsp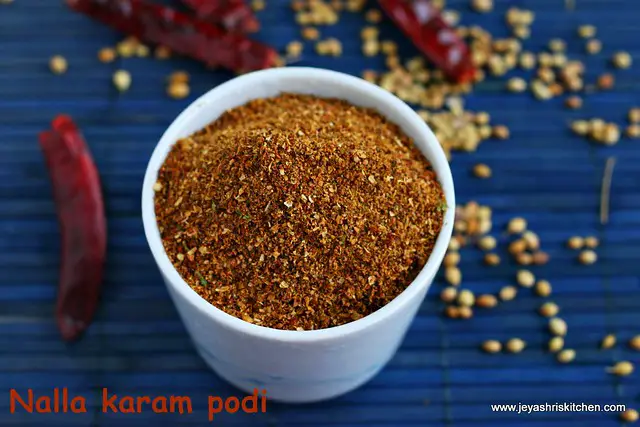 Method:
In a pan dry roast the dhaniya | coriander seeds.
Roast in a medium flame without getting it burnt. roast till it the colour is changed and it emits a nice aroma. Else the podi will be taste raw.
Once done keep it aside.
Add the urad dal in the pan and roast nicely. You can use whilte urad dal also.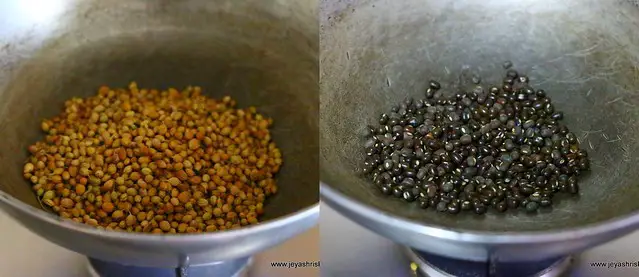 Keep it aside.
In the pan add oil and roast the red chilis. Once done keep it aside.
Crush the garlic pods using a mortar and pestle and add it to the pan.
Roast till it turns brown keep it aside.

Add the cumin seeds to the pan and cook for few seconds. Do not cook for a long time, else it will taste bitter.
Keep it aside and add the curry leaves to the pan. If the leaves are wet, pat dry them using a kitchen towel and add it to the pan.
Roast it till it becomes crispy. Add salt to this.
Allow all the roasted items to cool completely.
In a mixer jar add the coriander seeds,curry leaves and urad dal and grind it into a dry powder. It will be slightly coarse.

Add the red chili and garlic in the last and grind this into a powder.

Allow this to cool a bit.
Transfer it into a clean dry bowl .
This can be stored for a month in room temperature.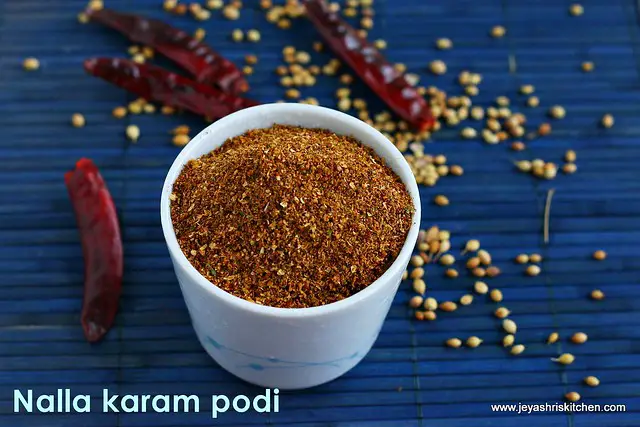 Notes:
Always dry roast the coriander seeds well, else you will get a raw smell.
You can add channa dal instead of urad dal or both also you can add.
Crush the garlic and add. Else it will not get roasted in the center.