Ulli theeyal is a popular Kerala gravy | South Indian gravy for rice, made with shallots(chinna vengayam) and coconut as the main ingredients and other flavourful spices. I am a big fan of vengaya vathal kuzhambhu, so i wanted to try this for a long time. Few months back one of my friend's mom while casually talking told me the recipe of ulli theeyal and i recorded the same in my mobile. I got a good bunch of small onion during my little india trip and finally made this ulli theeyal. It was a huge hit among all in the family. Try this at home and share your feedback with me.

Ulli theeyal recipe
Preparation Time : 20 mins | Cooking Time : 25 Mins |Serves: 3-4
Ulli | shallots | chinna vengayam 25
Coconut 1/2 cup
Dhaniya | coriander seeds 1 tblsp
Red chili 3
Red chili powder 1-2 tsp
Tamarind a small gooseberry size
Salt as needed
Turmeric powder 1/4 tsp
Mustard seeds 1/4 tsp
Methi seeds| venthayam 1/4 tsp
Coconut oil 1 tblsp
Curry leaves few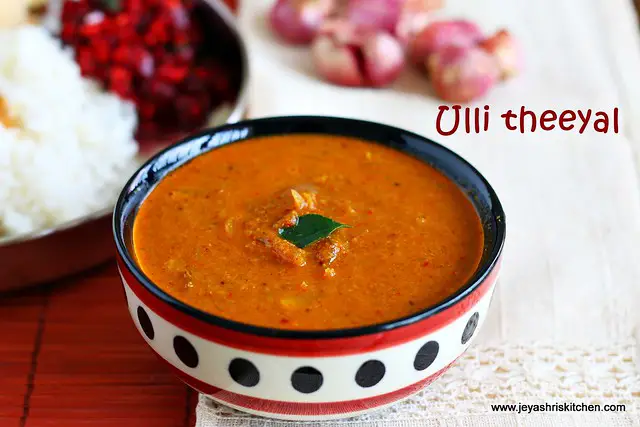 Method:
In a pan add little coconut oil and add the grated coconut, coriander seeds and red chili.
Fry this in a medium low flame till the coconut becomes nice golden brown in colour.
Keep this aside.
Slice the onions lengthwise. In the same pan add half of the onions and start cooking this.

Add little oil while cooking and cook the onions till nice golden brown.

Take it out from the pan and allow the onions to cool completely .
Grind this along with the coconut mixture into a smooth paste. Add little water if needed while grinding.

In a pan add 2 tsp of oil and add the mustard seeds, red chili and venthayam.
Add the other half of the sliced onions and cook till the onions becomes translucent.

Add the ground paste to this and add 1/2 cup of water.

Take 1 cup of thin tamarind extract from the tamarind and add it to the pan.
Add red chili powder, turmeric powder, salt and asafoetida.
Mix well and cook for 10 minutes in a medium flame.

The gravy should come to a thick kuzhambhu consistency.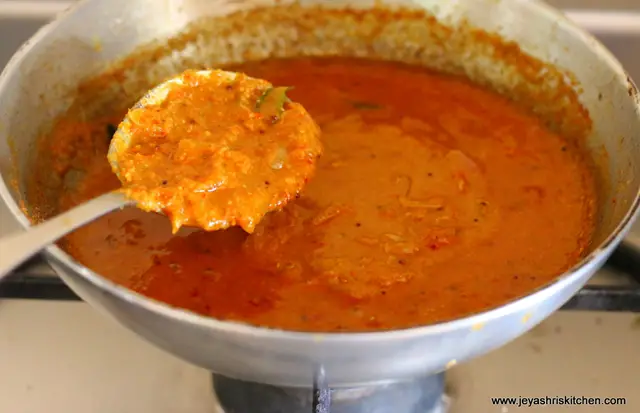 Switch off the flame. Ulli theeyal is ready to serve.
Enjoy this with hot rice. We had with beetroot curry and kerala papadoms.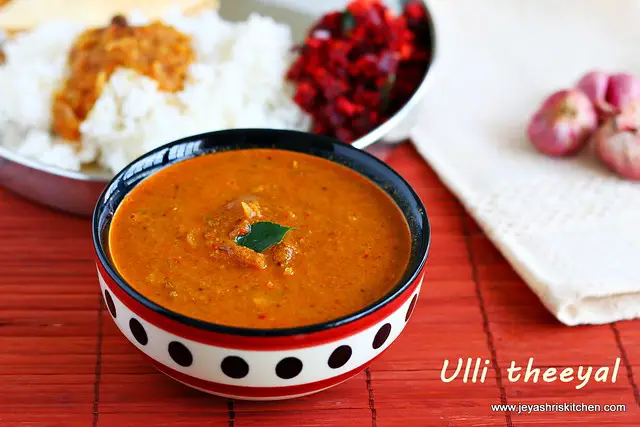 Notes:
Instead of adding coriander seeds while roasting you can add coriander powder while adding red chili powder.
1 tsp of urad dal can be added while roasting .