Nellikai thayir pachadi | gooseberry raita is a simple and easy raitha made using gooseberry. Generally we make this during dwadesi, which is the next day of ekadesi fasting. We also make agathi keerai curry on dwadesi. Though gooseberry very good for health they say we should eat this after sunset, as it is a body coolant. This nellikai thayir pachadi is made in a jiffy and you do not require any palnning before to make this recipe. Yesterday being Vaikunta Ekadesi we make this nellikai thayir pachadi today for dwadesi.
Nellikai thayir pachadi
  Preparation Time : 10 mins | Cooking Time : 1 min|Serves: 3-4
     Nellikai | gooseberry|amla  3
     Green chili   1-2
     Coconut    1 tblsp
     Salt  as needed
     Yogurt | curd  5 tblsp
     Oil   1 tsp
     Mustard seeds   1/4 tsp
     Asafoetida  a pinch
     
     

Method:
Roughly chop the gooseberry and discard the seed.
Grind this into a coarse paste along with green chili, little salt and coconut.
Do not make it a fine paste. Add few drops of water while grinding.

Beat the yogurt by adding little salt to it.
Add this ground amla mixture to the yogurt.
Temper mustard and asafoetida in oil and add it to the yogurt mixture.
Mix well.

Serve chilled.
This gooseberry raita goes very well with any mixed rice or even for sambar and vatha kuzhambu.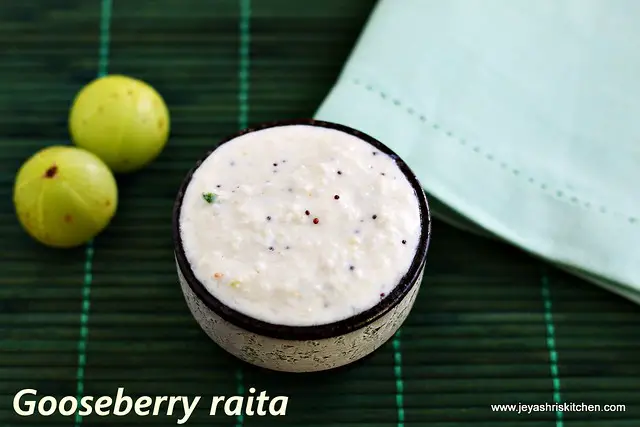 Notes:
You can steam the gooseberry and mash it well with hands and add it to the raita. In that case grind the coconut and chili separately.
You can add little jeera while grinding. This gives a nice flavour to the raita.