Soya chunks rarely takes entry in my kitchen but i ensure to cook in a best way so that it will be consumed by all. Schezwan sauce | Sichuan sauce recipe i have posted long back. I used the sauce in fried rice and pineapple fried rice too. I wanted to make schezwan paneer manchurian but finally ended up in making soya chunks manchurian with schezwan sauce. It paired up well with veg fried rice and we had a hearty Indo Chinese meal for lunch.
Check out my other soya chunks recipes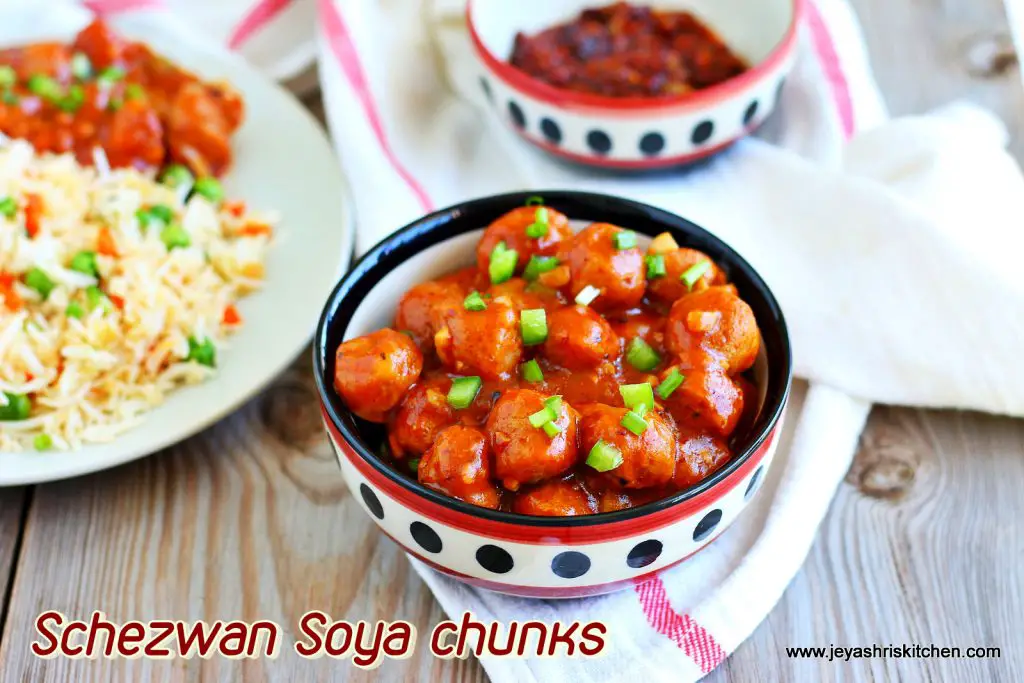 Schezwan Soya chunks Manchurian
  Preparation Time : 5 mins | Cooking Time : 25 Mins |Serves: 3-4
     Soya chunks  1 cup
     Corn flour   2 tsp + 2 tsp
     Milk  1 tblsp
     Pepper powder 1/2 tsp
     Red chili powder   1/2 tsp
     Salt   as needed
     Schezwan sauce   2-3 tblsp
     Capsicum   1 tblsp(finely chopped)
     Spring onion  2 tsp (chopped)
     Oil   1 tblsp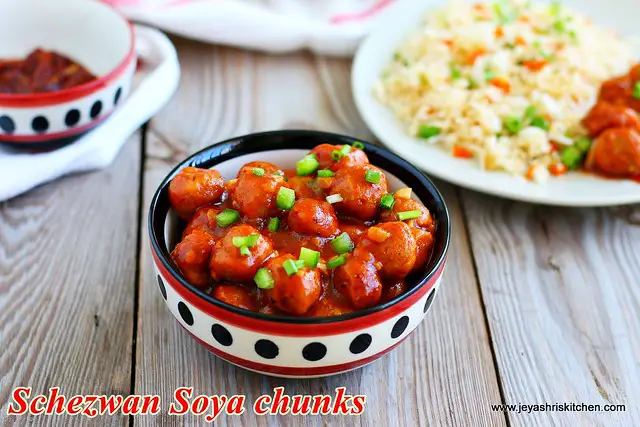 Method:
In a big pan add water and add 1 tblsp of milk. Allow that to boil.
Add the soya chunks to this and boil for 5 minutes.
Drain the water completely and squeeze out the excess water.

Add this to a bowl and add 2 tsp of corn flour, red chili powder, pepper powder and salt.
You can add little ginger garlic paste to this too.
Mix this well and let this marinate for 5 minutes.

In a pan add oil and add in the marinated soya chunks till golden spots appear. Cook on a medium low flame.

Add the schezwan sauce to this.
Add 3/4 cup to 1  cup of water. The sauce gets thickened after adding the corn flour, so add 1 cup of water.

Mix 2 tsp of corn flour with 3 tblsp of water, without any lumps.
Add this to the gravy and mix well.
Allow this to boil for 2 minutes. Stir it.
Check for salt.
Add chopped capsicum and spring onions.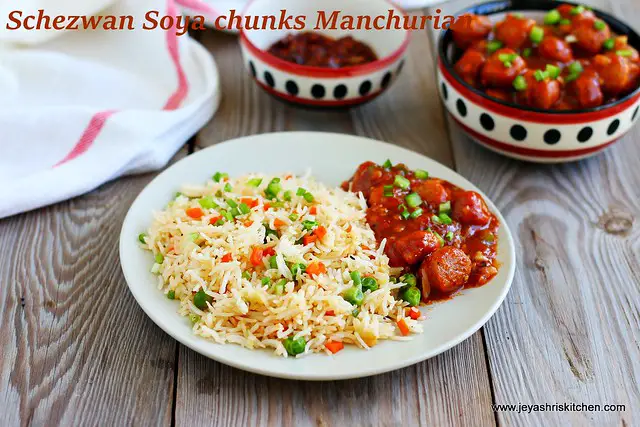 Notes:
You can replace soya chunks with paneer.
If the schezwan sauce is made ready before hand, this recipe can be done for lunch box too.
You can add little rice flour to the marination. It will give crispiness to the manchurian. In that case make it dry manchurian and serve as a starter. Do not add water after adding sauce. Just add corn flour water only.
This gravy is not too spicy, i added 2 tblsp of schezwan sauce.