Nutella is always popular among kids. My kids are a great fan of nutella. Though i don't give it to them very often once in a while, i spread it for them in bread and give for breakfast or pack for snacks. Last month when my sister was here she was telling me to add some fruits to sandwich and told me an idea to make jam sandwich. Instead of jam i chose nutella and added strawberry and banana and grilled the sandwich. It was a super hit among kids. Since strawberry oozes out water, it is not ideal to pack for them, but if only nutella and banana is added, you can pack it for them. But i can say, this sandwich is tastes best when it is served hot. You can add any fruit of your choice. Check out my
chocolate cheese grilled sandwich. 
Nutella fruit sandwich
  Preparation Time : 5 mins | Cooking Time : 10 Mins |Serves: 1-2
     Bread slices     4
     Nutella     to spread on both sides of bread
     Butter     1 tsp
     Strawberry + banana    as needed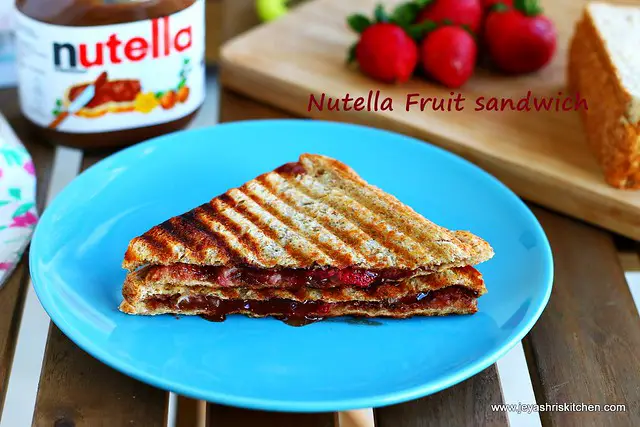 Method:
Spread nutella on one side of the bread and little butter on the other side. Place the bread on a sandwich maker keeping the nutella side up.
Slice the fruits and arrange it on the nutella spread bread portion. Cover it with another bread .
It is optional to spread nutella on the other bread which is covering. But add little butter to the portion which is facing up.

Grill it till it is done and the top becomes nice golden brown.

Cut them into triangles and serve it hot. If you don't like the sides you can cut them .